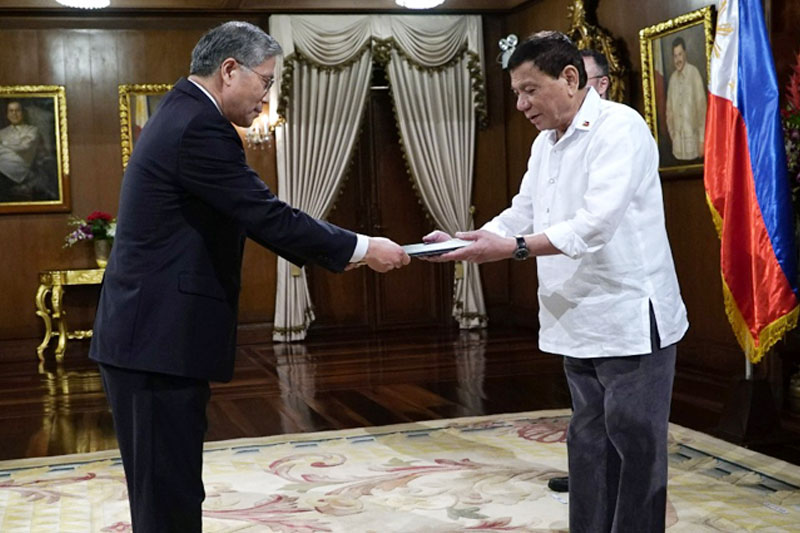 "President Duterte asked me to invite more Korean companies to invest here. I promised the President that during my term, I will try do my best to bring more Korean tourists of up to two million (annually) and bring more Korean companies to invest in the Philippines," Korea Ambassador to the Philippines Han Dong-Man said yesterday. Presidential Photo
SoKor eyes improved economic ties with Philippines
(The Philippine Star) - January 31, 2018 - 12:00am
MANILA, Philippines — South Korea plans to ramp up investments in the Philippines this year after a slowdown in 2017, with planned projects to support the government's massive infrastructure program.
The Asian powerhouse is also seeking to significantly boost trade with the Philippines, seeing huge potential in the growing local market.
"President Duterte asked me to invite more Korean companies to invest here. I promised the President that during my term, I will try do my best to bring more Korean tourists of up to two million (annually) and bring more Korean companies to invest in the Philippines," Korea Ambassador to the Philippines Han Dong-Man said yesterday.
Koreans were the top visitors to the Philippines in 2017 with nearly 1.5 million arrivals.
Korean investment pledges, however, recorded a big drop last year with combined data from two of the country's largest investment promotion agencies, the Philippine Economic Zone Authority and the Board of Investments, showing a 92.61 percent decline to P873.15 million from P11.82 billion in 2016.
"The Philippines is a very promising market, an emerging market. Given the potential of Philippine infrastructure, I am very confident Korean companies will come here to invest in many infrastructure projects," Han said.
Some 12 Korean companies in engineering, construction, power generation and water treatment sectors were in the country yesterday for the Philippine-Korea investment forum on infrastructure and energy.
ASEAN-Korea centre secretary general Kim Young Sun said Korean companies are eager to find business opportunities in the Philippines.
"The Philippine government announced its economic and social development plan, dubbed Dutertenomics to overhaul the country's infrastructure and pave the way for robust economic growth. This plan will certainly open doors for Korean companies to take part in infrastructure projects in the Philippines through public-private partnership scheme," Kim said.
Aside from enticing more Korean investments into the country, Han said he would also try to raise bilateral trade between the Philippines and Korea during his term to $20 billion from $15 billion last year.
This is supported by Philippine Ambassador to South Korea Raul Hernandez, who said with Korea's new Southern Policy, "we expect wider and deeper business engagement between our two countries. Both countries are eager to increase bilateral trade, market access, manufacturing investments, and technological and financial cooperation."
Aside from boosting exports of Philippine agricultural products such as chicken, ducks, mangoes and vegetables, Hernandez said the country would also target to promote to Korea design-driven products such as garments, furnishings, and holiday decors, as well as other non-food products and services like chemicals, electronics parts, software, education services, language courses and IT-BPM service outsourcing.
"In terms of investment opportunities, we already have here shipbuilding, automotive, and electronics manufacturing, but we also want to promote food production processing, energy, and banking and finance. We are also thinking of other labor-intensive industries migrating out of China to the Philippines," he said.
Hernandez said Korea is currently ranked as the seventh largest investor in the Philippines.
"In general, the attitude of Korean companies in investing in the Philippines is very upbeat. Above all the noise, they see the market in the Philippines and the economic growth," said Emmanuel Ang, commercial counselor of the Philippines to Korea.
Ang said the Korean companies which his group deals with daily have conveyed no concerns over the government's tax reform program.