Felino A. Palafox Jr.: Visionary architect
(Second of two parts)
PHILIPPINE STAR: Do you have a traffic plan for Manila?
FELINO PALAFOX Jr.: We cannot address traffic per se, without looking at the big picture through urban planning, land use, and transportation. We have the wrong models of a car-oriented urban development and the imbalance between jobs and housing. Centers of jobs and must be strangulated by higher density residential community to encourage walking trips.
To understand traffic congestion, we must first understand that there are two types of it in Metro Manila: volume-based and behavior-based. What creates traffic is not just the car dependency ingrained in our culture by our colonial baggage, but also the way we behave on the road. In Metro Manila, our traffic rules and regulations are weakly imposed, resulting in undisciplined drivers and traffic gridlocks.
Proposals to decongest the traffic along the major thoroughfares that will be affected by the road projects by road widening, zipper lanes, alternative routes, shifting work schedules, even carpooling have been aired. However, when it comes to alternative modes of transportation, we only have 13: walking, bicycles, motorcycles/scooters, automobiles, taxis, buses, light and metro rail transits, commuter rail (PNR), paratransit (the FX shuttles), rickshaws (pedicabs), seaports, and airports. There are 20 modes of urban transport. Priorities are walking, bicycles and the different modes of transport.
Cars should be regulated. Wrong transport policies favor the automobile. An indicator of progressive cities is when even the rich walk and take public transit. We really need a paradigm shift from car-oriented cities to more walkable, bikeable cities that also provide adequate public transport.
We are missing a major transportation system opportunity because the Pasig River ferry cruise shut down a few years ago. I recently wrote about reviving the Pasig River waterfront development, stressing the importance of the Pasig River as a transport corridor to complement the north-south land transport corridor created by Edsa. The Pasig River is 27 km in length, only 3.2 km. longer than Edsa. Think of the possibilities it can create by mutually reinforcing benefits by raising property values along the riverbanks and creating new development opportunities. Plus, it offers commuters a sensory experience and reminder of the existence of the natural world.
On a macro scale, our government can construct a tunnel connecting Cavite and Bataan so that vehicles heading for provinces north and south would no longer need to pass through Metro Manila.
Vigan, the Ilocos — you have not attended to the region. Why? What could be done to improve the region's attractiveness?
We did the tourism plan for Vigan and the Development Plan for Ilocos Sur, Metro Ilocos Tourism Plan for Ilocos Norte, Plan for Poro Point. We've put forward many recommendations for the North Luzon Quadrangle. We've designed a college seminary in Bacarra, Ilocos Norte, now under construction.
You have planned big projects? Why haven't you done anything about low cost housing? Should an architect have social responsibility?
We call this Patriotic Architecture, Architecture for Humanity, Democratic Architecture or Corporate Social Responsibility (CSR). We have worked with different groups like Gawad Kalinga, Tzu Chi Foundation, and the Urban Poor Associates, among others, in building homes, schools, and healthcare facilities for the marginalized sector.
In our past corporate social responsibility projects for calamity-struck victims elsewhere in the world like in Iran, Indonesia, Sri Lanka, and the Philippines, we worked closely with Tzu chi Foundation, we built homes from 21-sqm. to 42-sqm. shelters that are more permanent and can house a family of five. It had three bedrooms, one kitchen, one bathroom, and ample space for a garden for families to grow their own plants. Moreover, the shelters were gender sensitive to give dignity to the female members of the family. Daughters must not share a room with fathers, grandfathers, or brothers.
Our staffers would also take photos of neglected spaces and the uglification in our cities and render an uplifted, better planned urban design and architectural perspectives and sent to the offices of the respective city mayors for them to "reflect" on. This is our way of helping in nation building, urban renewal and creation of urban spaces that are free from physical blight, deterioration, and uglification.
Some mayors in Metro Manila, when we send them these "Postcards of the Future," finally see the higher redevelopment potential for their respective cities and what it could become given the right resources and directions for their cities and communities through architecture and urban planning. So far, this advocacy got us the Pasig River Rehabilitation project and the urban renewal of some cities in Metro Manila, so it is definitely working. When these postcards get implemented, they become a catalyst for change, and help increase profitability, vibrancy, utility, and pride in our cities.
How do you avoid the charge that planning at the top is planning for the top?
Development is not worthy of its name unless it is spread evenly like butter to bread.
Luxurious developments and gated communities sit side by side slums, while countless office workers spend hours commuting from their workplaces to home. Yes, mixed-use developments and townships are on the rise, but the great majority of homes peddled by these developments cater only to haves, while the have-nots get pushed into the dank corners of the city.
Safety from risks, both natural and man-made, is also a major concern. Who will forget the flooding caused by Typhoon Ondoy in 2009. I've given more than 100 recommendations to the president and his predecessor in the aftermath of the disaster. One of those recommendations is addressing the hazards — through architecture, engineering, and urban planning — before they become disasters.
Security is also an issue, especially now that the metropolis is fast becoming a 24-hour urban area. Our government fails miserably at keeping us safe —mugging and accidents are a staple of our primetime news, and outside the city's guarded subdivisions and central business districts, venturing outdoors can be perilous.
I'm a firm believer of the triple bottom-line approach to development: people and social equity first, then the environment, then profits or economic growth. This has been proven the world over to be the best practice, which seems to have some kind of resistance in the Philippines. We added two bottom-line approaches, where it applies: heritage/arts/culture and spirituality.
Sadly, the prevailing practice now in real estate development is highest and best use and profit, profit, and profit. Never mind the poor, and never mind heritage, preservation and open spaces.
What is an ideal Filipino public building? Filipino house?
Environmental, tropical, green sustainable landscape, sense of place, pride of place.
How about an environmental plan for the entire country? For our future cities?
We put forward recommendations for future cities, Philippines @500, Philippines 2021 & Beyond: Manila Megalopolis 2021.
Tokyo, Osaka—the big Japanese cities were unplanned for they developed from original settlements. How did all of them become livable? Efficient?
Again, visionary leadership, good planning, strong political will, good governance, plus national pride, sense of community. All these translated into architecture and urban development/redevelopment.
What's wrong with Makati? What's right with it?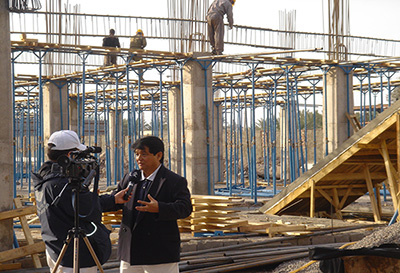 Jun Palafox on a construction site in Iran
Imbalance between jobs and housing. Gated, low-density communities limits access to the CBDs like Makati. Employers priced out of the housing stocks and spend more 1,000 hours a year in traffic.
It is the best urban development that our country can show relative to the rest of the country, but too exclusive, too car-oriented. The CBD has a daytime population 11 times the night time population, so its big problem of bringing the 11 times population in the morning and bringing them out by night. It's a CBD strangulated by low-density gated communities.
Executives, employees and the poor cannot afford to live in Makati. There is a big imbalance in jobs and housing. Good planning is balance.
So many new and strong materials for construction are available now. Indigenous materials like bamboo, palm, etc., can these be used for building in new form?
For many years, bamboo has been given the uninspiring moniker of a "poor man's lumber." In fact, a case study on the value chain of plantation wood, rattan and bamboo in Leyte, by the Environment and Rural Development Program (ENRD), states that most of the bamboo is harvested and used for the production of furniture and arts and crafts. However, in recent years, due to the new public interest in going green, bamboo has steadily gained popularity not only as a material to use for products, but for buildings as well.
Its reputation as a fast-growing plant makes it an ideal and renewable building resource, with a reported growth rates of 250 cm (98 in) in 24 hours, carbon sequestration capacities, and a low cost production energy. I talked to Philippine Bamboo Foundation Inc. (PBFI) President Edgardo Manda before about the benefits of bamboo. The PFBI is a nongovernment organization that hosts the biggest bamboo nursery for the entire Visayas and Mindanao, with at least 40 bamboo species grown in the nursery site in Dauin, Negros Oriental. While most woods used for construction can be harvested only once every 20 years, bamboo can be harvested every 3-4 years and, after going through a one-month treatment process (where newly cut bamboo trunks are soaked in preservatives to get rid of the starchiness that can make it susceptible to fire and termite infestation), treated bamboo can last for as long as 30 years.
Harvesting bamboo also takes about half the time and manpower — all you need is a machete or a hacksaw. Compared with concrete and steel, bamboo experts say, bamboo possesses incredible tensile strength that makes it an ideal material for innovative and forward-thinking architects and designers to use. Edgardo Manda of the PBFI has been promoting bamboo planting as an alternative to reforestation for many years. Bamboo has also been used extensively in many countries as a means for erosion control, riverbank protection and landslide prevention. In fact, most building construction works in Asia (especially in China) use bamboo as scaffolding because of its capacity to resist high winds.
Bamboo immediately adds an elegant quality to wherever landscape it is planted in, and has inspired artists for thousands of years to create poems and paintings on the aesthetic beauty and quality of the bamboo plant. The versatility and strength of bamboo have been proven in recent years in the Philippines and elsewhere in the world. In the Philippines, a prototype school made from bamboo, the first in the Philippines, was built in 2010 based on the winning design of EleenaJamil of Malaysia. A year later, a 23-meter free span bamboo bridge was built in Matina, Davao City. The arch-reinforced, pre-tensioned Howe truss bamboo bridge has a concrete base and expected to last for at least 25 years. It proved its strength right away when a flash flood swept through the community. Most of the houses and structures were destroyed, except the bamboo bridge, and it became the evacuation platform and lifeline in the aftermath.
Are there laws on building and environment that you'd like to be passed by congress?
Revise and update our obsolete laws in planning, building and zoning that makes our country, cities, and buildings less globally competitive, unsafe, inefficient and vulnerable to disasters.
Any last word?
The Philippines from the 1900s to 1970s used to be ahead in Asia in urban planning and architecture, infrastructure, the built environment. While Filipino architects, planners, engineers, are appreciated abroad- they seem less appreciated in our country from the mid '80s to date. Politicians, lawyers and contractors decide rather than the inputs guided by architects, planners, engineers and designers on our built environment — that all have "uglified" our cities.