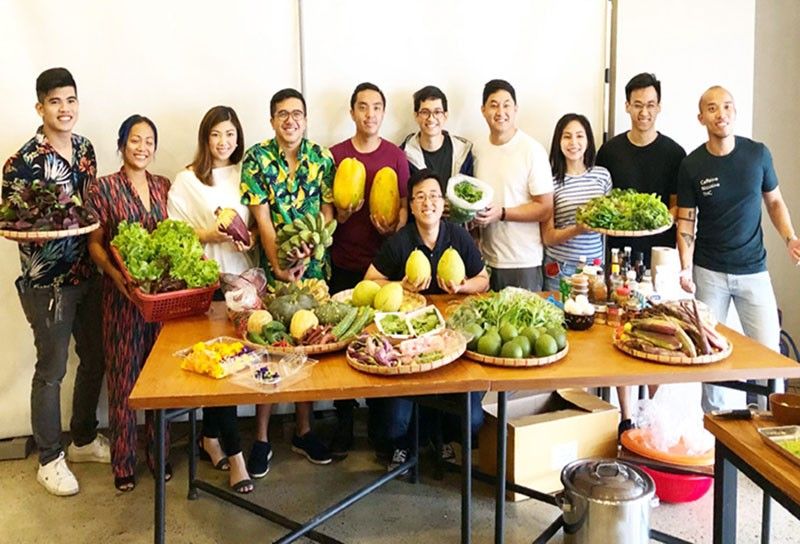 The young farmers of Agripop: (from left) Harold Bueno, Barbi Cruz, Liz Bella, Raymund Aaron, Rafael Dacones, Julius Barcelona, Sandro Cruz, Earl Lim, Hanna Tuason, Robin Kwee, and Carlo Sumaoang
What is a Chef's greatest honor?
How do you compliment a chef? The most obvious way is to sing the praises of their food, but nothing gives a chef more honor than the diner trusting him to decide what to serve them.
Recently, I received that particular honor when the members of Agripop, a group of young advocates for agriculture, asked chef Isi Laureano and I to cook at one of their events. The invitation was too tempting to resist.
On the table
As the farmers arrived one by one with their vegetables and fruits, I got more and more excited. The long table behind the kitchen filled up with some amazing produce like red okra, several types of lettuce greens, arugula, squash, beautiful striped eggplants, purple corn, native tomatoes, dayap limes, local greens like kangkong, alugbati and sweet potato leaves, edible flowers of all colors, plus a number of things I saw for the first time, like a spicy green called talinum and a citrus called caburao that resembled a giant lime.
With such a bountiful harvest and a blank canvas to work with, chef Isi and I buckled down to work. On her side of the kitchen, Isi worked on a red lentil soup with squash, coconut milk and fresh mussels. Then, she made some vegetarian fajitas, featuring squash, red okra and purple corn, with a fresh tomato salsa and a beautiful papaya salad as well. Lastly, she roasted some tomatoes and squash with balsamic vinegar and used these to mix with the various salad greens and fresh kesong puti, along with a dressing spiked by dayap.
I looked over the ingredients table and started making my picks. I picked out some kangkong, flowering petchay and kamote leaves, two kinds of squash, and all of the eggplant. I was asked to make three dishes in total and a plan started to form in my head.
I invited Raffy, a chef instructor at UST who often works with me on my popups, and he generously agreed to help me out in the kitchen. He took all of the local greens and washed them, while I went ahead and diced the squash into small cubes. After that, we worked on julienning fresh cucumbers and cutting the eggplants into large chunks.
I started by deep-frying the eggplant chunks in vegetable oil. Deep-frying eggplants is the quickest way to cook them, par-cooking them to be stir fried over a wok later on. Plus, deep-frying helps keep the eggplant skins a beautiful purple.
Once they were all fried, I stir-fried the eggplants with ginger, garlic, spicy bean paste and black vinegar, making a classic dish the Chinese call "fish-fragrant eggplant," even if there is no fish in the dish itself.
Raffy, meanwhile, worked on some ampalaya. Neither of us planned to work with the bitter gourd, but since it was there, we decided to make some pickles. He sliced them open, removed the seeds and then salted the insides. These steps helped remove some of the bitterness in the vegetables. After a quick wash, he sliced the ampalaya thinly and marinated them in vinegar, salt, sugar and pepper.
I then stir-fried the two kinds of squash in a wok together with some garlic, ginger and onions. I then added fermented bean sauce and hoisin sauce, plus some egg noodles and cooked them all together to make a vegan version of Zha Jiang Mien, or what the Chinese call "Fried Sauce Noodles." Usually, this dish is cooked with ground pork, but I thought adding pork would only take away from the sweetness of the squash, so I kept it meat-free. I finished the dish off by topping it with julienned raw cucumbers, which would provide the fresh crunch that would contrast the rich, fermented saltiness of the two bean sauces.
Finally, taking advantage of all the local greens, I sautéed them with wood-ear mushrooms that Raffy rehydrated and sliced, and then added minced garlic and oyster sauce.
Cooking with all these fresh ingredients was so much fun, and what added to the fun was the fact that I got to interact with the very farmers who grew the ingredients we were working with. Throughout the cooking process, Isi, Raffy and I got to answer the farmers' questions on what dishes could be made with their vegetables, plus the different techniques we employ to bring out the best flavors with said vegetables.
When all was said and done, we had lined up a buffet table with a host of colorful and flavorful dishes and nothing made us smile more than the sight of the very farmers who grew and harvested these ingredients enjoying our food.
A different kind of dessert
The after-the-meal activity was the dessert I was most eager for. Whenever Agripop meets, they bring together farmers, chefs, educators, magazine writers and editors together to have a free-flowing discussion. It isn't necessarily a formal meeting to formulate a specific solution; it is more of a chance for everyone to share their stories, ideas, hardships and solutions with regard to the agricultural sector. Listening in on the discussion, I learned a lot about the challenges our farmers face and the one thing made clear to me is that farming is more than a job. It is a vocation — a noble one at that — as they continue the unenviable task of providing our people with the food security we sadly take for granted.
It was then that I decided to amend my earlier belief. Perhaps the best compliment a chef can receive is to cook for the very people that make our chosen vocation even possible. Perhaps the greatest honor is to feed those that feed us.
* * *
Sharwin's book, So, You Want To Be A Chef? is available at all National Book Stores and Powerbooks nationwide. Follow Sharwin's food adventures on Instagram @chefsharwin and for questions, reactions, recipe and column suggestions, you can contact him on www.sharwintee.com.