Ox tales
August 21, 2014 | 12:00am
MILLIE: One of my bosom buddies is Dr. Larry Mallari, whom I met some 14 years ago through another friend, Joy Soler de Castro. Larry is a dentist by profession but also a pianist, a very good singer and has a band with other dentists called 8 Track. Dr. Larry and I hit it off from the start because we both share a passion for good food and music. Even my dad enjoyed his company tremendously and considered him like his own son, preparing special dishes for him whenever possible.
Every year, on his birthday, I would surprise Dr. Larry with a small party or something special until I thought he started to feel uneasy about it. This year, I asked him to reserve a date close to his birthday for dinner with Karla and myself. We invited another dear friend, Ramon Tan, and served simple, home-cooked dishes. We had pork belly sinigang with lots of taro and kangkong the way Dad used to like it, special fried whole bangus from LZM and the star of the night, oxtail mechado with carrots and potatoes. I have never seen both Dr. Larry and Ramon have second and third servings, truly enjoying every single bite! Then, Dr. Larry proposed having his birthday dinner at my house so that the barkada could try the oxtail dish instead of at a Spanish restaurant. It sounded like fun so Karla and I both agreed.
KARLA: Oxtails are commonly used for a very popular native dish, kare-kare. In fact, it's the only way we know how to serve it. Lolo Joe's favorite part of the oxtail was the skin. If cooked properly, the skin becomes soft and gelatinous and leaves a sticky feeling on your lips. It also helps thicken the stew. In fact, his last full meal was kare-kare that my mom cooked especially for him, and he absolutely loved it. Mom hasn't cooked kare-kare since and that has left me craving it. One time I was at S&R buying meats and came across imported oxtail. I noticed that the imported ones usually have the skin already trimmed off. I then asked someone from S&R if they had local oxtails — the untrimmed ones with their skin on. A lady, overhearing my request, got curious, so she asked me why I needed the oxtails with the skin on. I explained that my lolo used to love it that way because of how soft and gelatinous the skin would be. I guess she was intrigued by my answer and maybe even salivated a bit, so she approached me again later on asking if I knew how to cook. Totally thrown off by her question, I replied that my family owns a catering company. Turns out she is a foodie herself and so is her family. She said that she has heard of our company and has tried some of our specialties, like the boiled corned beef and The Plaza Premium Baked Ham. I guess one can meet interesting people and learn so much by just hanging out at the supermarket.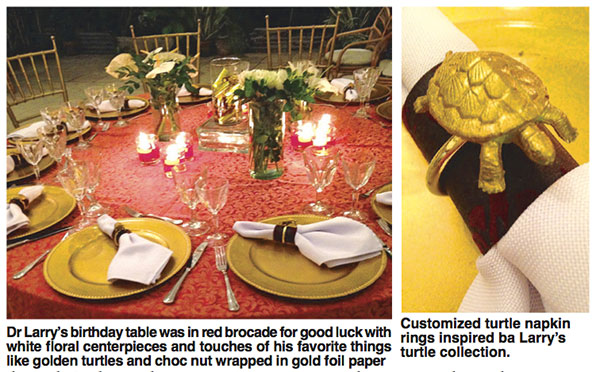 One day, Mom and I decided to have dinner at home instead of dining out, giving our helper short notice. She said that the only thing we had on hand were the oxtails I had purchased. By then it was too late to go out and buy the vegetables and other ingredients she needed for kare-kare, so Mom asked her to experiment and told her to cook it like she would normally cook adobo. Oh, boy! It was so delish; we were so satisfied. The only downside is that it was so good that Mom and I ended up eating so much rice. Haha!
On another occasion, we decided to make it mechado, inspired by the time we got tired of nilagang bulalo and asked yaya to experiment by making it into a mechado. The dish was pretty similar to the Spanish rabo de toro but way better and cheaper than eating it at a Spanish restaurant. This is what started it all. The night Mom and I had the oxtail mechado, we came up with a list of people that absolutely must try it. On top of the list was Tito Larry. True enough, when the time came, we served him the dish for his birthday… twice, plus take home. Haha!
MILLIE: Larry's birthday dinner was no longer a surprise as he planned it himself, drew up the menu and his guest list composed of family and a small group of my crazy Why Not friends. His menu was built around the oxtail stew, starting with Caesar salad, must-have spaghetti for long life with sundried tomatoes and tuyo flakes in olive oil, whole baked salmon with caper butter, chicken fillet with wild mushrooms and steamed white rice. For dessert he requested Dimpy's chocolate cake with caramel sauce and Karla baked a cheesecake with whipped cream and fresh strawberries. Karla also prepared her fabulous hummus with warm tortilla wedges and Malagos Farm's chevre or goat cheese with assorted crackers for pica-pica before and after dinner. I styled his table of red brocade linen with an assortment of white flowers and adorned it with some of his favorite things like golden turtles set as napkin rings and Choc-Nut wrapped in gold foil in glass jars.
As expected, everyone went for seconds and after an hour or so, even for thirds, eating the oxtail remnants with the spaghetti noodles instead. Believe it or not, after midnight, my Why Not friends became hungry again after all the boisterous laughter and asked for beef tapa and garlic fried rice. I anticipated that and was ready for it!
KARLA: When we cook kare-kare, we normally precook the oxtail ahead of time, to make sure that it is already tender before we start adding in all the other ingredients for the stew. We applied the same method when making the oxtail mechado. First, we cooked it until it was tender. You may also use a pressure cooker as a shortcut, but since the size of our pressure cooker is quite small, we were forced to slow-cook it. Although this is more time-consuming, it's the old-fashioned and better way and I remember my Lolo Joe used to say this was how his mother, Lola Asiang, used to do it. Our helper Beth narrates how she prepares the oxtail stew and laughs when we asked her to share a recipe because she says she has no exact measurements and, like my mom, just makes tancha-tancha according to taste.
She set to boil approximately 1 kilo of oxtail with water just enough to cover the meats, adds in the juice of approximately 10 pieces calamansi, 1 whole chopped onion, 5-6 cloves of crushed garlic , 6 pcs. whole black peppercorns, 3 laurel leaves, pepper to taste and approximately half a cup of soy sauce. When the oxtail is almost tender, she removes the meat from the broth and sautés it with chopped onions and garlic, then adds one and a half packs of tomato sauce and some of the broth. She adds in the potatoes and carrots and cooks the stew over a low fire, taking care that it doesn't burn.
Upon Dr. Larry's request, she added beef brisket and tendons to the oxtail stew and it was definitely a winner!
* * *
Send e-mail to [email protected] and [email protected]. Find us on Facebook and read articles you might have missed: Food for Thought by Millie & Karla Reyes.