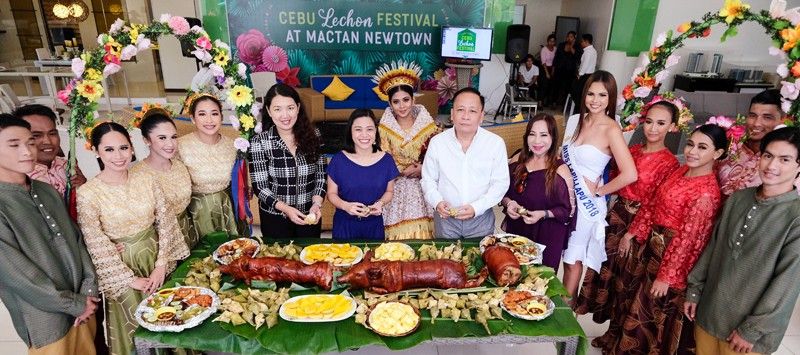 Ten Cebu lechon-makers are featured in this year's Cebu Lechon Festival at The Mactan Newtown, ongoing until Aug. 11 in Lapu-Lapu City. The weeklong festival will be highlighted by a Lechon Parade and live roasting, street-dance performances, a concert, folk games, and a grand fireworks display. At the launch are Tefel Pesigan-Valentino, vice president and head of marketing and business development, Megaworld Lifestyle Malls (7th from left); Judilyn Quiachon, Department of Tourism Region 7 supervising tourism operations officer (6th from left); Ed Mendez, city tourism officer, Lapu-Lapu City (9th from left); and Chloe Boton Boone, Ms. Lapu-Lapu City 2019 (11th from left).
It's raining lechon at the Mactan Newtown?
Ah, lechon! That all-too-familiar crackle from its skin is enough to send pleasurable chills down one's spine. Whether it's a whole roast, baked pork belly, lechon kawali, minced for sisig or a taco filling, food-loving Pinoys will never grow tired of this cracking dish simply because — as Anthony Bourdain declared — it's "the best pig ever!"
And the rock-star chef made it clear he was referring to Cebu's variety.
The now world-famous Cebu lechon, along with the rich history, artistry and skills that go into preparing this beloved dish, is showcased in this year's "Cebu Lechon Festival," which is ongoing until Aug. 11 at The Mactan Newtown, Mactan Island, Cebu.
Spearheaded by The Mactan Newtown, in partnership with the City Government of Lapu-Lapu and the Department of Tourism, the festival features 10 homegrown lechon-makers from different parts of Cebu province and their own takes on the featured dish.
In Cebu, no two lechons are the same. In Talisay, locals take pride in their spicy lechon, while in Carcar, the roasted pig is mixed and served with the pork drippings, so each mouthful is packed with so much flavor.
Throughout the festival, different varieties of lechon will be sold at around P400 to P600 per kilo from 10 a.m. to 9 p.m. daily at the Mactan Alfresco, a 500-seater dining hall inspired by Singaporean hawker centers inside the 30-hectare township.
Some of the homegrown lechon brands participating in this year's festival include House of Lechon, Ayers Lechon, Pelyn's Lechon, Augustus Lechon, Cowrie Lechon Belly, Yobob Lechon, Jojo and Mikays Lechon and Rico's Lechon.
Now in its third year, the annual gastronomic and cultural celebration promises an authentic Cebuano fiesta experience with its delicious array of lechon varieties and lechon pairings from participating restaurants at Mactan Alfresco.
"The festival puts the spotlight on small-scale, backyard lechon-makers," enthused Tefel Pasigan-Valentino, VP and head of marketing and business development of Megaworld Lifestyle Malls. "Aside from providing these businesses with the needed platform to showcase their products and make them grow, our goal is to drive tourism in this part of Cebu and create livelihood opportunities for the locals."
The Lechon Festival is also a welcome occasion to help boost local tourism in Lapu-Lapu City.
"Lechon is, indeed, the pride of Cebu City, Talisay and Mandate," said Ed Mendez, Lapu-Lapu City tourism officer. "And since the festival coincides with the Ironman, the participating athletes from all over the globe will have the chance to try it."
The Mactan Newtown is the starting point of this year's Ironman 70.3 and a major venue sponsor for six years now.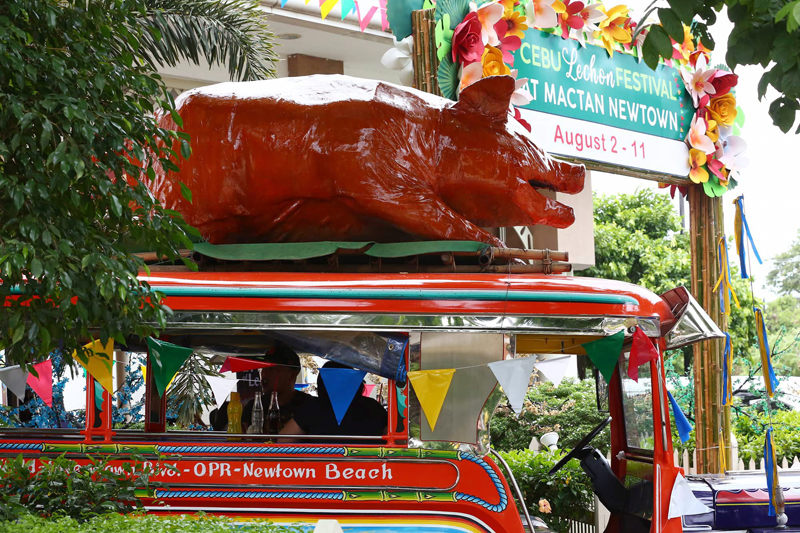 Indulge in delectable lechon dishes inside the iconic Philippine jeepney parked in front of Mactan Alfresco at The Mactan Newtown.
Take a bite, it's all right
"Nakakaon na ka? (Have you eaten?)"
"That's how we Cebuanos greet our guests," explained Judilyn Quiachon, supervising tourism operations officer, DOT Region 7. "And it's just appropriate that we have this Lechon Festival to showcase a part of our culture — our food."
When eating lechon, save the best (the crackling skin) for last. Instead, go for the belly and ribs where all the spices and aromatics are.
"Those are the best parts of the Cebu lechon because all the flavors and aroma are there," Quiachon shared.
And that's exactly what we did during the launch of the Lechon Festival last Friday at the showroom of The Mactan Newtown, the country's first "live-work-play-learn" lifestyle township of Megaworld with its own beachfront located in Lapu-Lapu City, Mactan Island, Cebu.
The buffet table was laden with two kinds of lechon — whole roast and pork belly — infused with lemongrass, garlic, red chilies and spring onions; puso (rice wrapped and boiled in woven coconut leaves), lato (seaweed) and fresh mango and pineapple.
The suckling pigs, prepared by House of Lechon and Ayers, were packed with so much flavor that there was no need for an accompanying liver sauce that Manilans are used to.
During the festival, Mactan Alfresco tenants offer lechon pairings, food items that go best with Cebu lechon.
Maximama offers the Lecon+Ultimate Taco Sampler, while Charcoal Boy pairs the lechon with cheese oysters. Orange Karinderia opts for lechon kawali and pinakbet. Choobi-Choobi makes one's mouth water with its Lechon+Butter-Garlic Shrimp in A Bag. Manang Sayong keeps it simple by serving lechon with lato, which I like because the vinegar and the freshness of the lato balance the richness of the roasted pig. Ayer's Lechon pairs it with ngohiong (spring rolls) and atchara, while Muvanz gets inventive by pairing it with scallops.
A traditional boodle fight featuring participants from the annual Ironman 70.3 Philippines and lechon sellers will be held tomorrow, Aug. 9.
The major highlight is the Lechon Fest Grand Party, where guests can feast on different varieties of Cebu lechon, grilled meat items and seafood, while being treated to dance numbers and live performances from buskers, local bands and stand-up comedians. A grand fireworks display will cap off the festivities on Sunday, Aug. 11.
"It's raining lechon at The Mactan Newtown," enthused Valentino. "And eating this beloved dish will be more exciting as visitors can indulge in their lechon pairings inside the iconic Philippine jeepney parked in front of Mactan Alfresco."