Where ducks go to roast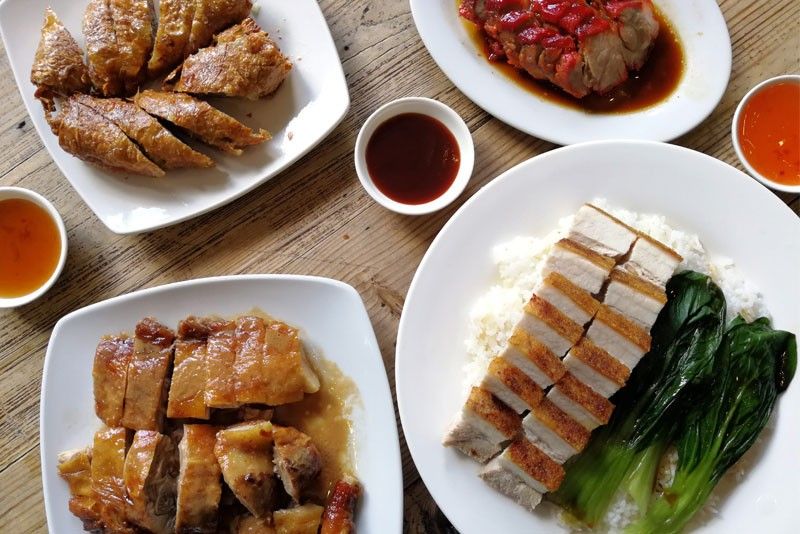 Millie: When my parents were still alive, one of their favorite places to visit was Hong Kong. Mom loved the shopping and would come home with extra suitcases. For Dad, it was the food. Not just any food; it had to be Chinese food. Dad loved roast goose and roast duck from Yung Kee Restaurant on Wellington Road in Central, so it would be his first and last meal whenever we were in Hong Kong.
Whenever I would go without him, I would make sure to bring him home a roast goose packed in a red Yung Kee box with handles. Once, I was unable to bring him back a Yung Kee roast, so I bought from a Chinese restaurant in Manila. I swear, he could tell it wasn't the real thing. But he ate it anyway.
A few summers ago, I treated my siblings to a weekend in Hong Kong. Karla and I went to Paris and since we flew Cathay Pacific, we had a stopover in Hong Kong. At first, I invited my two sisters so we could bond. But I had a change of heart and decided to invite my two brothers as well. I'm glad I did because we all had a good time laughing and eating.
Even before we arrived in Hong Kong, the itinerary was set with the specifics of where we would dine. On top of everyone's list was Yung Kee and the only dish my siblings wanted was roast goose, nothing else. And so it happened. We were joined for dinner at Yung Kee by my friend Coleen Tung, a former classmate from Ecole Hoteliere of Lausanne, Switzerland, who knew everyone in my family.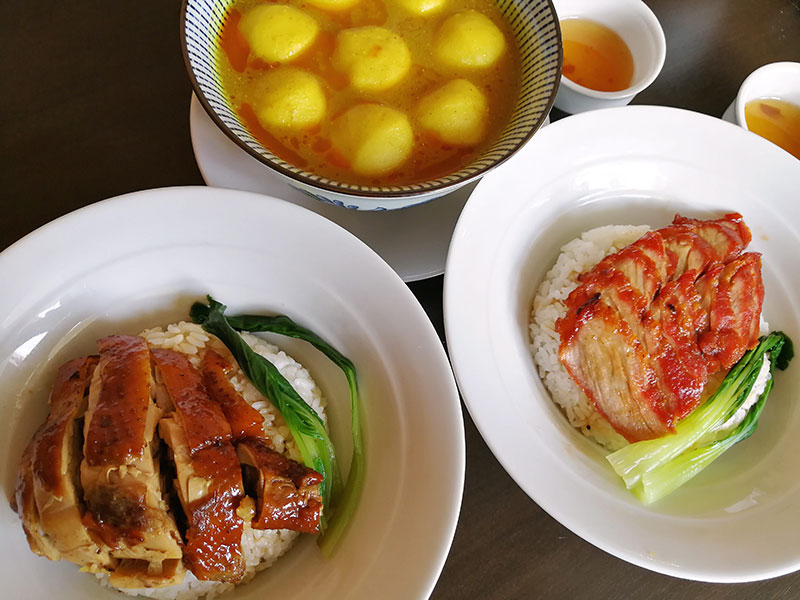 Rice toppings from 8 Treasures priced at P250-320. Order with a bowl of Hong Kong curry fishballs for P200.
The next day, we took the ferry to Macao since my sister Marijo and my brother Gerry had never been. It was unfortunate that there was a heavy downpour when we came out of the ferry so we all got drenched waiting for the blue bus to take us to the Venetian Hotel.
As soon as we arrived at the hotel, we parted ways and made arrangements to meet at the food court. Since it was lunch hour, and the food court was teeming with hungry tourists, Karla and I immediately looked for a table and I settled in to save the seats as Karla went to buy our lunch. Soon, Karla and my siblings came to the table, each carrying their own food tray. Lo and behold, they all had roast goose on their trays! We all had a good laugh!
On our last day, we all parted ways to go shopping and only met at the hotel when it was time to leave. At the airport, we again split up and found each other at the food court in the departure area and guess what each one having for dinner? Roast goose! I could not believe it!
Karla: Last February, mom and I discovered 8 Treasures, a hidden roasting house in Makati. It's located at the Petron Dasmariñas gas station on EDSA right outside the Dasmariñas village gate, the same gas station where our branch for The Plaza Premium Baked Ham and Go Gourmet is located. We learned that the chef is from Hong Kong and flies home weekly to bring in supplies.
We ordered the lechon Macau or roasted pork belly and charsiu pork. Other items on the roast specials menu are HK white and soy chicken, roasted duck, and suckling pig. Aside from the roasted specials, they also have curry fish balls, HK special beef brisket and ox tendon, HK sausage, chicken feet with abalone sauce and appetizers such as century egg with a creamy heart, jellyfish and more. The place has very limited seating capacity of 15 people. But don't let that stop you, as there is always an option to take out.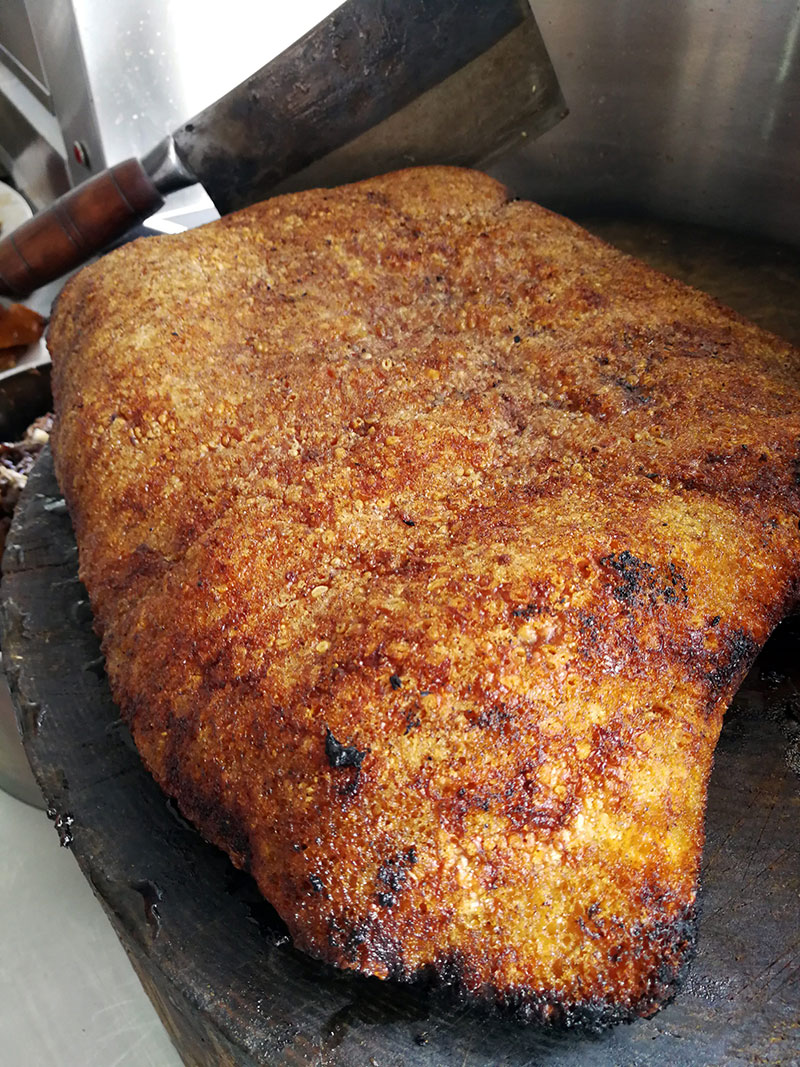 One of 8 Treasures' specialties: Whole slab of Lechon Macau or roasted pork belly with secret spices.
Another hole-in-the-wall roasting discovery was Mala Tang along A. Mabini, very near Wilson in San Juan. We've passed it numerous times but could never stop because parking slots were always full. One day, when we had a driver in, we decided to finally check it out. Their lechon Macau is always a hit because of the crunchy skin and tasty meat. But mom and I ordered so much more than we could eat. We ordered roasted duck, ngoyong roll, and charsiu in addition to the lechon Macau.
Other specialties are HK white and soy chicken and crispy fried chicken.
Mala Tang is not only known for its roasting specialties, but also for their hot pot. They have a make your own shabu-shabu bowl for as low as P155. When you walk in, they have a chest freezer on the side where you can choose your toppings and noodles. On their list of signature dishes, there's definitely more I'd like to try, such as the egg custard bun, salted egg prawns and the stir-fried soy noodles. Just like 8 Treasures, Mala Tang also has its limitations and could probably only seat the same number of people.
Millie: Judging from the number of customers we've counted walking in and walking out with their takeout orders, these two hole-in-the-wall eateries are indeed quite popular and that my family isn't the only roasting crazy bunch!
* * *
Send email to milliereyes.foodforthought@gmail.com and quichethecook.ph@gmail.com. Find us on Facebook: Food for Thought by Millie & Karla Reyes.