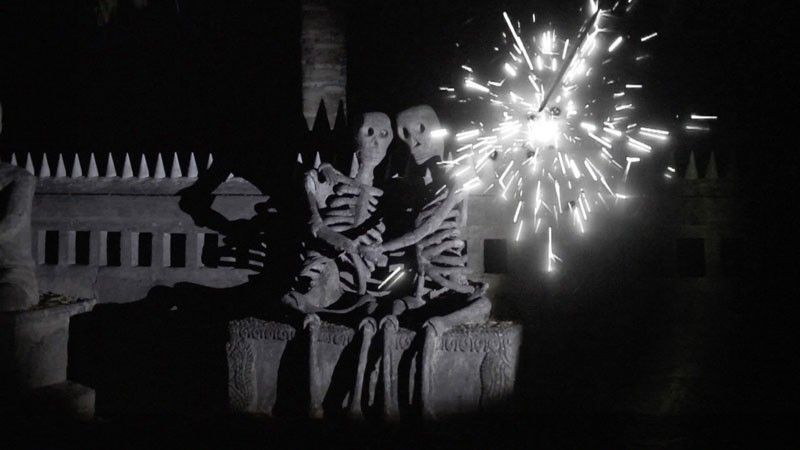 Apichatpong Weerasethakul, Fireworks (Archives), 2014. Video still courtesy of Kick the Machine Films.
(M.C. Reodica is the winner in the 2019 Purita Kalaw-Ledesma Prize in Art Criticism. Reodica won for her entry, "Saltwater Trajectories: Bisan Tubig Di Magbalon, and Viva Excon as Cartographer." She is also a musician and media archivist. Her research interests lie in sound, audiovisual translation, and the internet.)
There is a man dancing against all odds on the back of a moving pickup truck, moving to a tune that only he can hear. Our protagonist has been inflicted by, in the director's notes, a certain "pickup truck syndrome, fueled by a strange cocktail of politics, monarchy, and religion." In Apichatpong Weerasethakul's "Unknown Forces" (2007), the seemingly absurd and precarious gesture makes absolute sense.
The Thai filmmaker has garnered numerous awards including the Cannes Film Festival's Palme d'Or for the remarkable Uncle Boonmee Who Can Recall His Past Lives (2010), and the Principal Prince Claus Award. "The Serenity of Madness" is his traveling solo exhibition currently housed in the Taipei Fine Arts Museum. It had also been mounted at the Museum of Contemporary Art and Design Manila in 2017.
This iteration of the show presents over 20 works spanning the years between 1993 and 2018, including his short films, video art, video diaries, photographs, and archival materials. Evident is his work's relationship with light itself, and its fated relationship with cinema. It's present as early as his first film Bullet (1993), a rapid Brakhage-like succession of fleeting images. It clearly draws from the tradition of the American avant-garde, but the themes tackled demonstrates a portent of his films to come.
In Phantoms of Nabua (2009), lightning strikes on the doorstep of drowsy homes and temples. The film then cuts to these stormy images projected onto a screen, under a lonely neon light--which happens to be a form of technology exiled from the film set because it flickers on camera. There's a flaming soccer ball that resembles a comet in the dark as it is kicked around by young boys. The game becomes a dance between silhouettes and a bright flame that suddenly collides with the projection, and shortly incinerates its surface.
The viewer is left confronting the image of a projector, in one of the few chances to stare into a blinding source of light and walk away unscathed.
The exhibition also holds posters of Weerasethakul's feature-length films, along with a replica of the script of Uncle Boonmee, written entirely in Thai, which is remarkable considering how the dominant language of film production worldwide has been English.
Weerasethakul's approach to situating the installations is based on intuitive reactions to the museum's architecture, utilizing unconventional projection surfaces to make the pixels tangible. The digital video, shipped around the world in binary code via hard drives and optic cables, has become a companion in the room.
Fireworks (Archives) (2014) is a reverie of bright flashes of light that illuminate the animistic sculptures of a park to be featured in his feature length film Cemetery of Splendour (2015). There are only brief spectres of those wandering around the park, including two dusty skeletons locked in an embrace. In the installation, the video projected light onto a large pane of glass, through which the fireworks reflect and scatter around the room and eclipse the viewer. It's an apt metaphor for a film's power to attract and command a collective gaze for a moment in time.
Weerasethakul asks Tilda Swinton to close her eyes and remember her dreams. Or encourages children to picture a ghost, and shoots their imagined scenes of picking fruits, scratching an ear, and building houses. (Ghost of Asia, 2005) His partner, Teem, sleeps soundly in video triptych. (Teem, 2007) A lonely reincarnation of Rousseau sings about rubber trees, staring off into a distant somewhere (Sakada/Rousseau, 2012).
Time here is nonlinear, where the filmmaker draws upon past films for material, re-contextualizing them in new works. Many of these scenes are concerned with Thailand's political milieu, bearing a culturally-specific visual language whose nuances are not always apparent at first glance to a foreigner. However, Weerasethakul is able to envelop the exhibition space, resulting in a viewing experience that feels deeply intimate, like one is watching these events unfold before anyone else gets to do so.
Cinema operates on multiple dimensions: the visceral, the physical, and the temporal, among others. Yet the corporeal gestures of people and the presence of objects are all conveyed through two fundamental components: light and sound. As Bullet brings to a viewer's attention, a moving image is the result of images moving rapidly through a projector's shutter. The digital equivalent of this is the refresh rate of pixels on a screen. Either way, the principle is an alternating series of images and darkness moving too fast for the eye to see, resulting in the illusion of movement. This mechanism, honed to perfection, is what makes a moving image possible.
As Amos Vogel wrote in Film as a Subversive Art (1974), "Without the viewer's physiological and psychological complicity, the cinema could not exist." "The Serenity of Madness" is a welcome reminder that cinema, despite being borne out of a violent interplay of light and darkness, is potent at slicing deep into the wildest dreams. That's the pleasure of welcoming Weerasethakul's reality to seep into ours, lingering like a lone folk song on a radio.