From food to makeup, 'Star Wars' stuff is out of this world
December 7, 2015 | 8:02pm
LOS ANGELES — Right now, in a store not too far away, there is a galaxy of new merchandise connected to "Star Wars: The Force Awakens."
Beyond the usual action figures and apparel, the seventh installment in the space franchise (and the first from merchandise-driven Disney) boasts a broader array of branded products than ever before: from Chewbacca Coffee-Mate creamer (Wookiees drink coffee?) and "Star Wars" mascara to $400 designer Death Star shoes and a $4,000 Millennium Falcon bed.
"It's wider and broader and deeper and covers more age ranges and is less gender specific than anything I have ever seen for 'Star Wars,'" said Steve Sansweet, Lucasfilm's former director of fan relations and Guinness world record holder for the largest collection of "Star Wars" memorabilia.
Expanding the universe of "Star Wars" merchandise internationally was part of Disney's original vision when it acquired Lucasfilm, he said: "It was very clear from the front, and they have followed their game plan."
"Star Wars toys have always played an important role in how our fans interact with the Saga," Lucasfilm president Kathleen Kennedy said when the first "Force Awakens" collectibles were introduced earlier this year. "They've inspired multiple generations to relive the experience of the movies and to create new adventures all their own. These spectacular 'Star Wars: The Force Awakens' products will continue that tradition."
The result is an amazingly diverse range of branded items, from the unexpected (light-up lightsaber chopsticks) to the unbelievable (haute couture Stormtrooper wear). International offerings have grown in scope and distinction, too, with local licensees and artisans interpreting the iconic characters for their cultures.
Sansweet recently added some Japanese items to his collection, including soy sauce plates and "little kokeshi dolls, which are typical of a small community in Japan," he said. "They're usually carved in traditional format of samurai or geisha or something like that, and now there's a whole series of 'Star Wars' (characters)."
Retired from Lucasfilm, Sansweet now shares his "Star Wars" collection with the public through his nonprofit Rancho Obi-Wan museum in Petaluma, California, where he offers educational tours and hosts private events, including two weddings.
Here's a look at some of the more unusual items keyed to "The Force Awakens," some of which Sansweet has already added to his collection:
Food: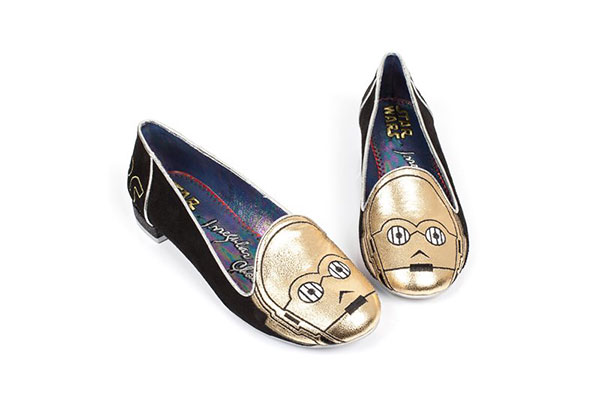 This photo provided by Nestle Coffee-mate shows the Nestle Coffee-mate limited edition Star Wars bottles. In addition to the collector-worthy bottle transformations, Coffee-mate introduces two new limited edition flavors including Chewbacca Spiced Latte and Darth Vader Espresso Chocolate. "Star Wars: The Force Awakens" opens in U.S. theaters on Dec. 18, 2015. AP/Nestle-Coffemate
Chewbacca isn't the only one with his own Coffee-Mate creamer. Darth Vader, C-3PO, R2-D2 and Boba Fett also got the creamer treatment, and each is a different flavor. (Chewie is spiced latte.) New York's Ample Hills Creamery introduced two new flavors in "Star Wars" packaging: The Light Side is marshmallow ice cream with crispy clusters, and The Dark Side is dark chocolate with espresso fudge brownies.
Other branded food items include special General Mills cereal boxes (one shows the Trix rabbit as Princess Leia) with plastic "droid viewers" inside and Kraft macaroni and cheese with pasta in "Star Wars shapes."
"I'm chasing around trying to find bags of Darth Vader apples," Sansweet said. "It's crazy! But it's fun-crazy."
Makeup: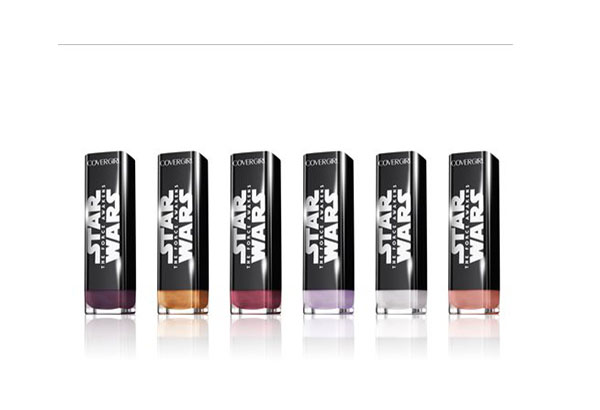 This photo provided by COVERGIRL shows Star Wars lipstick. "Star Wars: The Force Awakens" opens in U.S. theaters on Dec. 18, 2015, and it's bringing a galaxy of new merchandise with it, from Chewbacca coffee creamers (Wookies drink coffee?) to "Star Wars" cosmetics. AP/Covergirl
CoverGirl's limited-edition "Star Wars" collection includes nail polish, mascara and lipstick in such shades as Droid, Jedi and Dark Apprentice.
Clothing: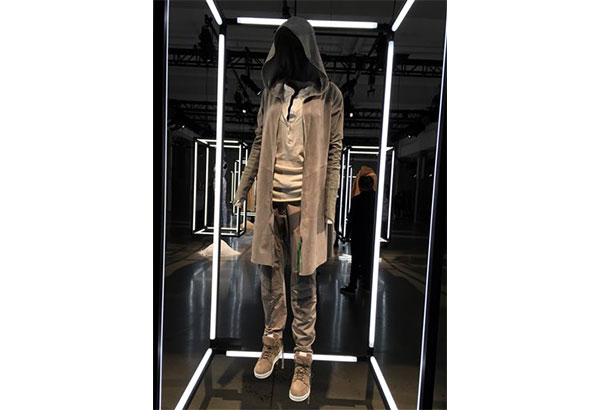 This photo provided by Disney Consumer Products shows a pair of shoes from the unique irregular Choice Star Wars shoe collection. "Star Wars: The Force Awakens" opens in U.S. theaters on Dec. 18, 2015. AP/Disney Consumer Products
Beyond the typical T-shirts and PJs, there are one-of-a-kind designer outfits based on "The Force Awakens" characters, such as Halston's gown inspired by villain Kylo Ren, up for auction this month (www.charitybuzz.com ) to benefit the Child Mind Institute. American watch maker Devon has a limited-edition "Star Wars" model available for $28,500. The outrageous "Star Wars" collection from British footwear company Irregular Choice is more affordable but may be harder to wear. The C-3PO flats are cute and low-key, but the Death Star platform booties with the Stormtrooper- and Darth Vader-shaped heels are out of this world.
Lifestyle: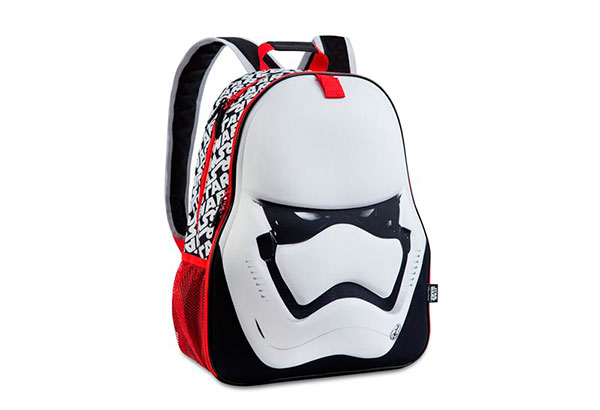 This photo provided by the Disney Store shows the First Order Stormtrooper Backpack - Star Wars: The Force Awakens. "Star Wars: The Force Awakens" opens in U.S. theaters on Dec. 18. AP/Disney Store
Adult collectors might covet Pottery Barn Kids' Millennium Falcon bed, modeled after the legendary starship (and only available in twin size). American Tourister has a line of "Star Wars" luggage, and the Disney Store has a backpack shaped like a Stormtrooper helmet. There's a Darth Vader toaster that brands your breakfast bread with the "Star Wars" logo and the aforementioned light-up lightsaber chopsticks, plus an X-Wing knife block and many other household items.
Is there anything that can't be branded "Star Wars?"
"There are limits," Sansweet said. "I'm not sure we've seen the end of the limits yet."