LIST: Celebrity properties available for rent
November 25, 2022 | 9:34am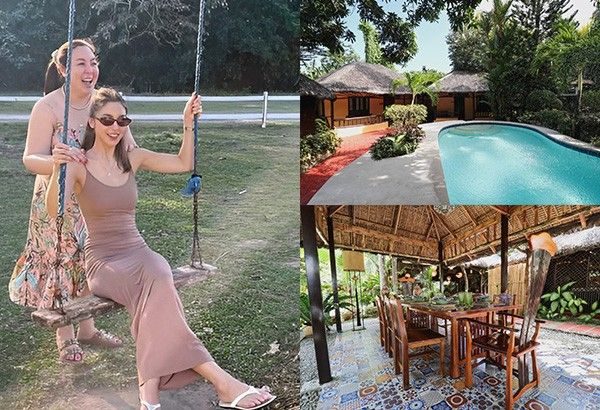 MANILA, Philippines — Celebrities like to get away from the often restrictive hours they get at work, whether for shooting a new project or promoting a brand.
As such, they purchase vacation houses or properties both within the country and abroad, where they can get some peace and serenity for the time being.
But whenever they do have work to do, these properties have no guests to house which could be a shame. Luckily, some celebrities opted to turn these places into Airbnbs so that others can get to relax the way they do.
The holiday season is a perfect time to rent an Airbnb with friends or family, so why not try one owned by a celebrity? Here are some celebrity properties you could book on Airbnb:
Marjorie Barreto's River Garden Rest House
Perhaps the most familiar local celebrity Airbnb is this villa in Calumpit, Bulacan owned by the Barretto family that can house up to 16 guests.
It officially welcomed guests last October, with Marjorie and her daughter Julia personally touring the rest house's guests during its first three weekends on Airbnb.
After buying it two decades ago, Marjorie restored the villa with old world charm and a modern Filipino vibe as a nature-inspired getaway with pawid roofs, bamboo, and capiz shell windows.
Related: Julia, Marjorie Barretto open Bulacan villa on Airbnb, to personally tour visitors
Making it more personal are precious antiques, furniture, accessories and heritage paintings Marjorie inherited from her mom.
With four big bedrooms with en-suite bathrooms, lounge, a large private pool, an outdoor dining area, a fully-equipped open kitchen with grill, and a gazebo with scenic views of the Angat River, a stay in the property is at P25,000 per night.
Zsa Zsa Padilla's Casa Esperanza
Casa Esperanza in Lucban, Quezon is the weekend home and passion project of singer Zsa Zsa Padilla and her partner Conrad Onglao, who consider themselves nature lovers and call the property their second home.
In its description on Airbnb, Zsa Zsa said Casa Esperanza — which borrows from the singer's first name — is modern rustic in design, has a big forest garden, and a planned farm to be built.
Perhaps the only caveat is that there are no meals included across the three casitas, but cooking is allowed and Zsa Zsa can suggest a chef in Lucban for catered meals and some restaurants that have deliveries.
As for the propety itself, each casita has its own luxurious bathrooms, while the main house has a living room, kitchen, pavilion dining area, service area, garage, greenhouse, and an infinity pool.
All in all, a stay at Casa Esperanza costs P19,600 a night.
Yassi Pressman's Redkey Lakehouse
Actress-model Yassi Pressman previously said in August 2021 that she finished building a home by Ontario's Lake Scugog in Canada, which has since been open in Airbnb.
Dozens of guests have stayed over in Redkey Lakehouse since then, and it's not hard to see why, given the luxurious yet tranquil experience it provides.
The lakefront property faces the west (perfect for sunset) and is equipped with a dock and a boathouse — also converted into an insulated games room with a bar — that is perfect for those seeking a ride over Lake Scugog or to go fishing.
Ten guests can be comfortably accomodated across four bedrooms and three-and-a-half bathrooms for P31,561 a night.
Journalists' Balustre Cerca
Soon to be available on Airbnb is the Balustre Cerca farmhouse property in Cavite jointly owned by journalists Susan Enriquez, Atom Araullo, Mark Salazar, Branden Milla, and Alex Baltazar.
Balustre Cerca is where each of the five journalists regularly take their families for some time off, given its bed-and-breakfast origins.
The property comes with four A-frame air-conditioned cabins, a swimming pool, a pavilion, an outdoor kitchen, and parking spaces.
RELATED: New Casa Dantes: Dingdong Dantes shows new home with Marian Rivera, kids