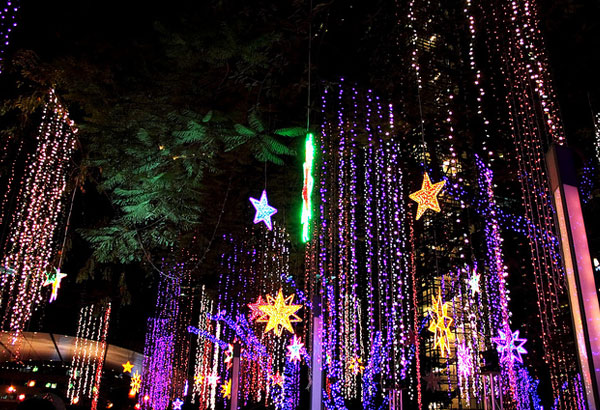 Four of the 10 most talked about topics on Twitter on Friday were about Christmas with nearly 150,000 posts in the Philippines, a country known for its grand and longest celebration of the holiday which starts from September and ends in January. Roslynyoungrosalia/CC BY-NC-ND
Filipino netizens start Christmas countdown as Ber months begin
(Philstar.com) - September 1, 2017 - 3:07am
MANILA, Philippines — When it comes to Christmas, Filipinos have no chill.
Christmas-related posts swamped on Twitter today, September 1, with the start of Ber months.
As of 10 a.m. Friday, four of the 10 most talked about topics on the social media site were about Christmas with nearly 150,000 tweets in the Philippines, a country known for its grand and longest celebration of the holiday which starts from September and ends in January.
Mentions of Christmas reached 92,700, Happy 1st of September got 2,641 and Ber Months got 37,700. Tweets about famous Christmas carols singer Jose Mari Chan reached 8,791 as netizens expressed excitement of his songs dominating the airwaves once again.
One netizen superimposed the singer-composer's face with that of the Night King, a "Game of Thrones" character who was said to bring winter with him, and used the hashtag #WinterIsHere. Another emulated the honorifics used in the show to describe the singer of the classic carols "Christmas In Our Hearts," "Little Christmas Tree" and "A Perfect Christmas."
All Hail
JOSE MARI CHAN!
First Of His Name,
Protector Of Carols,
Bringer Of 'Ber.
pic.twitter.com/xMEoUS1xhI

— Penny Y's (@DarwinAwardsPH) September 1, 2017
Here are some of the tweets that caught our attention:
I almost forgot: It's Christmas Eve.

— Lourd de Veyra (@lourddv) August 31, 2017
jose mari chan is coming pic.twitter.com/9QHIpRdq9q

— vin (@vinlaguerta) August 31, 2017
Ber Months na
Countdown na ng Pasko

Let's sing Merry Christmas and a Happy Holiday - Jose Marie Chan

— Marga (@Snow_91_White) August 31, 2017
Happy 1st of September! Jose Mari Chan's 4-month long domination starts now. pic.twitter.com/UgRXX82ZrP

— Aegon (@MagickPatrick) September 1, 2017
Who needs Mariah Carey and Jose Mari Chan when you already have 1:43 in your life? HAHAHAHAHAHA https://t.co/Q4i9Ci6sLU

— That Girl (@highreaching) August 31, 2017
Time out muna tayo sa ang bandang shirley, autotelic, the ransom collective, jensen and the flips, etc. It's Jose Mari Chan's season y'all. pic.twitter.com/vfjg4slj4A

— Patrick A. (@Ia_Malone) August 31, 2017
Ber months in the Philippines = BRING OUT THE CHRISTMAS LIGHTS!

— Patz (@starrylyca) September 1, 2017
Ber months na.. 115 days bago pasko..

— J a n e (@imjanesmiley) September 1, 2017
Christmas countdown starts today!

— Myka (@mykaching) September 1, 2017
Happy Ber Months! pic.twitter.com/rix2R8Lxgl

— ¡Oy Ruperto! (@rupertnotholmes) August 31, 2017