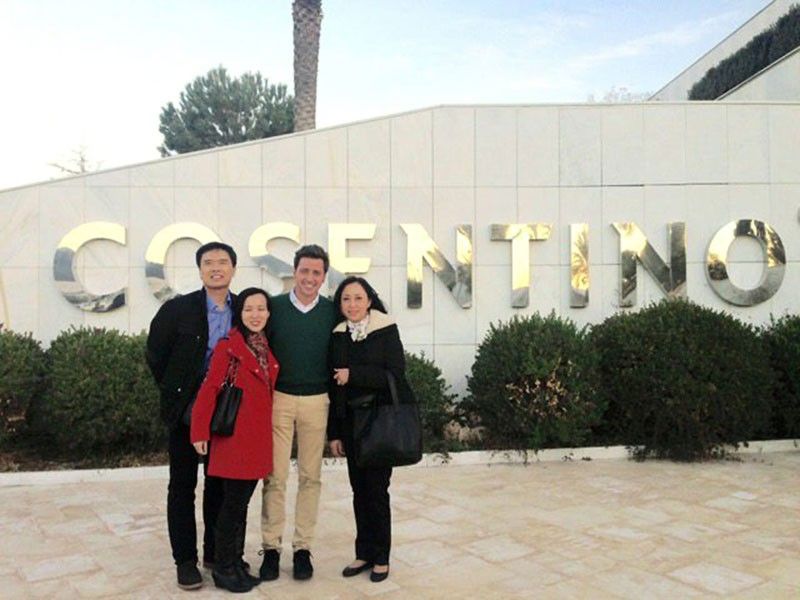 Author Heny Sison at the Consentino headquarters in Almeria, Spain, with Oliver Sy, Jennifer Sy and Eduardo Consentino, CEO of Dekton for North America
I came across a quote somewhere that read, "Happiness is a small house with a big kitchen." Indeed, how much I can relate to this. As a matter of fact, in my home, I don't have just one kitchen but three! Two serve as classrooms for baking and cooking courses offered in my school.
The heart of the home is the kitchen, where most of my fondest memories come to life. It is where I come to understand my past and how I've grown and evolved as a daughter, wife, mother and chef. And as I have evolved, so has my kitchen transformed through the years.
It is every cook's desire to realize their own dream kitchen, a workspace that will inspire them to be their best. And on most everyone's wishlist would be a functional and stylish kitchen countertop. I've been asked about this often.
What makes for the ideal countertop? It may actually feel overwhelming because of the number of choices out there, from granite to quartz, solid surface to laminate. To find which material is best, you must think about your needs and habits in the kitchen. For instance, do you do lots of prep directly on the counter surface? That could rule out soft or porous materials that could show stains or marks. Would it be easy to clean or maintain? If it is for a commercial kitchen, you would need a heavy-duty countertop that would serve your needs without demanding much maintenance. Of course, budget is another factor to consider.
My kitchen countertop used to be marble. I changed it because it was porous. Right now it is made of Dekton. I particularly like it because it is heat and stain-proof. Dekton countertops are a product of Cosentino, from Almeria, Spain. In the Philippines it is managed by Oliver Sy. The company produces decorative and architectural surfaces that are distributed worldwide.
Dekton itself is known as an ultra-compact surface in the world of countertop technology. A combo of the raw materials used to make quartz, glass and glass porcelain countertops goes through a process called "sinterized particle technology," which involves mixing the raw materials and subjecting them to tremendous pressure and extreme high heat of 1,200 degrees. This technology makes it nonporous, fade-proof, fireproof, stain-proof and easy to clean. Not many countertop materials can boast being heat-proof. Most are just heat-resistant. But this countertop is tolerant to even the most extreme hot temperatures. So they are probably resistant to cracking as well.
One benefit of a Dekton countertop is the slab size and thickness. They are sold in quite large slabs. This means that they are large enough to cover the entirety of your countertop area without requiring a seam. The result is a sleeker and cleaner look.
In the company of an esteemed group of interior designers, I had the opportunity to witness how the production takes place, from the sourcing of the natural stone to the cutting of the slabs. The process was very foreign to me, and I appreciate the experience of learning how much thought, work and time was invested in producing the countertop where I spend most of my waking hours baking, cooking, teaching, and sharing the passion of food to others.
Here are some tips for the regular maintenance of your countertops. For day-to-day cleaning, use mild soap and water. For stubborn dirt on the exterior cladding, a good brushing or power spray is all that is needed. Lastly, since Dekton can be used for floors and walls (interior and exterior), even paint or graffiti will not stain the material. Paint marks can be removed using solvents.