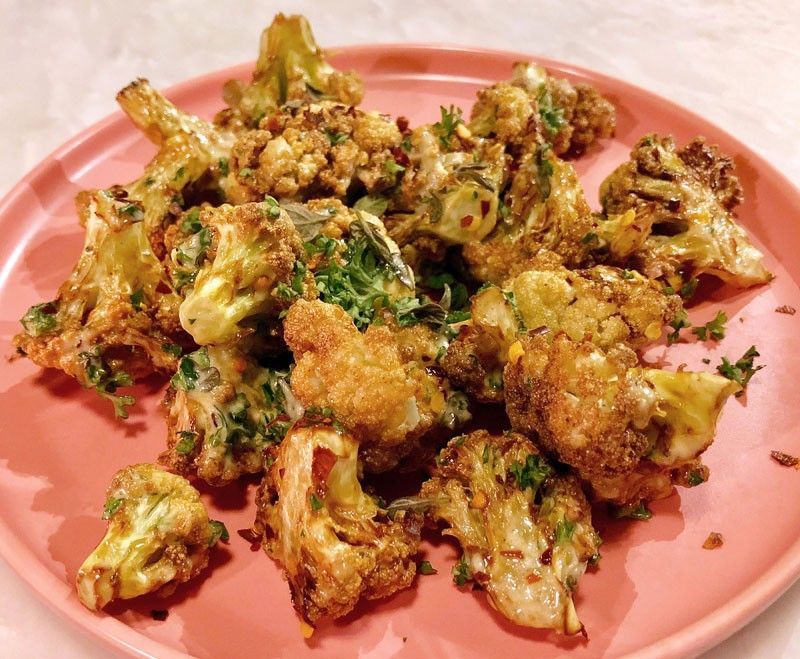 The Fried Cauliflower from Noor is a nice starter.
Not your usual Valentine eats
By the time Valentine's Day comes, you will have gone through several lists of the "Top Valentine's Day Spots," but if your one true desire is to spend that day with your significant other off the beaten path, I humbly submit my list right here.
Get cozy
Mediterranean and Middle Eastern food rarely come up on people's lists of romantic spots, but give Noor in BGC Forbestown Road a shot. At night, the ambiance is cozy and relaxing, the service is effective but unobtrusive (which is key to a nice date) and the food is topnotch.
Make sure to try their Fried Cauliflower first. Dressed with a light, aioli-type sauce, the cauliflowers are very savory, with just a hint of spice and surprisingly not much oil. It's the perfect start to a meal, and then you can go in for some of their Chicken Shawarma. Flavorful grilled chicken, fresh veggies, soft and chewy pita — there's really nothing to complain about, right?
There's always room for dessert, especially on Valentine's Day, and I think Noor's dessert, the Knafe, is a can't-miss. Layers of shredded, crisp filo pastry, strawberry jam, ice cream — the dessert has not just sweetness but also texture, which makes eating it a great experience.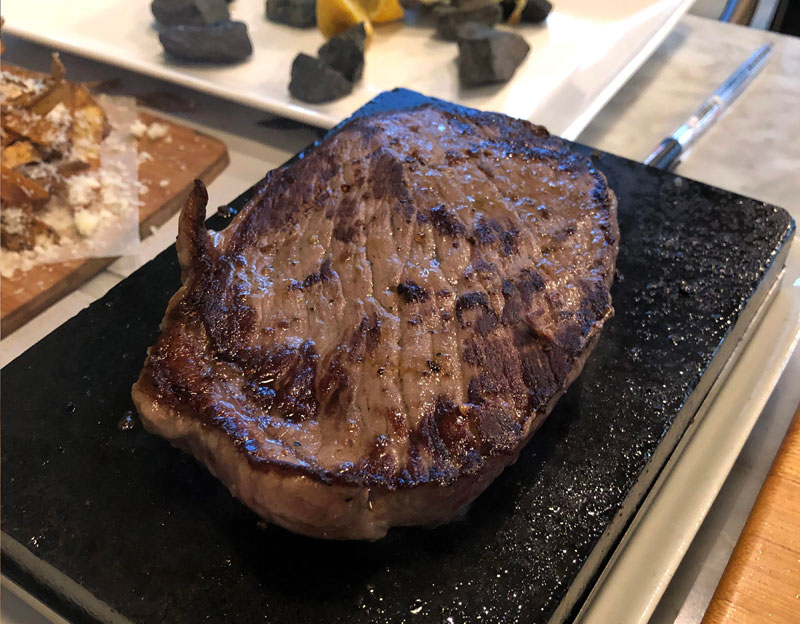 Dry-aged steaks at Stoned Steaks are all aged in-house.
Turn the lamp on
Filipino food isn't always romantic; maybe because it's too associated with home cooking and large portions, but personally I think Filipino food can be romantic. If you and your significant other are looking for a Filipino food date, drop by Lampara in the Poblacion area. The young chefs in charge give their different, modern takes on Filipino favorites in a beautifully designed "house setting."
Make sure to try their Shortrib, absolutely tender pieces of beef short rib cooked with paprika and garlic — quite a luxurious take on salpicao. Also noteworthy is the Duck Breast appetizer, which is their modern take on dinakdakan, tender chunks of duck mixed well with calamansi, egg and chili. They really should call the dish "Dinuckduckan," if they are so inclined.
I also loved their take on a Chinese classic combination of tofu and pork floss, as they add zestiness with the black vinegar and texture with bacon crisps. The best part about all of these dishes? They come in small portions, so you and your date can order several and share. Don't forget to ask about their signature cocktails, too.
Romancing the stone
Steak is definitely an easy choice for a date, as very few people say no to a tender and juicy steak. Since most head south to get their steak fix, driving on Valentine's Day can be a chore for those who live in the north. Enter Stoned Steaks along Scout Rallos in Quezon City. The small, inconspicuous place is like a mirage, as the delicious steaks are big in flavor. They have their own dry-aging equipment so you can get dry-aged steak at a more affordable price. They serve their steaks on a hot stone so you can impress your date by cooking your steak exactly how they like it.
Don't sleep on their non-steak options, too. Baked oysters with cheese may be classic, but I don't see the downside there. They also serve a really nice chocolate dessert, this time on a cold stone. The best part is they do have a wine selection as well so your steak gets the best accompaniment.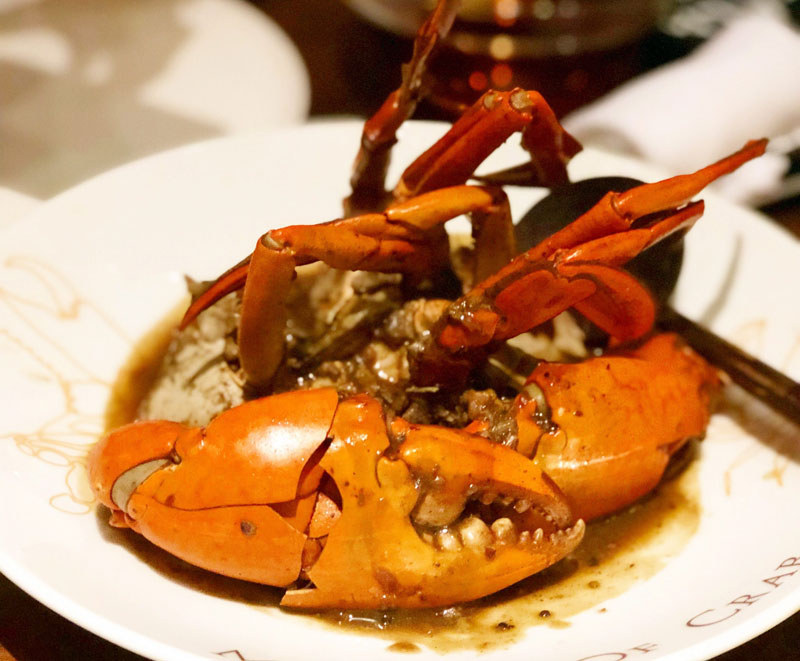 Ministry of Crabs' Sri Lankan Pepper Sauce elevates your crab experience.
Avoid getting handsy
Shellfish like prawns and crabs get a bad rap during Valentine's Day, since most people want to wear their best outfits and avoid being messy, but what if you can get to your shellfish with minimal effort?
Ministry of Crab in Shangri-La at the Fort is a worthy destination then. Fresh, giant, and most importantly, local prawns, clams and crabs are the stars of the show, but they are very ably supported by the ministry's different sauces. Make sure to try the clams in soy and butter, such a simple dish but rich and satisfying all the same. Of course, order the giant crabs in the Sri Lankan black peppercorn sauce. The crabmeat is still succulent and tender despite the crabs' ginormous size and the sauce is a wonderfully unique, very savory and spicy. Instead of a harsh spiciness that attacks your palate, this sauce gives you an excitingly slow burn that almost tickles the tongue.
Speaking to one of the owners, his other favorite way to enjoy the crab is to order the chilled crab served with melted butter. Since they cook everything fresh daily, you will have to order this in advance, so plan ahead!
Meanwhile, you're going to want bread to soak up all the mouthwatering sauces, and their Kade bread is the perfect bread to do that. The best part is you can have the staff help you by having your crab shells cracked well, to the point that your own hands have very minimal work to do. Then, they give you a washbowl at the table so you don't have to leave your date to go wash your hands.
Eat your feelings
All my previous suggestions would best be enjoyed with a date, but even if you find yourself dateless (like most probably me), then of course the best way to spend Valentine's Day is to eat lots of ice cream!
Sebastian's Ice Cream (in Podium and Vertis malls) always has a Valentine's Day series of ice cream flavors that are not only witty, but tremendously delicious, too. Have a bit of fun by picking flavors like "Matinong Boyfriend" or "Matinong Girlfriend" and one of my favorites, the "Unresolved Feelings," which is bitter gourd (ampalaya) sorbet with candied bitter gourd. As crazy as it sounds, you should all give it a try. Actually, have fun and try all the flavors before picking your favorite. If you're in luck and their ice cream pies are available, get the one with leche flan on top of leche flan ice cream. You'll be glad you're eating it alone so you won't have to share.
* * *
Sharwin's book So You Want to be a Chef? is available at all National Book Store and Powerbooks stores nationwide. Follow Sharwin's food adventures on Instagram @chefsharwin and for questions, reactions, recipe and column suggestions, you can contact him at www.sharwintee.com.