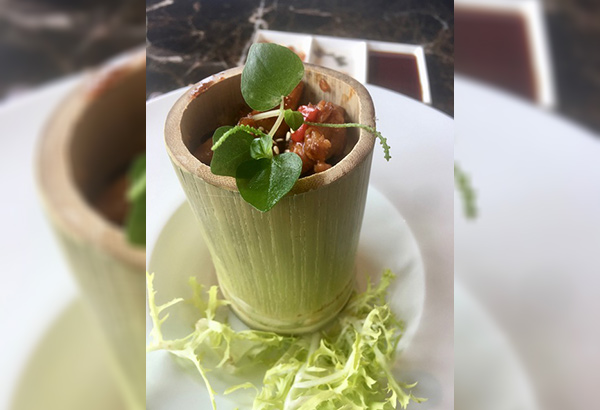 Baked Chinese sweet vinegar diced chicken with garlic rice in bamboo cup
Modern love at China Blue
I'm a bit of a purist when it comes to cuisine. Okay, fine, I'm more than that; I'm a grumpy old lady who'll yell at you to get off my porch with your fusion confusion, avant-garde atrocities and nouvelle bland.
But, I have to admit, one modern Chinese meal at China Blue by Jereme Leung and it was love at first taste. His marinated tomatoes with sweet vinegar and sour plums taste like juicy, lush and velvety champoy, and his mushroom truffle buns are so impossibly pretty that biting into one is like finding out a Victoria's Secret model happens to be a nuclear physicist, too.
I was impressed with China Blue's delicate and subtle flavor profiles that managed to remain layered and complex. I also loved their take on modern Chinese food — fresh and innovative, but never feeling like a betrayal of traditional flavors. Was it any surprise, therefore, that I jumped at the chance to take a master class with the master himself, Jereme Leung?
As I was led into one of China Blue's private dining rooms and introduced to the very gracious and charming Leung, I was thrilled to find out that we would also get to enjoy a lunch comprising his newest dishes, many of which would be incorporated into their constantly evolving menu. But first, we had to sing for our supper, or, more accurately, cook for our lunch.
Leung led us into China Blue's immaculate professional kitchen and introduced us to his executive chef in Manila, Eng Yew Khor, whom he described as "my more talented and better-looking counterpart."
He then walked us through the process of making one of China Blue's specialties, a homemade fried spinach bean curd with a minced chicken and eggplant sauce, after which we were invited to make our own spinach bean curd, and then sauce and plate our own masterpieces.
And, of course, after all that slaving in the kitchen, we hungrily trooped back to to the dining room to reap the rewards of all our hard work: a plethora of dishes created by Leung himself, enjoyed amid a stunning backdrop — the Conrad Manila's spectacular view of Manila Bay.
We started out with appetizers: a pillowy-soft potato bun filled with steamed chicken curry, a salad of crispy bits of duck in a kumquat sesame dressing and my personal favorite — a soft dumpling disguised as a tomato filled with sweet roast pork and served with moringa leaves, which provided the perfect bitter and astringent counterpoint.
And because in Leung's world (I like this world!) appetizers aren't starters, we then moved on to a pre-starter: a plump, stir-fried stuffed crab claw with crispy egg yolk in a delicate butter cream, and then soup: a peach gum consommé with abalone, seafood dumpling and cordyceps flower served in our very own Philippine coconut.
This dish was served with a garnish of cinnamon sticks and star anise, which I promptly dropped into the broth. That and the coconut flesh that Leung urged us to scrape into the broth added several dimensions of flavor to the soup, yet still managed to taste fairy-wing light.
Finally, we moved on to the main courses: baked Chinese sweet vinegar diced chicken with garlic rice in a bamboo cup and my second favorite of the day, oven-baked miso snow fish (cod) — flaky, moist and aromatic in a light but flavorful garlic white sauce with the faintest hint of truffle.
Enough, we groaned. We couldn't possibly eat another bite. Or at least that's what we all said until dessert arrived — a vanilla panna cotta with berries, followed shortly by chef Kor running in with steaming hot, fried Yunnan fresh rose petal ice cream, the edible petals hand-carried personally by Leung himself. Sure enough, those dessert plates were scraped as clean as all the others.
It was a lovely meal and a lovely day, the perfect tonic that melted traffic and all other minor annoyances away, and one I highly recommend to everyone. Make the spinach bean curd recipe, because it's awesome (it is Leung's, after all), and then get yourself to China Blue by Jereme Leung at the Conrad Manila. Savor the amazing view, the even more amazing food, and walk away with a smile feeling like modern life, love and food can still surprise and delight you after all.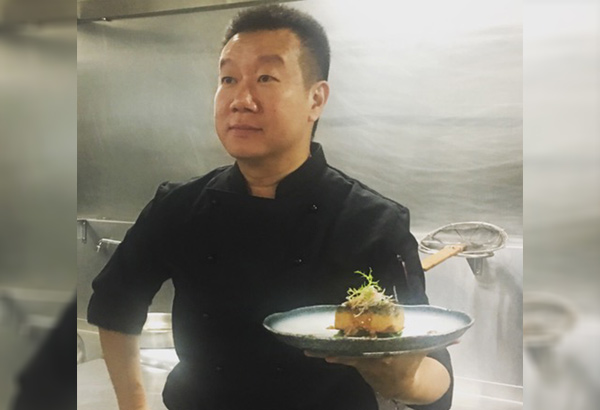 Chef Jereme Leung with his fried spinach bean curd with minced chicken and eggplant sauce
Recipe File : Fried spinach bean curd with eggplant & minced chicken sauce
Spinach bean curd:
Unsweetened soymilk (preferably organic), 250ml
3 eggs, whisked
Raw spinach, chopped, 60 grams
Eggplant and minced chicken sauce:
Peanut or vegetable oil
Diced eggplant, 60 grams
Diced chicken, 80 grams
Dried black mushroom, soaked, 50 grams
Oyster sauce, 25 grams
Sugar, 20 grams
Light soy sauce, 20ml
Hot bean paste, 15 grams
Minced garlic, 15 grams
Minced shallots, 15 grams
Minced red bell pepper, 15 grams
Cornstarch and water, 25 grams each
Toasted sesame oil, 20ml
Peanut or vegetable oil for deep-frying
Julienned carrots, leeks and chopped spring onions for garnish
Procedure:
Spinach bean curd:
Whisk the soymilk and eggs until thoroughly incorporated and pour into a container lined with heatproof plastic wrap. Add the raw spinach into the soymilk mixture, pressing lightly until the spinach is submerged. Do not over-mix.
Steam the spinach-soymilk mixture for 20-30 minutes or until firm.
When finished, remove the bean curd from the container and transfer onto a separate plate. Cut into 2"x3" slices.
Eggplant and minced chicken sauce:
Add your oil to the wok and when very hot, add the rest of your ingredients except for the cornstarch mixture and the sesame oil. Sauté until aromatic and chicken and vegetables are browned and slightly crisp. Take off the heat and add the cornstarch slurry, stirring constantly until sauce thickens to desired consistency. Finish with a drizzle of sesame oil and set aside.
To finish:
Heat your oil for deep-frying until nearly smoking. Pat spinach bean curd slices dry with paper towels and then deep fry until golden brown. Transfer to paper towels to drain.
Arrange bean curd slices onto plate and drizzle sauce on top. Garnish with julienned carrots and leeks and sliced spring onions.
* * *
For questions, comments and suggestions, email me at Johanna@realgirltoykitchen.com, visit my website www.realgirltoykitchen.com or follow me on FB (Real Girl Toy Kitchen)/IG: realgirltoykitchen.