Fire and flavor: Peri-Peri chicken with 8 exotic dippings
MANILA, Philippines – How about putting an exotic twist to your usual chicken and gravy meal?
Inspired by the idea of building a floursihing homegrown restaurant, instead of simply getting a franchise, Bryan Tiu, chief executive officer of iFoods Corp., opened the first branch of Peri-Peri Charcoal Chicken at Promenade, Greenhills back in 2005.
To bring the Portuguese-African flavors closer to Filipino chicken lovers, another branch has recently opened in Capitol Commons.
"We saw how the Filipinos responded to this kind of chicken. So we prepared for it. We expanded the menu and all that and then we opened this store. And here [Peri-Peri Charcoal Chicken in Capitol Commons], parang eto 'yung aming jumping board to a more elaborate book," said Karen Navarro-Cosico, the head of marketing for iFoods Group when asked about why they opened another branch this year during the exclusive foodtasting event at the restaurant.
With colorful bottles and wall graffiti around the venue, the restaurant set in two floors captures the vibe that perfectly suits their world famous Peri-Peri Chicken, a dish rooted from African Bird's Eye Chili that was discovered by the Portuguese that sailed in search of the famed spice route.
What makes this Peri-Peri restaurant different from others? Flavor and fire. With spitfire grilled butterflied chicken that is perfectly marinated in a unique blend of various herbs and spices brought in all the way from Africa, Peri-Peri Charcoal Chicken will take your palate into a mouth-watering adventure with its bursting flavors.
"Ang Pinoy mahilig sa sauces eh. But when you go to some Peri-Peri restaurants, they only have hot sauce as highlight. Peri-Peri kasi is parang "chili chili." So I think yun yung ano [edge] namen. We did not settle for just a hot sauce," said Tiu when asked how his restaurant is different from other Peri-Peri restaurants.
Diners who choose to order this palatable chicken will have the option to choose three of their eight signature dippings and sauce to enhance the flavor. Created by their line of RNDs, each sauce represents a certain personality and create a multitude of flavor combinations that can satisfy any craving.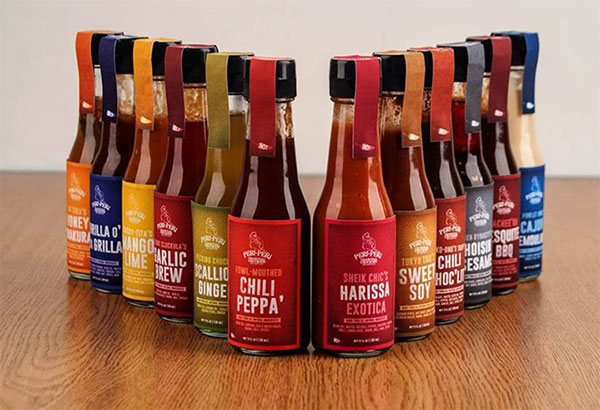 Apachee'kn Mesquite BBQ – smoky, sweet, tangy
Tokyo Tori's Sweet Soy – sweet, teriyaki style
Count Cluckula's Garlic Brew – garlicky, spicy
Fowl-mouthed Chili Peppa' – fiery, hot
Hen Dynasty's Hoisin Sesame – sweet, tangy with a hint of spice
Ka Tuka's Honey Pinakurat – Filipino spiced vinegar
Sheik Chic's Harissa Exotica – exotic blend of spices
Poulet Vous Cajun Remoulade – spiced mayonnaise
Then again, peri-peri chicken is not the only dish to love here - there's the incredible dining experience – large servings and an unlimited soup and beverage bar with a variety of choices.
Peri-Peri Charcoal Chicken had their very first international franchise store in Yangon Myanmar this month and they are soon to open branches in SM Megamall, NuvaliSolenad, Eastwood City and more.