Why Australian grass-fed beef is better
August 19, 2015 | 10:00am
MANILA, Philippines - Chef Marco Legasto, owner and resident chef of Prime 101 restaurant, says he prefers to eat his beef raw because he can taste the full flavors of the meat.
Yes, you can eat your beef raw, chef Legasto assures. But for him, it should be Australian grass-fed beef because it's safe, healthy and nutritious.
"I'm an advocate for Australian beef because of their best practices," he says. "They don't force-feed the cows. And even for their grain-fed cows, they're given barley and malt. I love the practice of having them grass-fed; it's the natural diet of the cow and it's a lot healthier."
Prime 101, which specializes in steaks, is one of the 37 restaurants participating in the Australian grass-fed beef promotion, a joint project of the Australian embassy, the Australian Trade Commission (Austrade), Meat and Livestock Australia (MLA) and the State of Victoria.
Each participating restaurant customized recipes that feature the unique taste of Australian grass-fed beef that has been raised exclusively on pasture.
Austrade's senior trade commissioner Anthony Weymouth says there is a growing demand for quality beef in the Philippines and "Australia produces premium, best-quality beef that suits the Filipino taste and budget."
MLA country manager Paul Perez acknowledged that there has been a slowdown in worldwide exports of Australian red meat this year due to the drought. Australia is the world's third biggest exporter of beef. Its largest export markets are Southeast Asia, China, Japan, the USA, and Korea.
"Australia came from a big drought but now that the drought season is over, there are more grasses around, farmers can rebuild their herd and cattle can repopulate. We have a steady supply for the Philippines," Perez says.
The MLA is an organization that provides marketing and research development services for Australia's cattle, sheep and goat producers.
Perez harps on the qualities of Australian grass-fed beef, and why there's been a global demand for Aussie beef. He says Australia is the best place to raise beef cattle as its climate and environment provide the perfect growing conditions to raise premium beef.
"About 97 percent of cattle in Australia are located in a grass-fed environment. In fact, one cow is allocated one whole hectare of land to graze. They're happy cows," Perez says. "The beef is seen as an important component of a healthy diet. It is naturally low in fat and cholesterol while offering a higher level of Omega 3 fatty acids, thought to lower blood pressure and reduce the risks of certain types of cancer. That's why health-conscious Filipinos are now choosing Australian beef as they shift to protein-based diets."
Not only is the beef healthy, it is also one of the safest meats as Australia has one of the best environmental standards in the world, attests Natasha Monks, Austrade's Trade Commissioner for Philippines and Micronesia. Australian beef is known for its traceability traits and the industry has remained free from animal diseases. Perez also shares that the grading system of the beef in Australia is entirely different from America's.
"They count the number of teeth of the cow and that's their grading system. The younger it is, the higher the quality is, not like the US, which uses the marble score. Australia also uses the marble score but mostly for its Wagyu," he says.
Chef Legasto attests that Australian beef is also delicious. "When you say Australian beef, it is more herby in taste, earthy and beefy in flavor. Unlike US beef, which has a buttery taste, or the Japanese beef, which is creamy and buttery, almost foie gras already. Grass-fed Australian beef has a complex flavor due to a varied pastoral diet. That's why it's good to eat Aussie beef raw because you can taste its full flavors," Legasto says.
He shares that Prime 101 carries Australian beef all year round. "In my restaurant, we carry the brands Oconer (grain-fed beef) and Pinnacle (grass-fed). We also carry the Mayura Station signature select. I think there are only two restaurants here that carry the Mayura Wagyu beefs, which are regarded as one of the best-quality beefs in the world, known for its excellent marbling," Legasto says.
Prime 101, located on Pasong Tamo Makati, serves all kinds of steaks from Japan, the US and Australia.
For the Aussie promo, Legasto prepared braised grass-fed sirloin in Iberico chorizo, Pinnacle grass-fed rib eye cooked in Prime 101's signature way and grass-fed beef tartare 101.
"Using the Pinnacle brand, the grass-fed sirloin is served raw and I mixed it with spices and a very good Iberico chorizo because it complements well with the flavor," he explains. "For the rib eye, we cooked it for a long period of time and the meat is very soft; it comes off the bone. For the beef tartare, it's just steak but we did a special process of cooking."
Perez says they're very happy with the reception of the restaurants in their promo. "Thirty-seven restaurants have participated and they've created menus that highlight Australian beef; it shows that the Philippines is ready for Australian red meat and consumers are hankering for quality, safe and nutritious beef," he enthuses.
Other participating restaurants include A Steakhouse at Acacia Hotel, Arya, Blackbird, Carpaccio, Casa Roces, Chef Jessie Top of the City, Chef Jessie Rockwell Club, Chesa Bianca, Cravings, Cyma, Epicurious, Ilustrado, Kitchen 1B, Lucia Ristorante, One Way, People's Palace, Sala, Sala Bistro, The Blackboard, the Breakfast Table, the True Grill, the Urban Farm, and the Wholesome Table.
Diners who avail of the promo can get a chance to win P5,000 in dining privileges or round-trip tickets for two to Australia via Qantas Airways. The promo is ongoing until Aug. 23.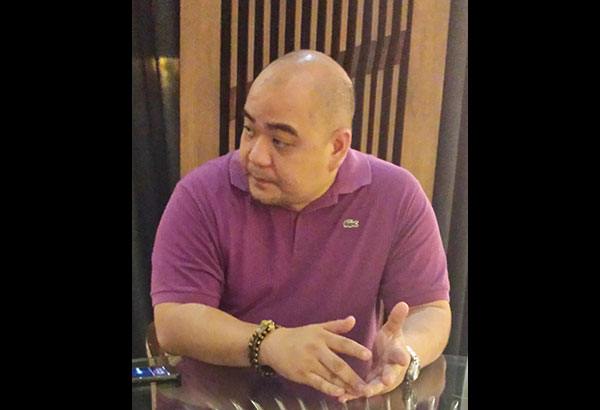 Chef Marco Legasto, owner and resident chef of Prime 101