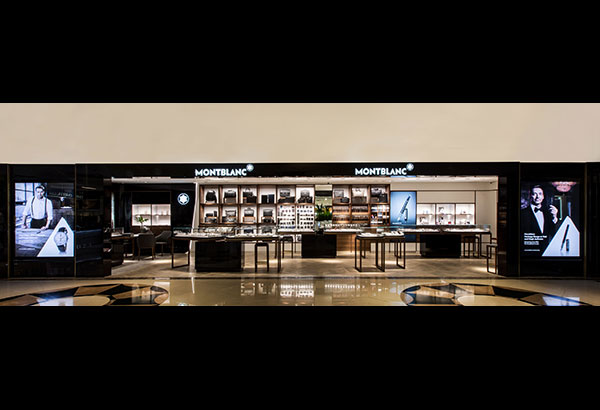 Blanc space: The reinvigorated 110-sqm Montblanc concept boutique on the ground level of Rustan's Makati features an open layout and innovative product displays.
Montblanc pens its support for children's education
MANILA, Philippines - It has been 178 years since the English author Edward Bulwer-Lytton first coined the adage, "The pen is mightier than the sword." Our national hero, Dr. Jose Rizal, in fact, championed it when he wielded his intellectual revolution against the country's imperial colonizers. But the soft power of writing can still trump military might today, whether it is by way of a president's flourish on an executive order, a journalist's exposé or a child's first handwritten word in school. It speaks of information's influence to shape society's future for better or worse.
"There's a certain emotion to writing," says Mattheiu Dupont, Montblanc's president for Southeast Asia. "There's a strong emotional aspect in being able to write something to someone, whether it's a sensitive topic, something romantic, or a note of gratitude that is timeless. It won't change."
Montblanc, the German luxury brand built at the turn of the 20th century, specializes in crafting well-made writing instruments.
Now owning one of Montblanc's Meisterstück ("Masterpiece") fountain pens may be a privilege reserved for the global elite, those who can impact the world order in politics, diplomacy, and economic policies with just the stroke of a pen. As Dupont admits, "There is no doubt in anyone's mind that when you want writing instruments that are all about influence, importance and the celebration of something, it is a Montblanc pen, whether you are an executive, a manager, a CEO or a political leader. Nothing represents success, power and pleasure better."
That doesn't mean that the brand wishes to keep the luxury of writing in the hands of the few.
"Today, there are several millions of children who don't have the capacity to read or write," Dupont observes. "In developed countries, we have educational programs. It's obvious that kids go to school to learn to read and write. But it's not obvious for millions of children around the world. Go to Djibouti, Brazil, or China, and you will see kids that don't have access to literacy like you and I did."
Where education is seen as the greatest equalizer, there are still 59 million children around the world who don't have access to formal education, and some six million of them are in the Philippines. These disturbing statistics have prompted Montblanc to invest more in support of world literacy.
"I think that it is a fundamental right for children to gain education," Dupont says. "It makes so much sense for a brand like Montblanc — which is about the emotion and the passion of passing things on — to support this cause."
He explains that Montblanc's partnership with UNICEF is a clear reinforcement of their support for the gift of writing. "UNICEF supports programs for child literacy to make sure that these children have access to better formal education, and therefore, hopefully, a better life. These programs are absolutely not discriminating. On the contrary, they're regardless of race, gender, and socio-economic background. It's a 13-year-old partnership now that has been able to raise more than $10 million and some more $1.5 million coming up this year."
To make sure Montblanc and UNICEF's targets add up, the brand recently unveiled the "Montblanc for UNICEF Collection," which features limited-edition pens, leather goods and watches all crafted with the streak of the global literacy organization, to be sold until March 31 of next year.
"The message that we want to give is that education is not a luxury, but a gift that we've been given, and we can contribute in giving it to millions of children around the world with the pleasure of owning beautifully crafted products made for that cause."
Three percent of the sales proceeds from the collection will directly benefit some five million children in need of a proper education.
Montblanc's UNICEF collection feature pens inspired by one of the world's oldest information relics, the Rosetta Stone.
"The Rosetta stone is commonly referred to as the stone that decrypted the Egyptian hieroglyphs," Dupont explains. "That capacity to decipher letters and writing gives access to an entire civilization. That's why we chose that as our inspiration, with the six main languages that most people around the world first gain access to: Arabic, Hindi, Korean, Mandarin, Japanese and the Roman alphabet."
With its blue lacquer barrel encrypted with the world's most influential characters in silver, and topped with a sapphire set in its cap, Montblanc's Meisterstück Writing is a Gift Blue Solitaire Le Grand fountain pen with a UNICEF-blue inkwell.
"It's definitely a collectible item because it's an association, a partnership that is very important for the brand, and because there will only be a limited amount of time that these items would be available," Dupont says. "Also, the representation, the design that went into this collection is simply fascinating. I must say that the response has been very strong for the UNICEF collection."
The unveiling of Montblanc's landmark UNICEF collection in the Philippines coincides with the opening of its reinvigorated concept store in Rustan's Makati, replete with a modern, progressive layout yet still fitted with elegant, timeless accents. Dupont does not see this as a case of serendipity, but a natural evolution of how the brand is extending its influence.
"We are here to offer a product about emotion: the pleasure of having a beautiful writing instrument, the pleasure of having a beautifully made Swiss watch, the beauty of having Montblanc leather goods which are made with fine Italian craftsmanship," he says. "This is something that we're about. We're about finding pleasure in products that you like to use, that you would like to gift. And as the world evolves, as disruptive as the world is today, finding pleasure in owning some items that you take pleasure in using is timeless. And passing it on to someone is timeless."
* * *
The new Montblanc boutique is now open at the podium floor of Rustan's Makati. The Montblanc UNICEF collection is also available at Rustan's Shangri-La, Rustan's Cebu, Greenbelt 4, City of Dreams Manila, and Newport Mall.