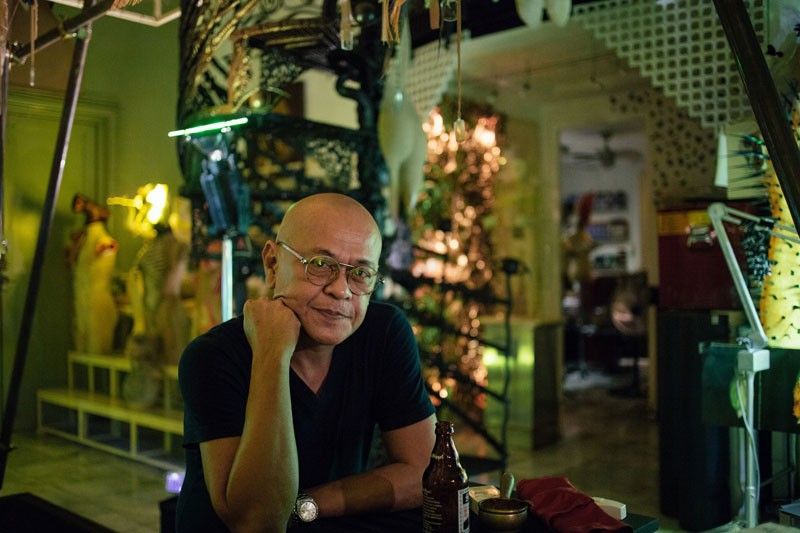 Gabriel Barredo created "treasures out of trash."
Photos by Tammy David (Courtesy of Silverlens)
Gabriel Barredo towards the Sublime
Gabriel "Gabby" Barredo's passing at the age of 62 was announced by his niece Cara Barredo last Jan. 6. She describes his house on the same post as a place that brims "with his beautiful art — finished and unfinished. Beautiful. Crazy. Very much like him."
It is easy to find traces of Barredo. In many articles written about him, journalists have called him press-shy and famously reclusive; at times he chooses not to attend his own exhibition openings. Yet, Barredo's presence is often loud and glaring: he leaves, in his absence, bolts that turn, rods that rustle, or appearances of the flesh that unsettle in their stillness. As an artist who made an extraordinary contribution to kinetic sculpture and installation art in the Philippines, Barredo was prolific and formidable. He came to attention in the early '90s and had solo and group exhibitions in the Philippines and in China, Singapore, Hong Kong, and Taiwan, among others. Though he studied at the University of Santo Tomas, in an interview he would quickly point out that he wasn't trained as a painter or a sculptor, and this afforded him the liberty to follow an imagination that was ever ripe and ever restless.
Barredo's works read as invitations to experience environments just a little more intensely. As Silverlens put it, "Barredo created immersive spaces that encouraged viewers to rethink form, structure, and experience." His exhibitions were unapologetically theatrical, ambitious, operatic. They employed light, sound, and movement, in their wish to turn the spectacular into something close to transcendental. "I want the audience to have palpitations," the artist would say. They may often appear as odes to grandeur, but the parts were culled from smaller quotidian worlds: dolls in glass globes, thorn-like metal, industrial debris, binder clips snapping shut an elastic womb. He created "treasure out of trash," Lea Salonga wrote in memory of her cousin. His bricolage builds a passage from smallness to whimsicality.
Writers describe his works as macabre. His depictions of the body stretched open would recall the environments of surgeons and slaughterhouses. It is the corporeal as necessarily carnal. At times these figures bore a perforated center — a wound and a void heavy and howling in the midst of excess. Take for example, "Opera," which was first an exhibition in Manila and Singapore in 2015 and then adapted in a theatrical performance with Ballet Philippines the following year. It was admittedly his most ambitious and daunting project, and possibly his best-known. It incorporated music, lights, and movement, situating each dancer, each spectator within Barredo's imagination of beauty and disquiet. His perhaps was a sensibility that belonged to theater, but his hard work, his bravura, and his tenacity manage to inspire artists in whichever genre or category they find themselves belonging.
When Barredo speaks of the radiant wreckage that is "Opera," in interviews he would usually shift the discussion from the macabre to mortality. "Allowing myself I guess to let it all out, that's quite an experience; it's painful, but at the same time it's a release," he says in a video posted by Silverlens in 2015, as if referring to both creating and being alive. Or rather, creating as a means of living. In other instances, he alludes to the little deaths of sex, where pain is simultaneously joy and rapture. Perhaps what Barredo wanted was to sustain an immense, inhabitable space where suffering lives side by side with the sublime.
The artist's works provide passage to wonder. In the final curtain call, these exhibition notes on "Opera" linger: "As much as Barredo has set up a place for mourning, he has also given us an altar for rebirth."