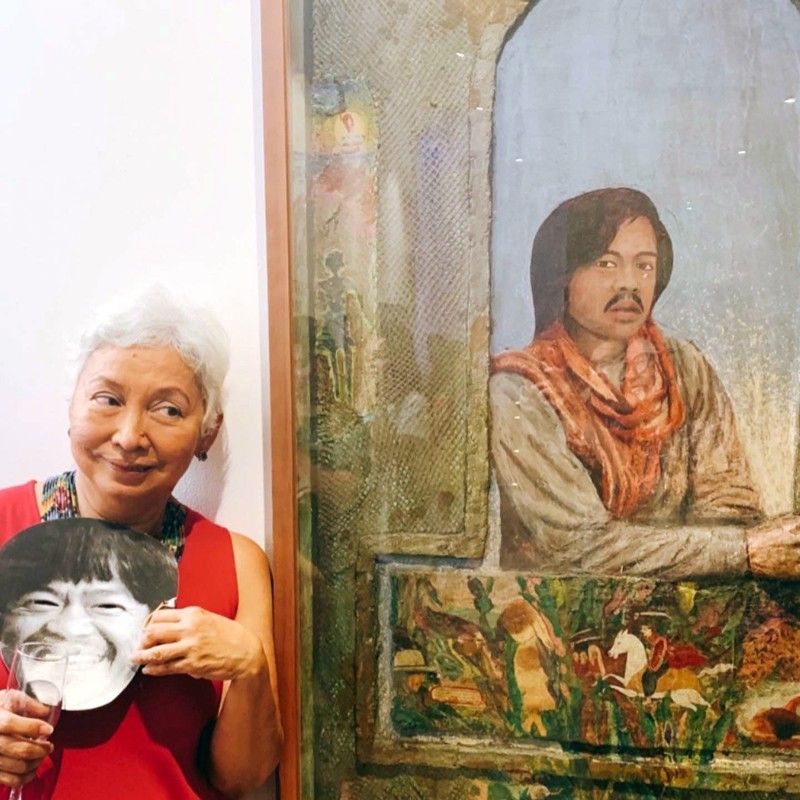 Peggy Bose holds up a Santi Bose mask beside the artist's self-portrait, "Eyes of Gauze" (1984).
Photo by Margaux Salcedo.
A reunion among family and friends marked the start of the exhibition series "Santiago Bose: Painter, Magician" at Silverlens Gallery two Saturdays ago, as curated by Patrick D. Flores, with this first of a planned five-year series billed as "Bare Necessities."
A grand retrospective of Bose's works was last mounted at UP Diliman's Vargas Museum a few years back, also with Flores as curator, in collaboration with Peggy Bose. Peggy's and Santi's daughters Lilledeshan and Mutya are both visiting from the US for this latest one, with Lille and Patrick conversing publicly about her dad before the show opened.
Katribo from Baguio and all over were in attendance, among them Butch and Padma Perez, Mitos Yñiguez, Louie Llamado, Agnes Arellano, Billy Bonnevie, Boy Yuchengco, Ijhra Perez, Tito and Marit Yuchengco, Tony Barros, Margaux Salcedo, Bim Bacaltos, Nestor Vinluan and many others who had been treated to decades of zany isprikitik by Santi before he left us in 2002.
Pepito Bosch was half-expected to materialize from the outlaw world beyond. A surprising no-show was Kawayan de Guia, the youngest of Santi's mentees to pick up from his creative bag of tricks. Someone explained that Kawayan was held up in Baguio at the last minute.
Of late, there's been much anticipation over plans to redo Bose's historic mural at St. Mary's High School in Sagada, created in the early 1980s, but which had been severely frayed by the elements. Fittingly enough, Kawayan would be the designated point man for the mural's recreation from vintage photos, with young artists from Baguio and Sagada, among them those highly influenced by Bose, rendering assistance.
Tito Yuchengco recalled how he had gone to Sagada the first few times with Santi, with whom he'd also stay at his Quezon Hill place whenever he visited Baguio. Santi kept him in stitches the whole night with his non-stop corny jokes. We agreed that we couldn't but find him funny since Santi himself was always in stitches over his gags.
That was the kind of irrepressible influence he radiated, among many other blessings — the way his art did, too. From an ever-inventive core, with plural centrifugal forces blitzing in all directions. Harking back to memories of Santi Bose would always take us all on a laugh track beyond the appreciation for his inimitable creativity. That evening, both Lille and Boy Yuchengco capsulized those unforgettable years with the exact same remark: "Them were the days."
Earlier, Lille had shared a PowerPoint presentation showing vintage images of Santi's parents, early family, in Sagada by a section of his mural, and other vignettes. These were attended by the following text:
"My dad was born on July 25, 1949 in Baguio City. His mother owned a woodcarving stall in the market and his father was a policeman. Growing up in the shadow of US R&R base Camp John Hay informed his identity — he was always made aware of how 'othered' Filipinos were in their own country.
"He moved to Manila to study architecture, then fine arts. He met my mom at UP Diliman, and they married in 1974. They had three daughters: Diwata, Lille, and Mutya.
"In the early 1980s he entered self-exile in New York City. He found his voice in a first world framework and was inspired to create the use of indigenous materials. After Ferdinand Marcos was overthrown in 1986, Bose returned to the Philippines. He then focused on the use of materials found only in the Philippines for his paintings and installations.
"He explored the effects of colonialism and imperialism on the Philippine national identity. He focused on the resilience and struggle of indigenous cultures, like that of his home region of the Cordilleras, inspired by activists such as Father Balweg.
"Along with Kidlat Tahimik, BenCab and other Baguio artists, he founded the Baguio Arts Guild in the late 1980s. He was always experimenting, collaborating, and engaging with other artists. He was an advocate of bringing art outside of museums and galleries, to introduce it to those who didn't have easy access to it via murals, installations and performance art.
"He was a mentor to many artists, such as Jordan Mang-o-San, Perry Mamaril, and actively cultivated art communities at home and abroad.
"The last years of his life, he began using ancient images of religious protest in his paintings. These images, called 'anting-anting,' were used by Filipino guerrillas during the war against the United States. It was believed that they protected the Filipinos against Western bullets.
"He was a very funny man, and we had a very complex relationship with him as a father. On one hand, we could never figure out if we could take him seriously. On the other, he was so brilliant that it was hard not to be in awe of his ideas. He always encouraged us to look at things from a specific perspective, and develop our critical eye."
It culminated with a statement from Santi:
"The artist cannot but be affected by his society. It is hard to ignore the pressing needs of the nation while making art that serves the nation's elite... We struggled to change society, which is difficult and dangerous, and we also sought to preserve communal aspects of life. I too am haunted by visions of hardship, poverty, disenfranchisement of the 'primitive' tribes, but between outbursts of violence and exploitation are also tenderness, selflessness and a sense of community. These will always remain unspoken and unrecognized unless we make art or music that will help to transform society. The artist takes a stand through the practice of creating art. The artist articulates the Filipino subconscious so that we may be able to show a true picture of ourselves and our world."
Flores sections Bose's works into seven commonalities: Abstraction; Time/Ground; Archive; Tricky Object; Potent Ornament; Everyday Life of Art (scrapbooks); and Acting Out (excerpts of videos and performance art). The pieces date back all the way to 1960, and hop through four decades till 2002, which is represented by two unfinished works — one a mural titled "9-11 Return of the Comeback" (with its Guernica homage), on which Santi spoke to a video crew on the eve of his demise.
Included in the exhibit are lettering, illustrated text, prints, acrylics, mixed media, the "Solar Art" and "Travelling Bones" series, "Cryptic Messages" with burnt milk on handmade paper (1984), "Visayas Dream" with intermedia on carpet (1999), and studies of installations.
* * *
"Bare Necessities" is on view till Sept. 14 at Silverlens, 2263 Don Chino Roces Avenue Extension, Makati City.