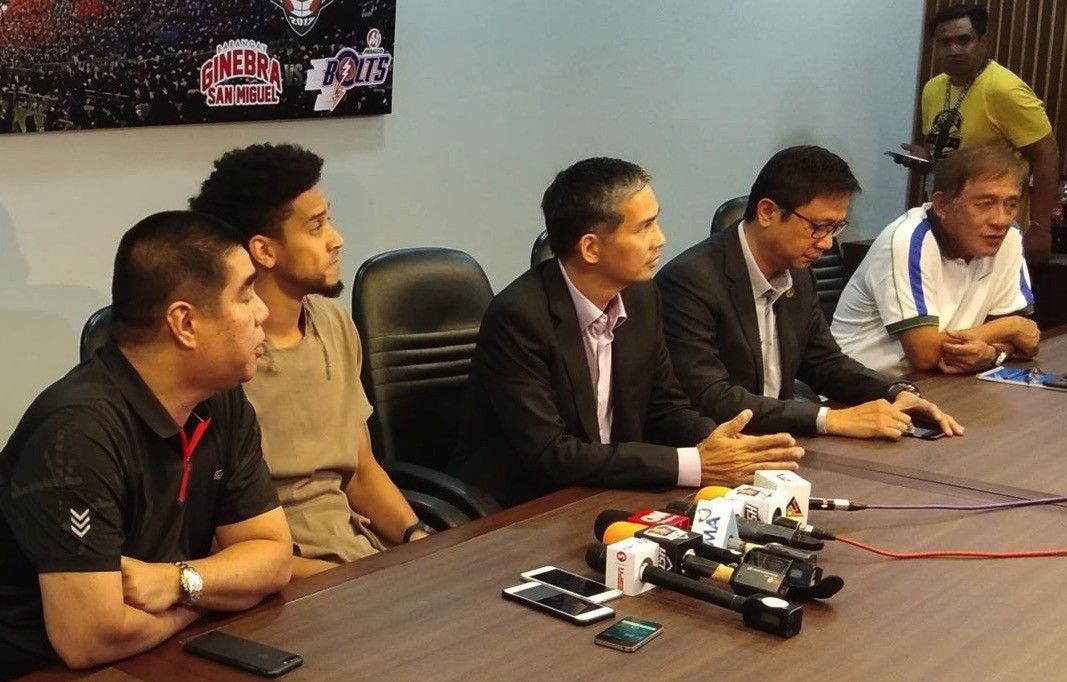 Members of the Philippine national basketball team Gilas Pilipinas with PBA commissioner Willie Marcial, SBP president Al Panlilio, and POC secretary general Pato Gregorio (third from fourth from left) before a closed-door meeting at the league's office in Libis.
Contributed Photo
Concerns arise over Gilas' Asian Games stint
MANILA, Philippines — Philippine Olympic Committee secretary general Pato Gregorio revealed on Thursday that they will have to sit down with the Samahang Basketbol ng Pilipinas (SBP) and the Philippine Basketball Association (PBA) concerning the basketball delegation the country will be sending to the 2018 Asian Games this August.
"We have to sit down again with the PBA and the board to discuss that with the SBP," Gregorio told the press after a closed-door meeting with PBA commissioner Willie Marcial, members of the Gilas Pilipinas, and SBP president Al Panlilio in the league's office in Libis, Quezon City.
"I was telling the PBA players a while ago, we already received inquiry from INASGOC —the Indonesian organizing committee — they are also worried," Gregorio shared. "They are our Southeast Asian partners. I'm sure they don't want us to be left out."
"Meaning if we are not in the Asian Games basketball, malaking kawalan naman 'yon," he offered. "And one of the main reasons to be a part of that is because they're part of 2023 — when we host the World Cup."
The Asian Games will be held in Jakarta, Indonesia, beginning August 18. The neighboring country will share the mounting of the 2023 basketball World Cup with the Philippines and Japan.
The nine Gilas Pilipinas players involved in the incident last Monday, along with Jio Jalalon and Allein Maliksi's participation in the regional meet are now in question pending the sanctions to be meted out by FIBA.
"I would like to believe they understand our predicament," Gregorio closed.