Remembering Jojit Paredes & his hearty laughter
September 29, 2019 | 12:00am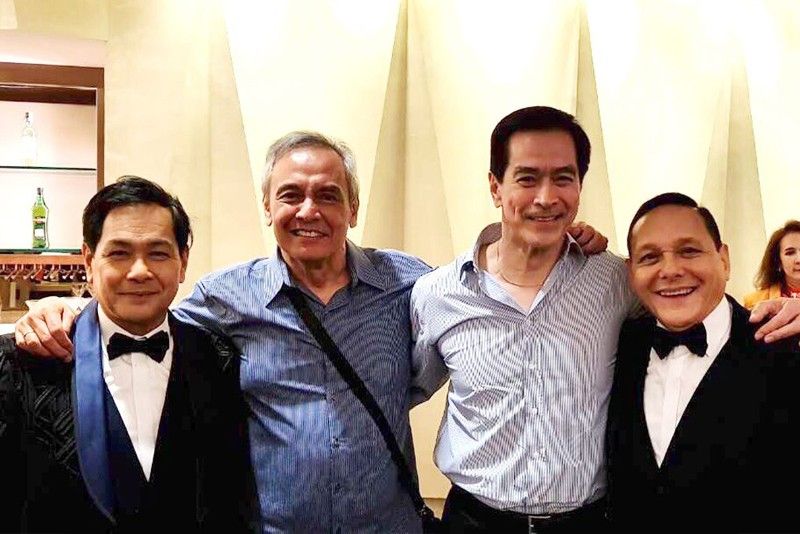 I remember the wake of my grandfather, who died some 55 years ago. Relatives from all over the Philippines showed up. Many of them I saw for the first time. My cousins and I looked at the faces of our new relatives as they entered the room. Immediately we spotted relatives we had never met who hailed from Pasay. They turned out to be our second cousins. The girls were beautiful, and the guys were good-looking. And we noticed that they were also staring at us and were whispering and giggling.
We were barely in our teens. My first cousins and I were immediately attracted to our newly arrived second cousins from the far side of town. In our eyes they looked gorgeous, exciting. We felt the feeling was mutual. Finally, we guys mustered our courage and introduced ourselves to the girls.They were quire friendly. The rapport was instantaneous. We immediately had crushes on them. The Pasay Paredes guys also had crushes on our girl cousins, too.
Soon after, my cousin Mark and I started going to Pasay where we met more of them. That was where I met my cousin Jojit Paredes, who was always with his good friend and neighbor Ronnie Henares. They both played the guitar and liked to sing and perform. They had great vocal harmony. They were campus idols, especially in Assumption College and LaSalle where they studied.
Before I knew it, I had joined them in a band called The Violents, another hobby and outlet they were doing aside from their acoustic duet. The how and why of that awful name becoming our band's name is still a mystery to me to this day. We still laugh about it.
As the Violents, we were doing gigs in parties, school programs, fairs, etc. Jojit was the handsome guy. He had that matinee idol look. His smile was infectious. I would see girls sigh when they saw and heard him sing. He and Ronnie were friendly and sociable and confident enough to approach the girls and introduce themselves. Me? I was the shy one then. I was a bluesy , brooding 13-year-old. I mostly just tagged along with the two of them.
My stint with the band did not last long. Pasay was too far from where I lived and so I started going there less and less. Besides, I had my own singing friends in school. Soon after, they became a duet called the Two of Us. Meanwhile, I hung around with my own friends in school and we formed the Apolinario Mabini Hiking Society.
But Jojit also had a budding career outside of his duet gigs with Ronnie. He did some solo recordings and some movies for a while. He even did one with the biggest star at that time who was Nora Aunor.
Jojit, Ronnie and I hardly saw each other anymore. After doing some movies and an album, I heard Jojit got married and went to study at Ateneo Law School. But his first marriage did not last long. Soon after the breakup, he moved to the US and settled there for good. It would be decades again before I would see him.
I remember Jojit as being a kind soul. He was a gentlemen, especially to the ladies he met. He would always cause a mild commotion among the girls when he entered a room. He was handsome like his father and he had presence. It was not surprising that he had a lot of admirers and fans. That killer smile and his sparkling, eyes made him likeable to everyone. He loved to laugh heartily. Ronnie, who always had a ton of jokes to share at anytime, must have influenced him.
Last year around April, Ronnie called me to ask if Boboy Garrovillo and I would be interested in being their guests at a planned Two of Us concert in Solaire for September. It was Jojit's idea to have a revival show with his good friend Ronnie. He had missed performing so much. In Los Angeles, he largely kept away from his music passion. He worked for a law firm. Doing a big concert again was high on his bucket list. We immediately said yes.
The days leading to the concert saw the Two of Us, Boboy and I get together for rehearsals.
It was great to see Jojit back in Manila. Still as young and good looking and friendly as ever at age 68, he hugged me. He was clearly happy to be home and doing the thing he loved to do. He was playing the guitar and singing again. We talked and updated each other about our lives. He seemed content, and even happy with his life in the US.
On the day of the concert, Ronnie and Jojit were clearly excited and thrilled that they still could attract a big crowd despite their long absence from the concert scene. They bombarded the audience with old '60s songs they used to sing decades go. The audience gamely sang along and had a good time.
That night in Solaire after the show would be the the last time I would see Jojit. A few days later, he was back in LA.
Last Sept. 24, I got a text from a relative saying Jojit had suffered a hemorrhagic stroke. Things did not look good. The last thing he did before the stroke was to stand up and get water because he was dizzy. He never got up again. He was rushed to the hospital and was put under life support. A few hours later they pulled out the plug and he died peacefully at 12:35 p.m.
Ronnie and I called each other to exchange info. We cried on the phone. We both had lost a dear friend.
These days, when I see friends, classmates and relatives who are over 60, I always consider the possibility that we could be talking for the last time.
Jojit, we never got to meet and spend time together again after the concert. But I am so happy, though, that you were able to have that concert you dreamt of having. That was one big item on your bucket list that you fulfilled.
Remembering your smile lifts the heaviness we are all going through because of your demise. Gone too soon. Till we meet again dear, friend and cousin.