Going big and driving safe
November 13, 2021 | 12:00am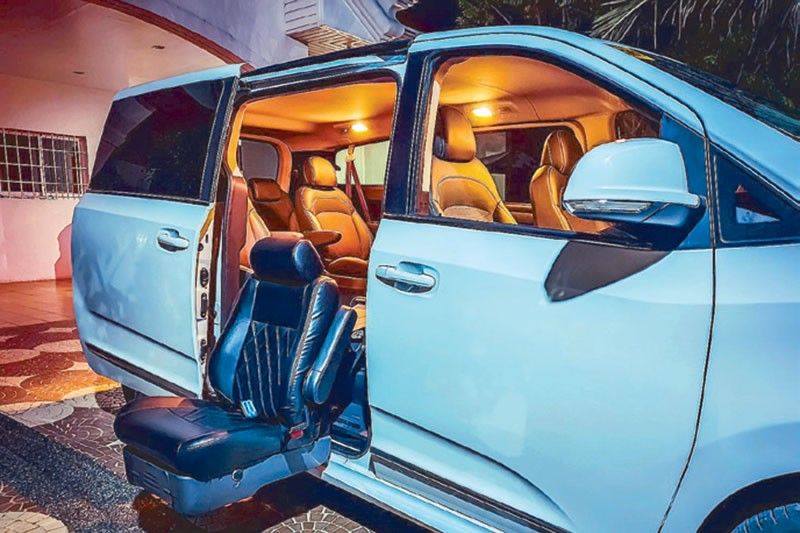 I immediately liked the Maxus G10 when I saw it up close. It is a nine-seat van, and with its four rear captain seats, offers a spacious interior and wonderful amenities without compromising passenger comfort and ride safety.
What's more is that the G10 Assist is ideal for older folks, PWDs, and recovering patients, as it comes with a programmable swivel lifting seat on the second row.
The first thing I did when I slid open the back door to the passenger seats of the van was to try out the swivel chair.
I thought about my late mom, who was wheelchair-bound for the last five years of her life — and I remember wishing traveling with a wheelchair was easier back then.
The Maxus G10 has made that wish a reality with its easy-to-maneuver swivel seat — something I know my mom would have appreciated and enjoyed.
On the road
If there is one thing that I have noticed about my driving it's that I tend to be more careful when I am behind the wheel of a bigger vehicle like a van.
I guess it's because I think that a family vehicle must be driven with more caution, as we carry the ones we love in them.
So it was with much joy that I welcomed that the driver's seat was not only comfortable but also gives a great view of the road ahead.
Before I took off for my Tagaytay drive I gave this great-looking van a good look from the outside.
It has that modern rounded build, making it less box-like in appearance. Sliding doors can be found on both sides and it is equipped with 16-inch alloy wheels.
The taillights are LED, which is a nice touch. i liked the rear spoiler, and chrome bar on the tailgate.
I stepped into the passenger area of the van to try it out as a passenger.
The first thing I noticed was that although the sliding doors aren't power-operated, they're light enough to easily open and close.
The spacious cabin features four captain's chairs. Yes, both the second-and third-row seats are captain's chairs and both provide great comfort especially, the second row.
Legroom and headroom are great, as expected. The fourth row is just a standard bench with decent legroom for three passengers.
It is a plus that the rear passengers in the Maxus G10 are treated to excellent legroom, rear climate vents with their own controls for fan speed and temperature, and abundant storage cubbies.
And although there aren't USB ports, there is a single 12-volt power outlet and a 220V three-pronged power outlet where you can charge your laptops during long drives.
But, as I sat I thought about it: long drives are family time and no gadgets for a few hours is a good thing, right?
As I took my seat again as the driver, I looked over the dashboard and, as I am a small driver, marveled at how easy it is to reach the different buttons.
The dash looks good and the materials are pretty good, too. The front seats are comfortable — the panels are within easy reach.
Let's go
As I began my drive and familiarized myself with the six-speed gearshift for automatic transmission, I liked that it is nicely placed at the center top of the console. The multi-function steering wheel feels nice to the touch and is leather-wrapped. The cruise control is a nice additional feature, too. The seats are all covered in a combination of what feels like leather and fabric. The two front seats are also power adjustable, 10-way for the driver and four-way for the passenger.
In the center of the dashboard is a seven-inch touchscreen infotainment system with USB and Bluetooth. I must say that it does look a bit too small thanks to the dashboard's large design, but it is responsive. I appreciate the presence of physical buttons and knobs below the infotainment system, as these actually eliminate the issues with small icons on the screen and while there are a lot of them, they fit very well into the dashboard's design.
I do not listen to a lot of music when I drive as I like the sound of the wheels on the road, hearing the wind if I open the windows and rear passengers telling stories as I drive. However, the vehicle's six speakers definitely provide a well-rounded ergonomic experience for those who are avid music listeners.
One of the first things I noticed is that the G10 is equipped with front and rear A/C. The controls are easy to use and the van stayed cool as we drove to Tagaytay on that warm day.
Hear the engine roar
As I got to SLEX I was able to see how the Maxus G10 performs.
A 1.9-liter TCI turbo-diesel engine powers the Maxus G10. It produces 148 horsepower and a healthy 350 Nm of torque. This power-and-torque combo is paired with a six-speed automatic transmission.
It was a good power drive on the SLEX with my five passengers in tow.
I liked how the 1.9L turbo diesel actually returns good performance for a passenger van. In terms of acceleration, the engine provides you with all the torque and power you'll need. The six-speed automatic transmission shifts well and quickly, which is good when overtaking.
I really liked how the van felt light as I drove — unlike other heavy, big vehicles. For a small driver that is a comfort. Ride quality was good even for my passengers at the back. The suspension absorbs all road imperfections really well most of the time; only very large bumps are really felt. Road noise is almost nonexistent as well.
There are standard safety features on the Maxus G10 like the dual front airbags, side airbags, anti-lock brakes with electronic brake-force distribution, and three-point seatbelts for all passengers and ISOFIX child-seat anchor points. Also standard are front and rear parking sensors and a reverse camera, which makes parking this large vehicle a lot easier.
LAST WORD
The Maxus G10 is the brand's entry into the minivan segment in the Philippines — a market aimed at Filipino families. When choosing a spacious van (for an extended family, which most Filipino families are) the Maxus G10 has a huge seating capacity of nine. The car has an unmatchable grip on the road and long off-road trips on rustic roads are quite safe and enjoyable.
What I enjoyed about the Maxus G10 is that it has a comfortable ride feel. For its size, its proximity sensors make driving this large vehicle easier. Thanks to its high driving position, the vehicle gives you great visibility when driving.
All Maxus vehicles are infused with 124 years of British-bred heritage, global expertise and experience in LCVs, and are attuned to the widely varying transport needs of the Filipino family and the country's road and driving conditions.
Not to mention its "Max" quality, efficiency and convenience of aftersales products, services, and worry-free ownership, where select models are backed by a warranty coverage of five years or 100,000 kms, whichever comes first. Maxus Philippines also offers 24/7 emergency roadside assistance and on-site servicing for corporate fleet accounts.
The bigger it is, the better to drive — in a Maxus G10.
* * *
For information, visit www.maxus.com.ph or call the Maxus dealership nearest you.