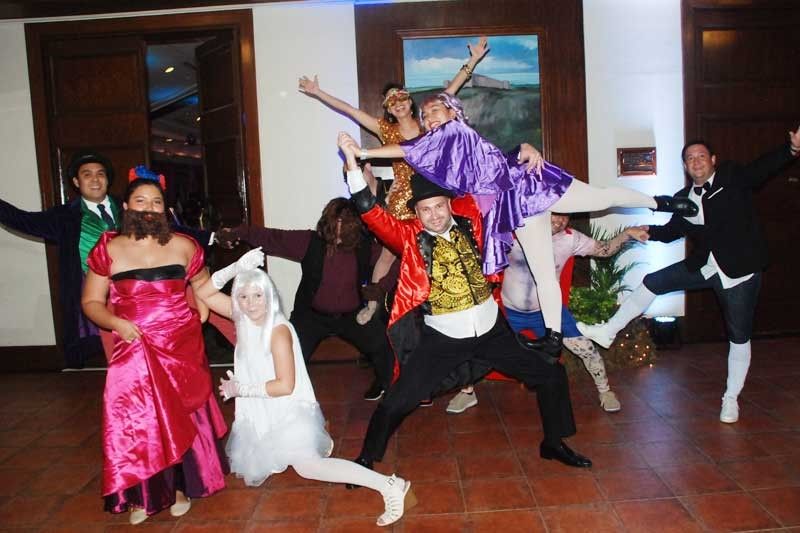 The Greatest Show on Earth: Mike Sasnovski, Alfonso and Meryl Martinez, Eduard loop, Mikel Rotaeche, and the Jarque's Paco and Monalisa, Eduque and Ariza, Javi and Kaye Sala
The New Year's Eve Costume Ball of the Casino Español de Cebu is a holiday institution. And in 2019, it was no less spectacular, what with the revelers donning their glitzy and shiny frocks to dance away the final hours of the old year.
The New Year spirit kindled the night with hundreds of balloons and confetti marking the end of another year.
As tradition dictates, individuals, couples and groups in fabulous costumes paraded around the Salon de España under the watchful eye of the board of judges composed of retired colonel, Romeo Tapayan, medical student, Juan Lava, and certified public accountant Jazmine Sinay.
Among the winners in the individual category were Percival Llaban who came as an Arab sheik, architect Tessie Javier as Spanish flamenco dancer and Betty Young as the elegant lady in black.
(Left) Gabby and Tina Leyson. (Right) Percival Llaban
Recently married couple, Gabby and Tina Leyson, dressed as the Wizard of Oz, were proclaimed as the most Original twosome while Rafael and Ellen as Game of Thrones went home as the most elegant pair. Edgar and Cely Chiongbian, dressed as exotic Indonesian royalty, were judged as the most colorful couple.
The big winners in the group category were club board of directors president Paco Jarque and his wife Monalisa, VP Eduard Loop, director of cultural activities Javi Sala and his charming wife Kaye, Alfonso and Meryl Martinez, Mike Sasnovski, Eduque and Ariza Jarque and Mikel Rotaeche who performed a spectacular dance number from the 1952 drama film, the Greatest Show on Earth.
As the guests built up their appetites executive chef Rico and the rest of the kitchen crew had a special feast prepared ready for enjoyment.
The crowd grew noisier as 2019 approached and before we knew it, the countdown had begun. Following a collective "Feliz Año Nuevo " at the stroke of midnight, kisses, hugs and handshakes were exchanged. By the looks on everyone's faces, we are off to a good year.