Protecting the rights of every Juan
Celebrating World Consumer Rights Day last March 15 (which really ought to be observed every day), a watchdog for consumer safety and environmental health urged the candidates for the May 9 polls to come up with a Consumer Protection Agenda that would address the essential needs of every Juan.
Aileen Lucero, coordinator, EcoWaste Coalition, a member of the Green Thumb Coalition, stresses, "We expect those running for public elective positions to instigate measures that will advance the eight basic rights of consumers, especially the deprived and the poor."
As articulated by the global consumer movement, these rights include: the right to the satisfaction of basic needs, the right to safety, the right to be informed, the right to choose, the right to be heard, the right to redress, the right to consumer education, and the right to a healthy environment.
As we're all entitled to a healthy environment, those aspiring for public office should ensure the citizens' right to clean air, safe water, renewable energy sources, and waste-free, toxic-free ecosystems.
Lucero adds, "We also hope that those running for Congressional or Senate seats will support amendments to strengthen the Consumer Act of the Philippines, as well as file other bills to localize the United Nations Guidelines for Consumer Protection (UNGCP). Stronger consumer protection laws will prevent market abuse, ensure fair play and justice, and safeguard the public health and the environment."
A most welcome move is the adoption by the UN General Assembly last December 2015 of the revised UNGCP, which acknowledged "access to essential goods and services, and the protection of vulnerable and disadvantaged consumers as new consumer legitimate needs."
Consumers International notes, "Adequate consumer protection can directly support the achievement of UN Sustainable Development Goals relating to ending hunger and improving nutrition by supporting access to safe, affordable and healthy diets; to health and well-being by protecting consumers from unsafe products that cause illness or injury and expanding access to effective pharmaceuticals."
* * *
Footnotes to Earth Day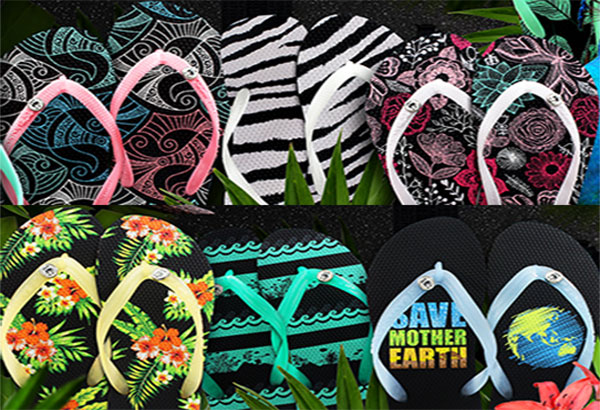 It's time for Earth Hour: Banana Peel continues its partnership with WWF-Philippines through its exclusive Earth Hour collection featuring glow-in-the-dark straps and vibrant animal prints.
Where on earth were you during Earth Hour, 8:30-9:30 p.m., last Saturday, March 19?
Well, I was out, feeling the earth move under my feet. Earth Hour, of course, is a worldwide movement organized by the World Wide Fund for Nature where electric power is shut off for an hour (sometimes, we shut up, too) to highlight the need to address the problem of climate change.
On that bright note, Banana Peel, one of country's leading flip-flops brand, puts its best foot forward by making a stand on issues and creating a positive change in the community. To underscore the need to reduce our carbon footprint, Banana Peel has come up with products that are environment-friendly, using only safe materials.
Banana Peel actively supports and engages in projects on sustainable development. Working with WWF-Philippines since 2013, it has created WWF flip flops collections to support projects on marine life preservation, and forest and wildlife conservation.
This year, Banana Peel continues its partnership with WWF-Philippines through its exclusive Earth Hour collection featuring glow-in-the-dark straps and vibrant animal prints.
"Banana Peel is privileged to be given the opportunity to support WWF," asserts Paul Ng, CEO of The Neat Inc., Banana Peel. "As the product becomes available in our stores, we are able to educate and encourage consumers to choose earth beyond Earth Hour. We would like to be part of the movement that inspires more generations to be stewards of the earth."
Banana Peel encourages everyone to be down-to-earth and do his/her share in saving Planet Earth from extinction. Its Earth Hour flip flops collection aims to help provide solar lamps to light up the remote and off-grid town of Monreal, Masbate. These solar lamps will provide the families of Monreal with clean and sustainable source of electricity, to replace the costly and hazardous use of kerosene. Now, that's a brilliant idea!
Banana Peel's 2016 Earth Hour collection comes in six designs for women and five designs for men, at P420/pair for the women's collection and P440/pair for the men's collection. For information, visit www.bananapeel.net; follow Banana Peel on Facebook Banana Peel Flip Flops and on Instagram bananapeelofcl.
But of course, it's about time we went beyond Earth Hour and protected the environment 24/7.