A great looker: The Kia Sorento
It was with much anticipation for something new that I test drove the Kia Sorento recently. I guess it was because the brand is making a return and I wanted to see what its new president Manny Aligada was so optimistice about.
Let me just share with you that Aligada is right, the Sorento was a beauty to behold and easy as 1,2,3 to drive.
"The Kia Sorento is built to tackle your everyday journey – from running across the metro to the winding roads of the province," said Aligada. "It's packed with technology and features that make driving feel like an adventure all its own."
What one notices immediately with the 2019 Kia Sorento is that it is built tough — but has an elegant look about it. Its wide stance and muscular body amplifies capability. The sleek and elegant lines, with the artfully designed radiator grille leading the eye from the fascia to the rear, display elegance and sophistication.
It was designed to conquer any road I drove on — although I made sure to take the smoother roads because I like smooth roads.
The Kia Sorento is available with an Active On-Demand Four Wheel Drivetrain.
Before I got into the Sorento for the drive I gave a good look at its engine. At the heart of the SUV is a 2.2L i4 DOHC, CRDi E-VGT Diesel Engine and eight-speed Automatic transmission with Shiftronic.
Impressive.
I got into the cockpit and I looked at what safety features the SUV had to offer. The Sorento boasts driver assistance and safety features such as cruise control, electronic stability control, vehicle stability management, and hill-start assist. This power, technology, and capability on tap, ensures anyone driving the Sorento to arrive at their destination with confidence.
Comfy inside
The interior of the SUV keeps its driver in control with features like a leather steering wheel with controls for Audio, Bluetooth, and Cruise Control. The dash, with a seamless link to a 7-inch touchscreen interface with Apple Car Play/Android Auto connectivity is ergonomically designed to help the driver focus on the road. For comfort and convenience, the Kia Sorento has Dual-zone climate control in the front row, complemented by power outlets under the vents on the rear.
The driver seat is electronically controlled (EX Variant only). And with utilizing all three rows, the Kia Sorento comfortably seats seven people. The interior is furnished a folding seats on the second and third row. You could say that the Sorento never runs out of space for your daily adventure.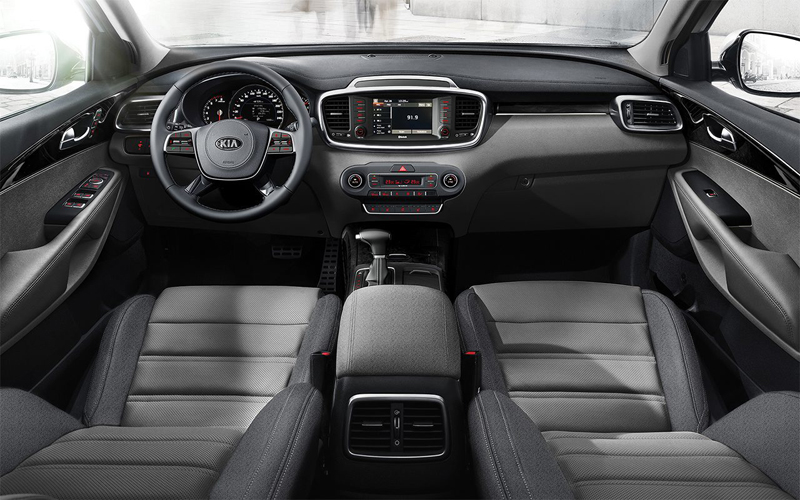 Space galore: A view from the cockpit
Time to drive
I took the Sorento for a spin on the SLEX as I had a hearty breakfast on mind in nearby Tagaytay.
I was impressed with how smooth the drive was and how well the DSorento took to over-taking in the more traffic-laden roads. Its 2.2 liter diesel engine never missing a beat as I overtook the slower moving vehicles.
I recalled that Ayala Corporation (AC) Industrials' acquisition of Kia Philippines, marking the sixth brand under its vehicle distribution and dealership unit AC Automotive, is in line with its strategic thrust to strengthen AC Automotive's significant presence in the local automotive market.
"I saw Kia when it was starting and growing in the 80s — Kia Pride, the people's car it was called then," Aligada shared. "But being in the industry for the last six years I also knew that Kia was not a main player. When Ayala agreed to acquire Kia we did our research and found that Kia is global brand, it had very good reviews on products and services, which are very close to me. I said if it can only be developed in this country then it will be viable."
Aligada is on a new high as he focuses on making Kia the brand to beat in the car industry. It is no wonder he feels this way — because the Sorento was definitely a joy to drive.
"When I was asked to head Kia Motors Philippines I said sure," he said with conviction. "It is an interesting brand and the core of the business was very strong. The philosophies of Kia motors aligned with ours — perfect."
As my thoughts drifted to that conversation I had with Aligada I was certain that his confidence in the returning Kia brand was well placed.
I had reached Tagaytay and was famished.
I drove to Bag Of Beans for my usual bread galore.
Yummy.
Before I headed back to Manila I gave the Sorento one more look.
I was pleased. It is always a good thing when the president of a car company handpicks the car that he wants you to drive.
It was getting late in the morning and I wanted to make sure that I beat the traffic coming into Manila.
I was homebound and happy — and I knew it was going to be smooth driving all the way home.
* * *
For information, visit www.kia.com, or visit any of its dealerships nationwide.