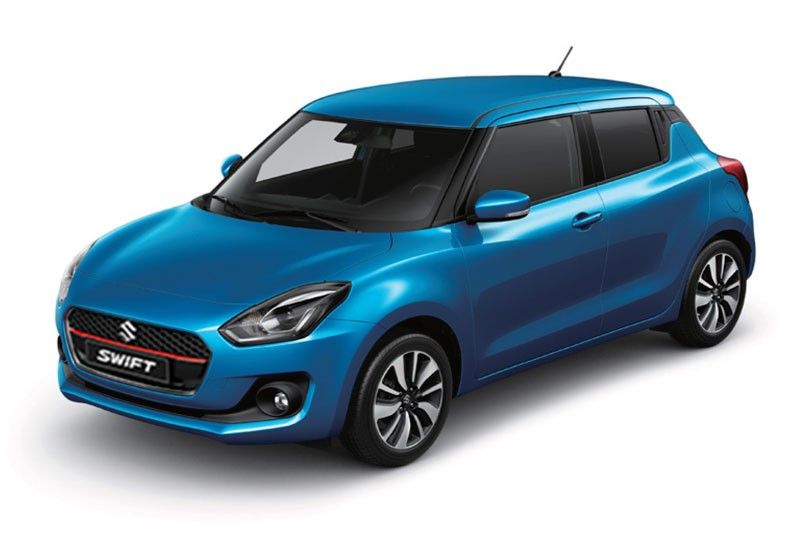 Small is beautiful: The all-new Suzuki Swift
It's small and truly swift, too. Just the kind of car I would like to have when the sun shines bright in Metro Manila. And that is exactly what I got one sunshiny weekend in the city.
It was love at first drive, with the Suzuki Swift being the nimble car it is meant to be. Driving in and out of traffic was a cinch because of its size and gas — well it stayed within the limits that one normally likes when traffic is a hassle.
Committed to offering Filipinos the latest automotive technology, Suzuki Philippines unveiled top-class upgrades for the hatchback earlier this year to ensure optimum driving experience
I attended the grand launch in Marriott Hotel a few months ago and I remember telling myself then that I would love to take the Swift for a spin.
Fast forward to a few weeks ago when a test unit was made available for me. For starters, let me say that I have always liked the way the Suzuki Swift looked. It is one of the most popular vehicles with the highest Japanese technology in its newest innovations.
"We are grateful for the strong support we continue to receive from the Filipino market, particularly during the first months of the year," said Shuzo Hoshikura, SPH vice president and general manager for Automotive at the launch. "As testament of our commitment to delivering only the best-quality products and services, we at Suzuki Philippines are more than happy to finally share with everyone the all-new Swift equipped with the latest of our innovative technology."
Drive on
As the Swift was parked on my driveway that weekend I began to understand why it is anaward-winning hatchback. Well, for starters the Swift boasts a daring transformation while retaining old features that Filipinos loved — strong shoulders, blacked-out A-pillars for wrap-around windows, dynamic side-window treatment and distinctive vertically arranged lamps. These are complemented by a black interior with a white pearl accent and a dimple pattern to create a fresher look.
Then it sticks to what more Pinoys love — a sporty and confident look. The hatchback is now shorter, lower and wider with a muscular structure. The compact dimensions guarantee easy handling but do not compromise comfort. The vehicle's luggage space has been expanded by 54L for more storage capacity than the previous model.
And beyond looks there is the superior fuel efficiency (which is what every driver today looks for in a car) the new Swift adopts continuously variable transmission (CVT), which makes driving smoother and gear change shock-free for better acceleration at low speeds and improved fuel economy at high speeds.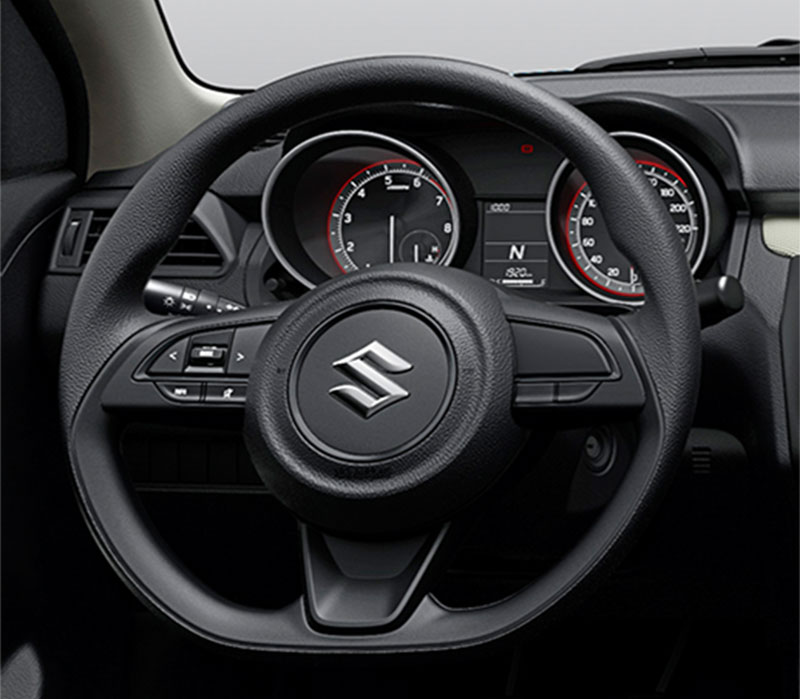 Steering is cool: Look at the D-shaped steering wheel
Let's go
The all-new Swift boasts Suzuki's new-generation platform, HEARTECT. The continuous frame resulting from the comprehensive overhaul of the vehicle's underbody structure and component layout increases underbody stiffness. The highly rigid yet light body helps improve vehicle performance.
There is nothing flimsy about driving the Swift. I can compare it to the more expensive sports cars on the market. I like how I felt like a sports car driver behind the wheel of the Swift — must be the size and the look, too.
The new smooth curving form also effectively disperses impact energy throughout the car body in case of a collision.
There is the Total Effective Control Technology to absorb impact and mitigate injury in case of a pedestrian accident. They are equipped with dual airbags for maximum passenger protection.
"We introduced a new-generation platform and engineered a completely new chassis, body structure and powertrain with a new body structure," added Masao Kobori, chief engineer of Swift. "We set out to create a car that would let people experience a new level of excitement like never before! The instant they see it, the instant they get inside and the instant they step on the accelerator."
And, that is exactly what I had planned to do on my drive to Batangas that morning: step on that gas and see just how smooth the ride was to be.
I was not disappointed as the Swift carried me swiftly through the SLEX and into the Star tollway with much ease. I add that the size of the Swift made jockeying for position on the road so easy.
I made it to the City Hall of Lipa in a little over an hour and I was sooo looking forward to having some hot salabat with the yummy bibingka in a store called D'Lovers Line in Lipa.
Yummy.
I had my fill of bibingka that morning as I parked the Swift near the small store and ate my fill. I loved that I had three of my faves that morning with me: bibingka cooked to perfection, a hot glass of salabat to warm my throat, and the lovable Suzuki Swift to drive me to where I wanted to be — I might add swiftly and with much gas to spare.
That's what lovely weekends are made of.