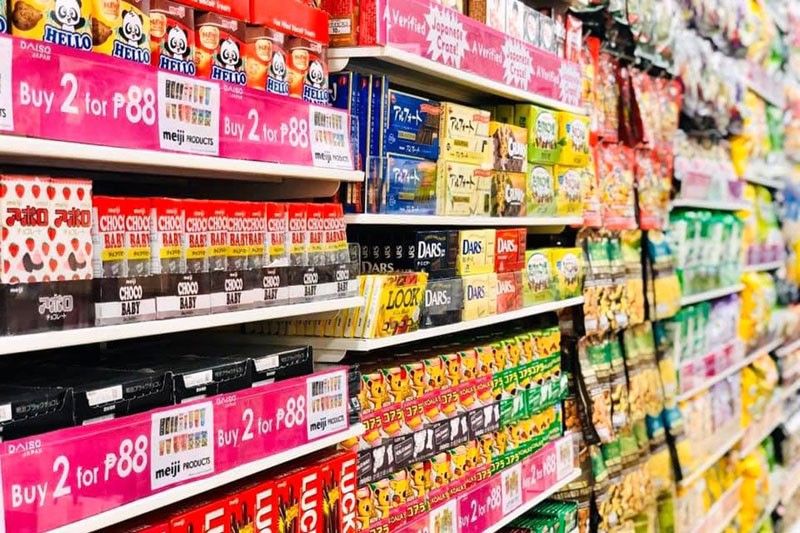 Satisfy your Valentine's sweet and savory tooth with these delicious Japanese snack items.
Walter Bollozos
Running out of ideas on what to give your loved ones for Valentine's? Even if you're on a tight budget, I know you can do so much better than "pasa" load. So let me share these Daiso-lutions — interesting, unique, kawaii and practical gift items (yes, there's even thoughtful gifts for your pets) — from Daiso that would definitely set your loved one's heart aflutter come V-Day.
His and hers seamless wine glasses (P188 each). You two are a "perfect blend," so why not raise a glass and cheer to your pairing? These seamless wine glasses couldn't be cuter.
The way to your beau's heart is through his/her tummy. Satisfy your Valentine's sweet and savory tooth with delicious Japanese snack items.
Comfy bedroom slippers (P188). If the phrase "cold feet, warm heart" best describes your Valentine, surprise her with slippers in the perfect palette for the day. It may not be Oprah's favorite microwavable slippers, but this cute pair is as comfy and won't make a dent on your budget.
Picture perfect. Don't rely on your iCloud to keep the memories alive. Simply select your favorite Instagram images of the two of you together and lay them out in a stylish collage.
Set the mood for love. Get ready for her to obsess over these aroma diffusers — with notes of lavender, rose, the ocean, even red wine — as you set the mood for love.
The look of love. Makeup, skincare products and top-rated beauty tools are hot picks come V-Day at Daiso Japan.
Wash out for love. Make your laundry dates memorable with laundry nets — which come in different sizes — to protect delicate fabrics in the wash. Placing items inside a mesh bag prevents them from getting damaged, especially if you have a mixed laundry load.
Romantic pillow fight. Toss these fluffy, red and heart-shaped pillows on your bed or sofa as a daily reminder of your better half.
Say it with hand puppets. Surprise your kids on Valentine's Day with these cute hand puppets.
Let's see the world together. Hello, My Old Friends matchy-matchy bag tags will take you everywhere.
I love you bear-y much. Get this panda bear for your little one for only P388 at Daiso.
Daiso Philippines is the authorized retailer of Daiso Industries Co. Ltd., Japan's No. 1 supplier of living-ware goods. It's my favorite "wasteland" in the metro. Here, you simply can't leave the store without buying anything. Their kawaii stationery products, toys, lifestyle products, beauty and fashion apparel, home decor, practical and functional household items, kitchenware, gardening tools, even pet food and accessories are simply too hard to resist. The best part? Everything is affordable. Price starts at P88 and nothing is above P388.
Daiso Japan sports a new look
In celebration of Daiso Philippines' 10th year in the country, the company recently launched its latest look and logo, an initiative that covers its thousand-plus stores worldwide.
Late last year, I visited its flagship "pink" store at the Robinsons Galleria South in San Pedro, Laguna, and was welcomed by Bernice Bunoan, Daiso Japan marketing services manager, and her amiable staff.
Bernice gave me a quick tour of the new Pink store and I was impressed by its modern, Zen-like look with hints of the sakura vibe of Japan.
The store is brighter, the aisles wider and easier to navigate. Products per category are displayed more efficiently, making it easier for customers to find what they are looking for.
A wider range of makeup, facial care products, hair and beauty accessories neatly arranged on the cosmetics table greet shoppers at the entrance of Daiso.
"These items act like magnets to our customers — young and old," enthused Bernice. "Our makeup products and beauty tools now have a cult following."
Also noticeable are the bigger rack spaces allotted for each category, such as Stationery, Office Supplies, Children and Infant toys, Home Accessories and Decor, Electronics, Travel, even Pet Food and Accessories.
I personally love the storage products such as food keepers, transparent shoe racks, laundry and trash bins and huge containers to keep bulky household or personal stuff. All items are sourced from Japan to ensure the authenticity of the Daiso brand.
"There's always something new at Daiso," noted Bernice. "I've been with the company for almost six years now and I still get excited every time I do store visits."
And so, if flowers and chocolates don't work anymore, say it with Daiso.
* * *
Follow Daiso Japan on Facebook @DaisoJapanPH on Twitter and @DaisoJapanphilippines on Instagram.