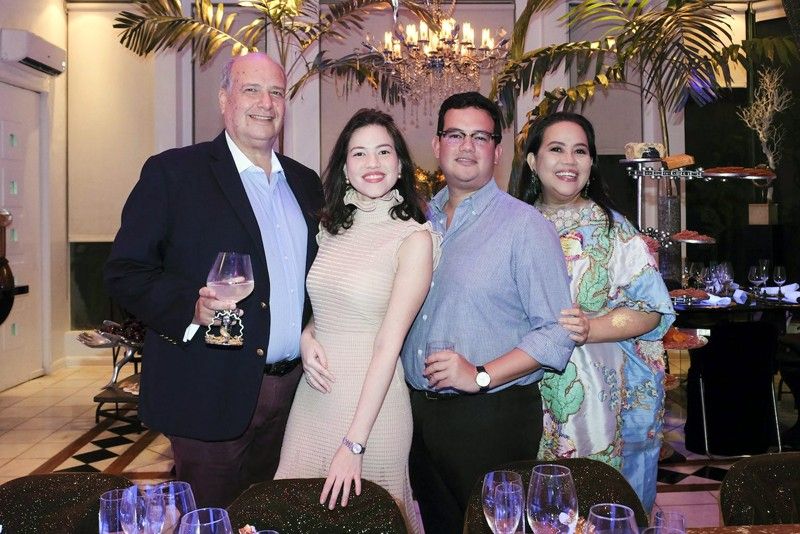 The Liechtenstein family: Lior, Lauren, Phil and Ballet Philippines president Kathleen, aka "Maymay"
Every course was themed to a Ballet Philippines show
It's a known fact that the Liechtenstein family can throw a party — and an out-of-this-world one. Photos of their famous dinners at their Ayala Alabang residence often circulate around social media, always prompting "Wow! Wish I had been there!" reactions from those on the receiving end.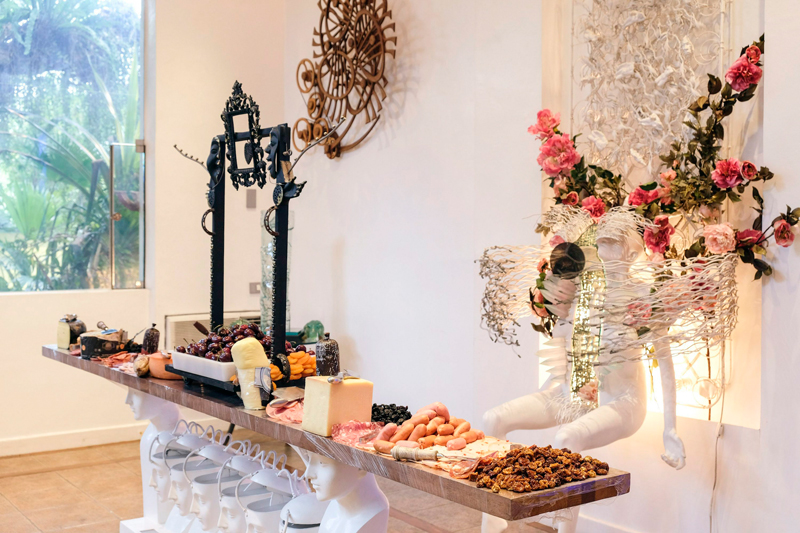 The cocktails and canapé setup at the living room dressed with Gabby Barredo sculptures
For Ballet Philippines' 50th anniversary, president Kathleen "Maymay" Liechtenstein did not throw a large ballroom-type party. On the contrary, she put together a gold dinner for an intimate group of 50. To present the season's production offerings to guests, she created a five-course menu where each dish was themed to a forthcoming show!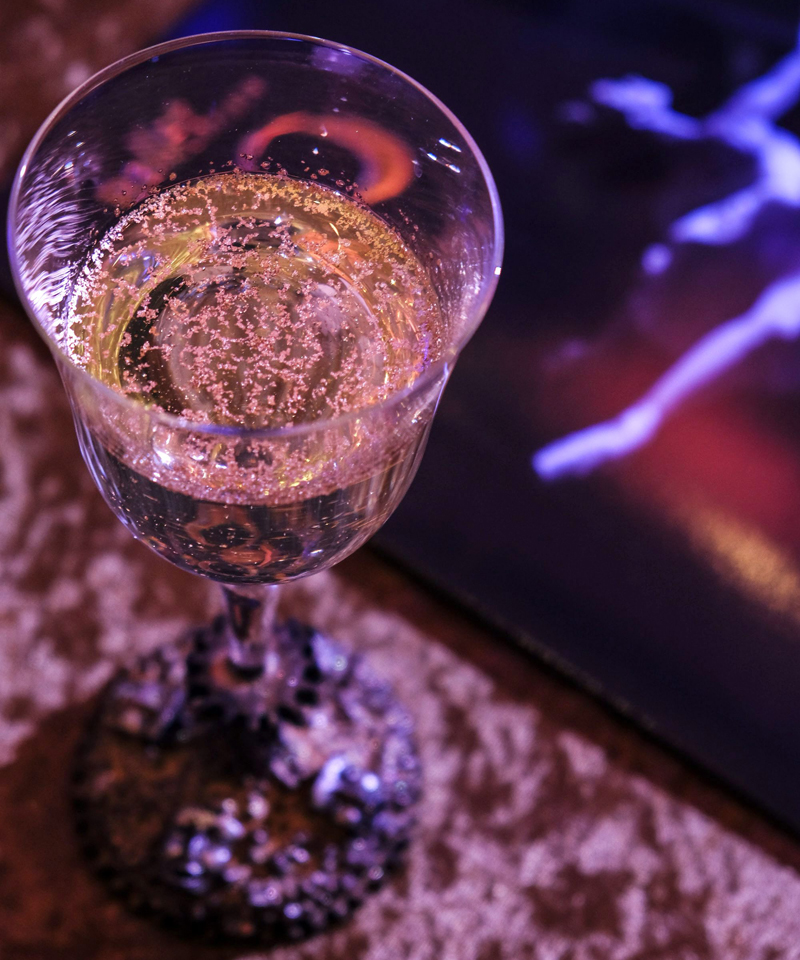 All that glitters is gold: Even the sparkling wine had 24-karat gold flakes!
The celebration of a golden anniversary was also translated literally: palm trees were sprayed with gold paint; Cire Trudon golden candles were put on display; 900 sheets of edible 24-carat gold were specially ordered from New York. Guests, upon walking in, were "tattooed" with edible gold on their cheeks, arms and shoulders so they could be adorned with a touch of gold.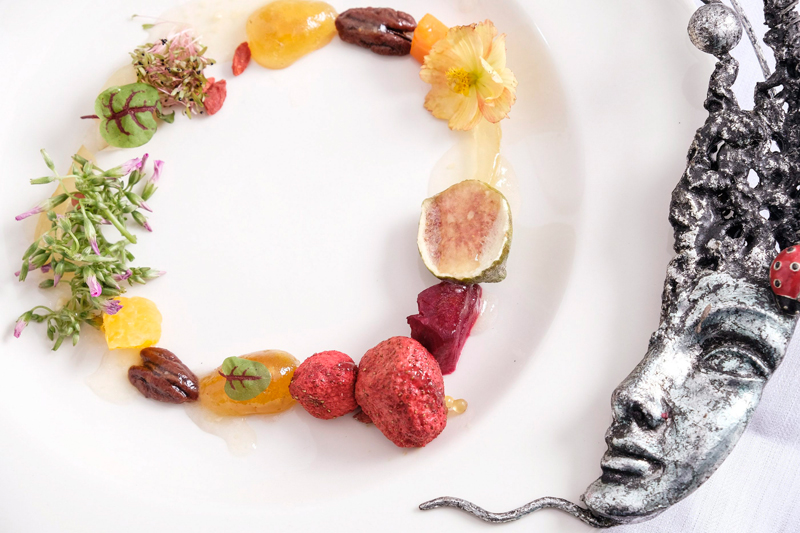 A Midsummer Night's Dream: Titania Crown (Micro tatsoi, mizuna, roses, sage, pansies, figs, berries, kumquat, sesame oil, ginger)
The trademark of any Liechtenstein dinner has always been that everything is made by someone in the family, and for this evening, Maymay prepared everything. As in, no catering here. She conceptualized and created the menu, cooked the dishes and plated everything herself, with nothing more than assistance from her kitchen staff.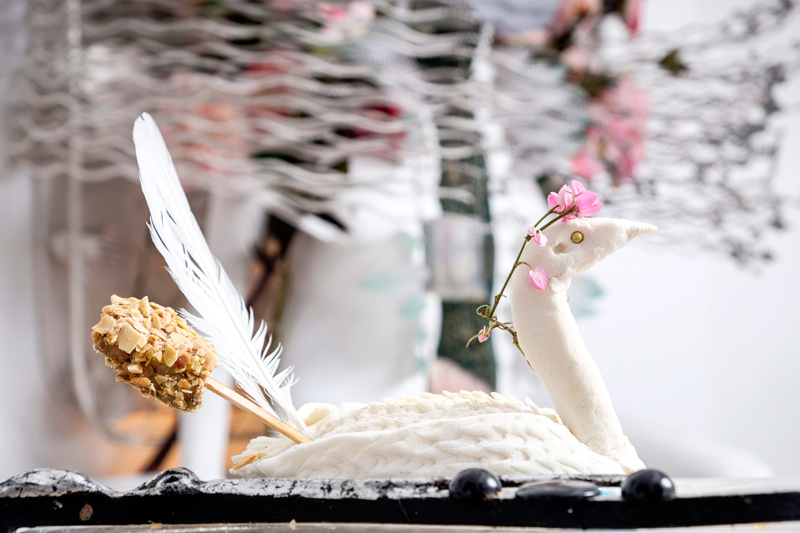 Swan Lake: Foie ice cream crunch (Foie gras, hazelnuts, Marcona almonds, mosto cotto)
For the amuse-bouche, a foie gras ice cream crunch was created for Swan Lake. Foie was flown in from Perigord, hazelnuts from Portland, Marcona almond from La Tienda in Barcelona, and the Muscat grapes for the mosto cotto from the Rhone Valley.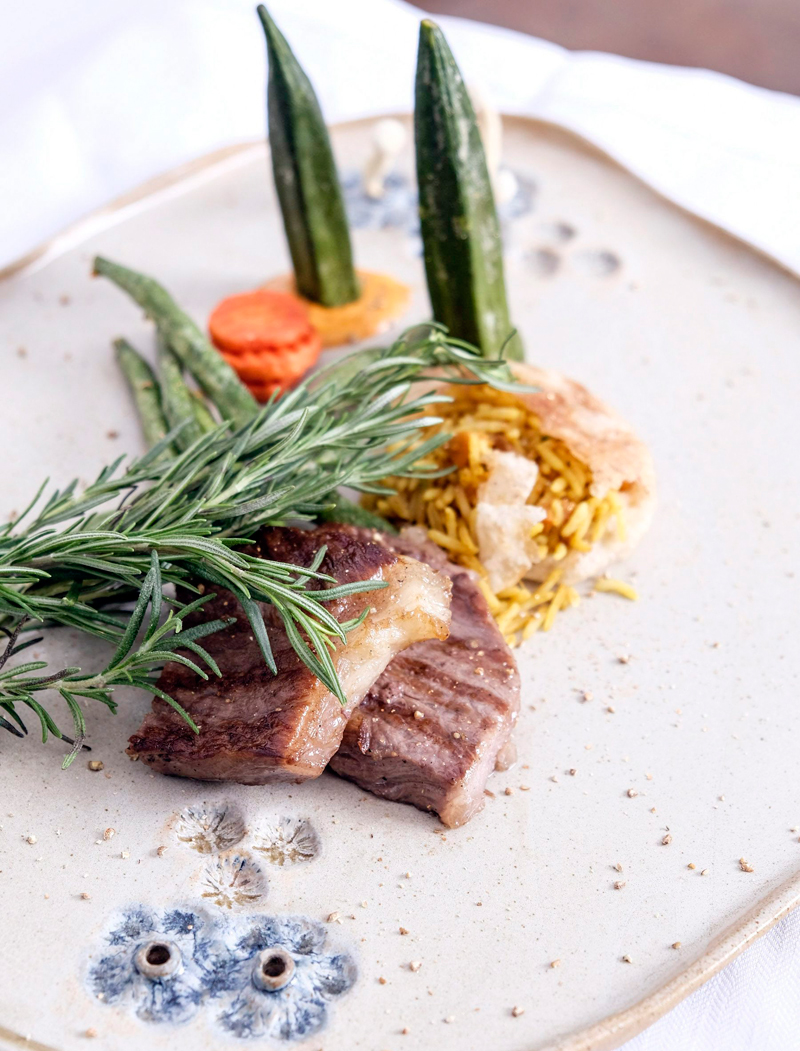 Rama Hari's Rama: Wagyu A5-9 seared in burnt guava syrup, basmati, vegetable crunch
A pretty Titania Crown salad was created for A Midsummer Night's Dream, where edible flowers from Bukidnon were juxtaposed against mini figs from Peloponnese.
A visually stunning Kabocha — similar to Cinderella's carriage — was presented for the soup course. On cue, daughter Lauren sang A Dream is A Wish Your Heart Makes a cappella before an encore request prompted her to continue on with Someday My Prince Will Come.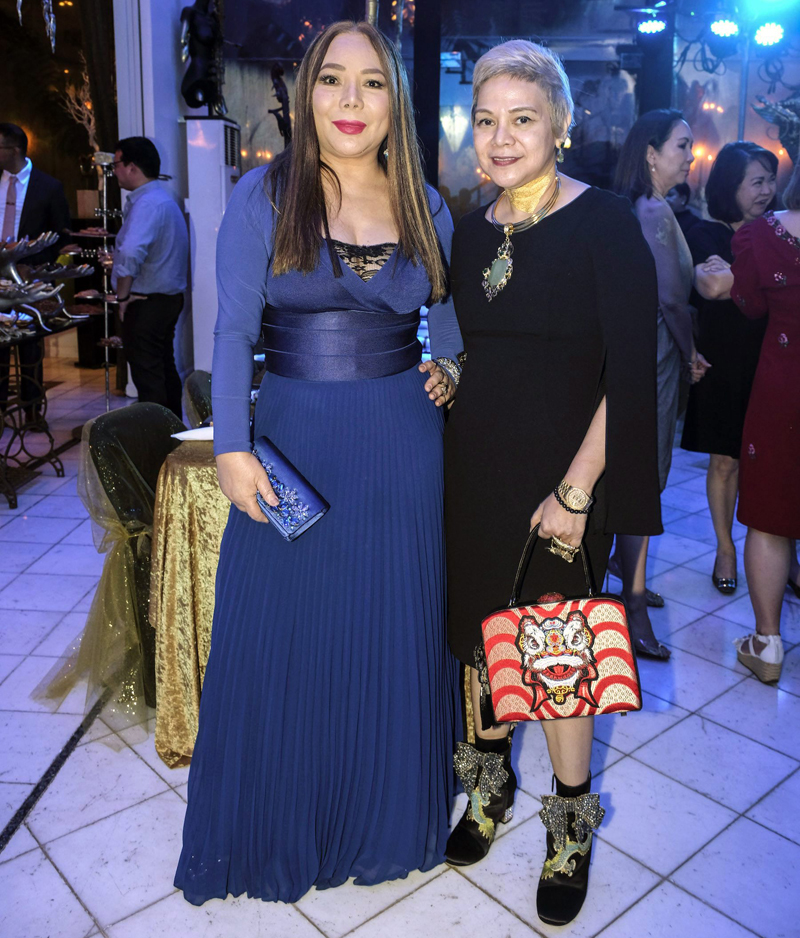 Tina Cuevas and Ann Ong
For Virginia Moreno's Itim Asu, flavors of sweet and bitter came in the form of passion fruit, raspberry, apple, orange and lemon jellies, brought in from Portland, Oregon.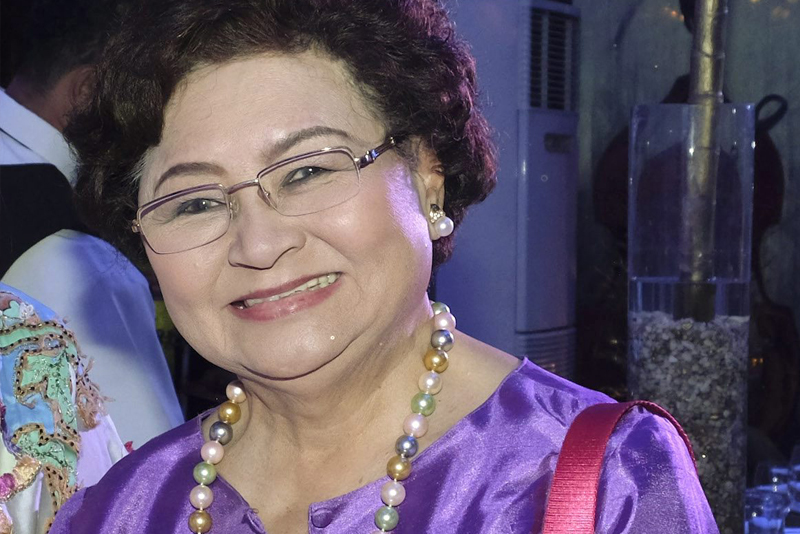 Ballet Philippines Board of Trustees Rosalind Wee
The main courses were themed to Rama Hari. Rama was Matsusaka wagyu A5-9 seared in burnt guava syrup, while Sita was Chilean sea bass in calamansi curd, with Argentinean shrimp and diver scallops (with live fish swimming underneath for presentation!), both served with basmati rice and vegetable crunch. Wines, which flowed freely, came in the form of Torricella and Castello di Brolio, both from the Barone Ricasoli vineyards in Tuscany, which is owned by a friend of Lior's.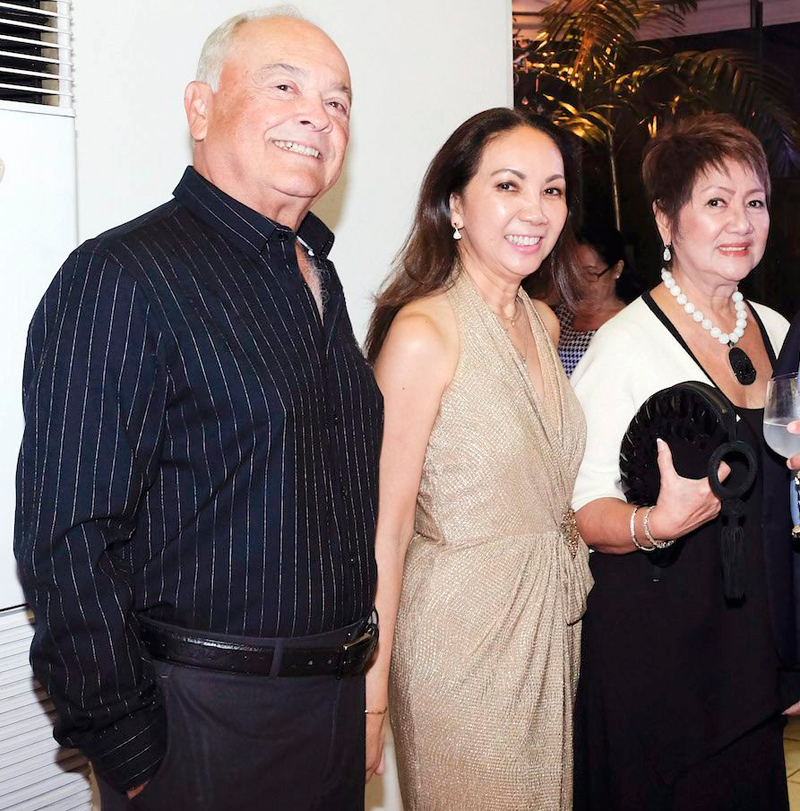 Lino Palenzuela, Anna Sobrepeña, Toni Gregory Palenzuela
A myriad of desserts and petit fours like Amedei Ecuador cru mousse (Odile), Sauterne, Merlot, Cabernet Sauvignon wine jellies (the Fairies of Spring and Summer), Macaron (the Black She-wolf) took to the table — before Ballet Philippines dancers descended from the staircase for preview performances of the season's shows to come.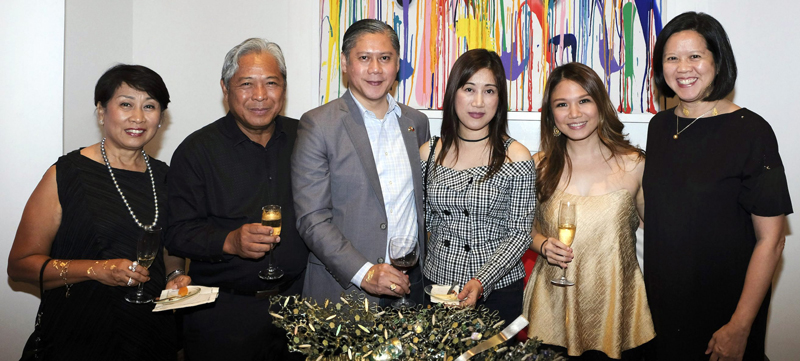 Joji and Jimmy Bautista, Consul of Jordan Michael and Jhazmin Ang, the author Cheryl Tiu, Yvette Fernandez
* * *
The show schedules are as follows: Swan Lake (Aug. 30 to Sept. 8); A Midsummer Night's Dream (Oct. 11 to 13); Cinderella (Dec. 6 to 15); Itim Asu (Feb. 21 to 23, 2020); Rama Hari (March 20 to 29, 2020).
For more information on Ballet Philippines and to purchase tickets for the shows, call 551-1003 (landline), 0956-637-9432 (Globe), 0921-292-1282 (Smart) or visit www.ballet.ph.
You can reach the author at inbetweendeadlines@gmail.com, on my blog www.cheryltiu.com, on Twitter at www.twitter.com/cheryltiu or on Instagram at www.instagram.com/chertiu.