The biggest Mango Sago ever!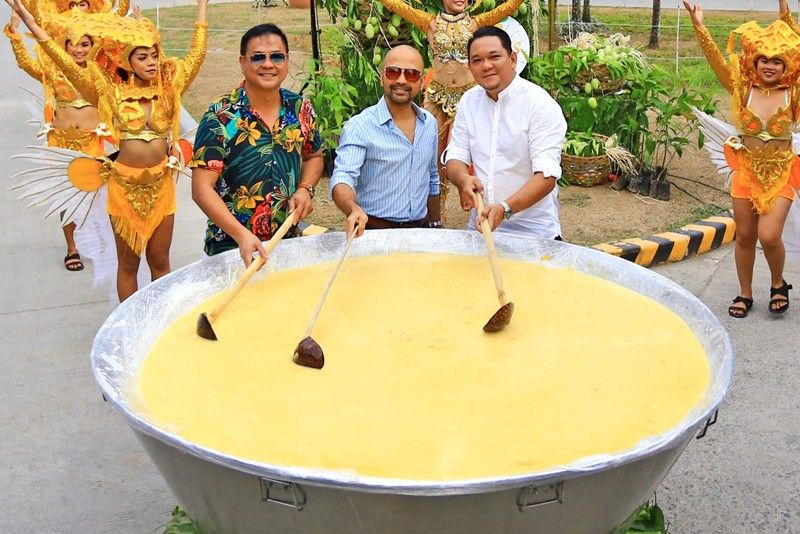 MANILA, Philippines — In what is touted to be the biggest Mango Sago ever made, roughly 150 kilos of ripe mangoes were used to make this record-breaking sweet and tangy, creamy dessert.
"We removed and balled the flesh at the center of the fruit," said chef Richard Hao, who, together with his culinary students from the University of San Jose-Recoletos, prepared the popular summer cooler. "We scraped the pulp from the seed, pureed and mixed this with condensed milk, all-purpose cream and powdered sugar. We then added big balls of sago to the mix, which looked better in the kawa than the usual tiny tapioca pearls."
The kawa, or large cauldron that they used, was four feet deep and six feet in diameter.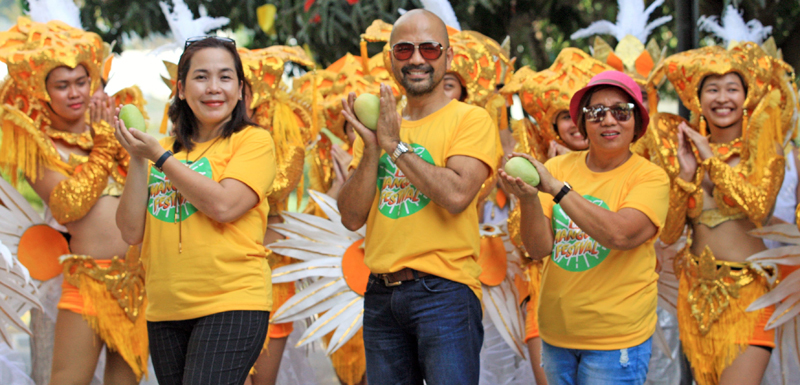 Megaworld Cebu Properties president Noli Hernandez (center) with (from left) Gelena Asis-Dimpas of the Department of Tourism and Marina Hermoso of the Department of Agriculture
This was one of the highlights of the first-ever Cebu Mangoes Festival, which was held at The Mactan Newtown in Lapu-Lapu City, Cebu, on the last weekend of May. Organized by Megaworld Corporation in partnership with the Lapu-Lapu City Tourism Office, it was a celebration of one of Cebu's top products: its popular and well-loved sweet mangoes.
A ceremonial mangopicking led by Megaworld Cebu Properties president Noli Hernandez, together with officials from the Department of Tourism and Department of Agriculture, opened the two-day festival. This was followed by lively street dancing to a catchy, newly minted Mangoes Festival tune and chant. There were live performances by top Cebu bands and DJs.
On the second night, the creations of fashion designer Dexter Alazas —"Hablonuevo," a mango-inspired hablon collection — was presented in an hour-long show that was open to the public. A grand fireworks display capped both nights of the Cebu Mangoes Festival.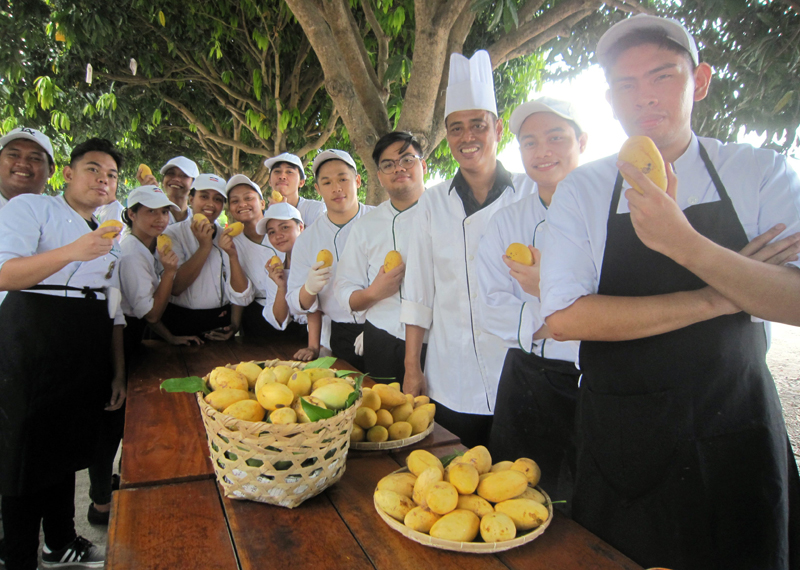 Chef Richard Hao (3rd from right) together with his culinary students from the University of San Jose- Recoletos prepare the biggest Mango Sago using 150 kilos of ripe mangoes.
Yes, the festival's name is in the plural (i.e. mangoes) since, as it was explained to us, it refers not to just one but to different varieties of mangoes. At the Mangoes Bazaar that was held during the festival, so-called "mango-preneurs" from all over Cebu gathered and sold a wide variety of mango-related products. There were packaged dried yellow and green mangoes, as well as vacuum-packed pickled mangoes, mango floats, mango sago drinks and even a free tasting of a Mango Passion cocktail made with one part mango juice, one part Emperador light and one part lime juice.
"Essentially, we just found something to celebrate," Hernandez said. Less than a decade ago, over 200 mango seedlings were planted along Newtown Boulevard, which was to become the main road within Megaworld's new 30-hectare township in Lapu-Lapu City, Mactan.
"Our chairman, Dr. Andrew Tan, wanted to grow mango trees in the townships since Cebu is well known for its mangoes," Hernandez relates. "Nowhere else will you find these many trees in the center of a large urban area like this, at the center of a township like this, and that is what makes it wonderful and unique."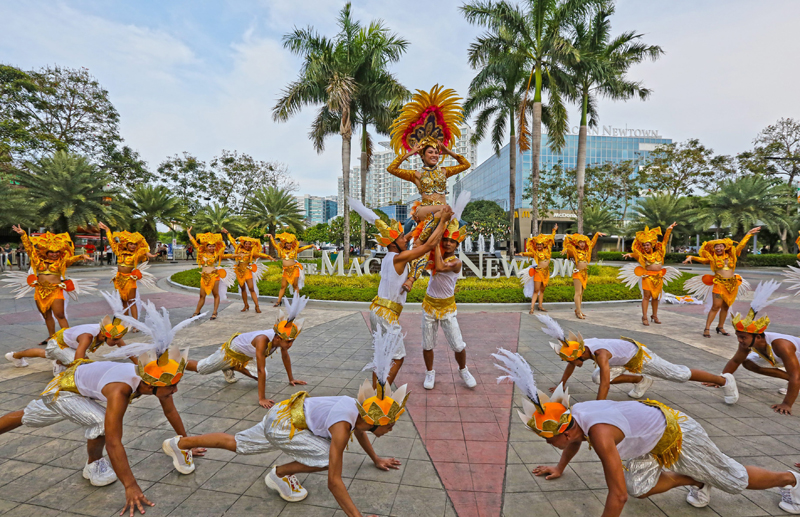 There was lively street dancing to a catchy, new Mangoes Festival tune and chant.
Three years ago, they had their first harvest of more than 700 kilos. The following year, the harvest yielded 5,000 kilos. This year, they expect to harvest over 10,000 kilos. There is a special team dedicated solely to taking care of the fruit-bearing trees. Harvest season is during the months of May and June.
"This can be more than a mangoes festival," said Gelena Asis-Dimpas, chief tourism operations officer of the Tourism Development Planning office of DOT Region 7. "We'd like to stick with the mango theme. It's something we care about. It's supported by our own culture; by the way we do things in Cebu. It's our own produce. It is aligned with the department's farm tourism program, which gives support to the farm-to-table concept. We would like to connect mango growers to the food outlets where mango dishes can be developed using freshly picked mangoes from the farms as one of their main ingredients."
Most mango trees are found in the mountains, outside the city. "Many of the trees are found in the backyards of small farmers, with only about four to six trees each," noted Department of Agriculture, Region 7 regional technical director Marina Hermoso, who advocates going back to basics such as backyard gardening. "But when pooled together with their neighbors, they can gather a substantial harvest."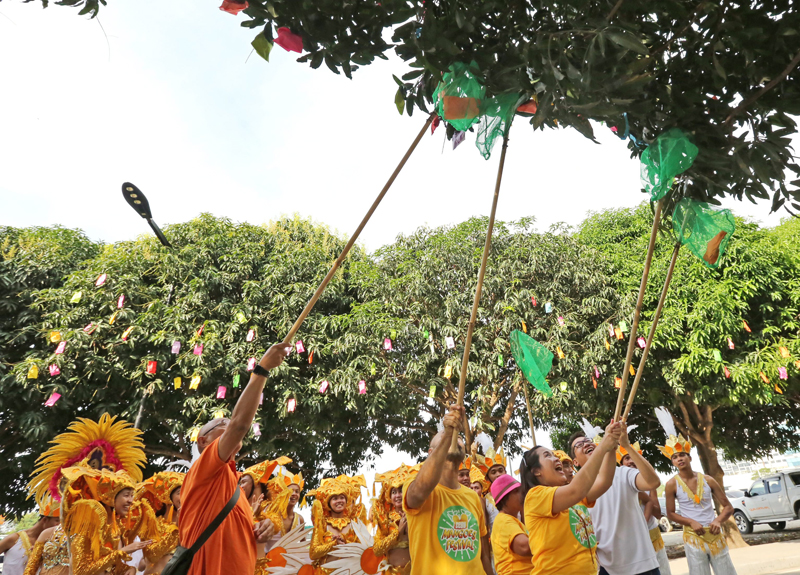 Ceremonial mango picking led by officers of Megaworld Cebu Properties together with Department of Tourism and Department of Agriculture officials
"We can also offer visitors organized visits to the mango farms," Asis-Dimpas adds.
"We can bring them up to our barangays, just about 45 minutes away from the city. We would like to tap the mango growers to become farm tourism operators, because when they become one, they will open their doors to visitors who will appreciate how the mangoes are grown, bear fruits, harvested and processed into food and souvenir items that are all mango-related. There is so much that we would like to do with this. This is just the start."
Hernandez says that for him, it's not just about the mangoes. "It's a celebration of summer. It reminds me of my childhood. Many of us have memories of having fun, climbing trees and picking its fruits. This is typical of life in the tropics."
It is said that the greatness of a culture can be found in its festivals. These are happy occasions celebrated in community. The Cebu Mangoes Festival is envisioned to be a province-wide annual summer celebration.
"If you missed it this year, we will have it again next year, and you can expect it to be even bigger," Hernandez said, with the smile of someone who knows a genuinely good thing when he sees one.