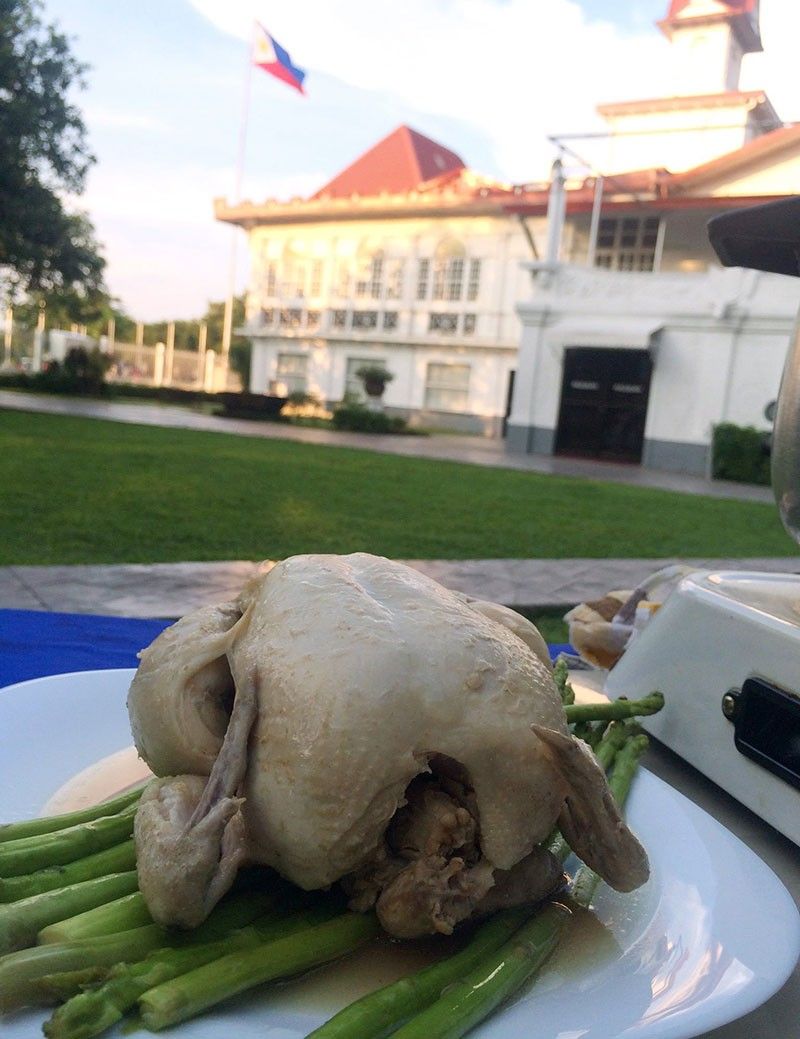 This Steamed White Chicken with Asparagus was a favorite of Emilio Aguinaldo.
Chef Jessie cooks Rizal's favorite bistek and Aguinaldo's steamed white chicken at Manila Hotel.
One of the things that cemented my decision to become a chef was how much I loved food. I loved every aspect of it, from harvest to butchery, from cooking to eating — I was all in. Most of all, I loved that the best kinds of food came with equally delicious stories. Now, my love for stories makes me a tsismoso (a curious busybody), and that's pretty much how I ended up doing food shows on television.
Years ago, in one of those blessed instances where I traveled to eat and film a show, I found myself in the ancestral home of Emilio Aguinaldo, having lunch with food historian Ige Ramos and Aguinaldo's great grandson, Angelo. As I sat in awe of this singular opportunity, I also marveled at the spread before us. On the table were some of General Aguinaldo's favorites like Pancit Henoy, Adobo sa Dilaw and steamed white chicken with asparagus, but my curiosity was piqued by a most unusual pair. Beside each other on the corner of the table were steamed sweet potato and canned butter.
Turns out, this combination was one that Aguinaldo turned to often if he needed nutrition on the go. Riding north to avoid capture from the enemy meant he needed to bring things that not only could be prepared and eaten quickly, but also could last long in storage. After hearing this deliciously curious story, we then moved on to discuss the other dishes.
Chef Jessie Sincioco will cook some of our national heroes' favorite dishes at the Manila Hotel's Café Ylang Ylang from Aug. 20 to Sept. 2.
Pancit Henoy (named after the Heneral) is the pancit canton we know, but with calves' liver (one of the general's favorites) and the sauce thickened with crushed glutinous rice (Cavite being a rice-producing province). The adobo, meanwhile, became a favorite since it was Aguinaldo's wife's recipe from her hometown of Batangas. The steamed white chicken, which I helped prepare with Angelo's help, had ginger and lemongrass (as Aguinaldo employed Negrenses to cook for him) and was served with white asparagus (bottled/canned from the US, which was luxurious during that time).
That meal remains one of my most memorable meals for many reasons that include the delicious food, the lovely company, but also the ensuing theories and stories that came with it.
Hearing stories of Aguinaldo's eating habits while escaping to the north or his decision to hire Negrenses to cook (apparently this was a security-related move) gave me a whole new perspective on him. I had always seen him as a mighty president or general, but tasting some of the food he ate and hearing their stories made me see him as human, too. Like me, he was just a gourmand and a guy with a job to do; it just so happened that his job was way more important.
Alas, fun opportunities like this are few and far between, but I lucked into another as I was recently invited to the historic Manila Hotel to try a very special menu. As part of their National Heroes' Day celebrations, the hotel invited chef Jesse Sincioco to create a KaBAYANIhan menu to be served as part of the buffet at Cafe Ylang Ylang. Chef Jessie, who was one of my mentors when I was competing to win in a reality show, has a direct line to my palate, so it was an automatic "yes" for me.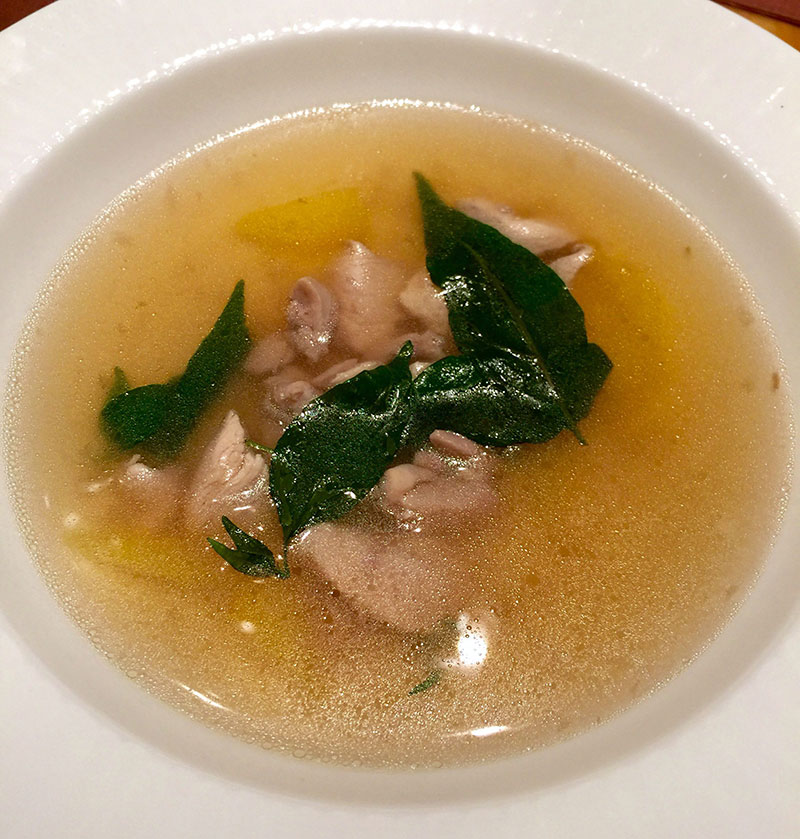 Chicken Tinola was said to be Melchora Aquino's favorite.
At the cozy wine and cheese room, we were treated to a four-course lunch that served as a preview of chef Jessie's menu. Lunch started with an Alugbati Salad with Bagoong Dressing, Salted Egg and Dulong. Like chef Jessie, I have been advocating for the use of our local Filipino greens like alugbati, sweet potato leaves and even chayote leaves in salads, and this salad was a great example why. The earthy leaves stood up well to the strong dressing replete with fermented and salty goodness and it made for wonderful combination.
Next was Melchora Aquino's Tinola and it was the culinary hug every tinola should be. Chef Jessie explained that in her research, Aquino was said to have favored this classic Filipino soup, which makes sense, given that one of her greatest assets was her care for our fellow Filipinos. Since there were no written recipes available, chef Jessie did the next best thing, which was to cook it the way her grandmother cooked it all those years ago.
Meanwhile, our national hero Jose Rizal was said to have loved the Bistek, albeit with a sauce some referred to as "gravy," which again makes sense to me, given Rizal's forays into Europe, which probably made him appreciate beef more. Chef Jessie turned traditional, cooking it with no frills, save for using Black Angus tenderloin, which she seared quickly to keep the meat medium-rare. The meat was meltingly tender with the slightly zesty sauce playing well with the sweet onions and homemade atchara (pickles). This was clearly the favorite at the table among the other guests.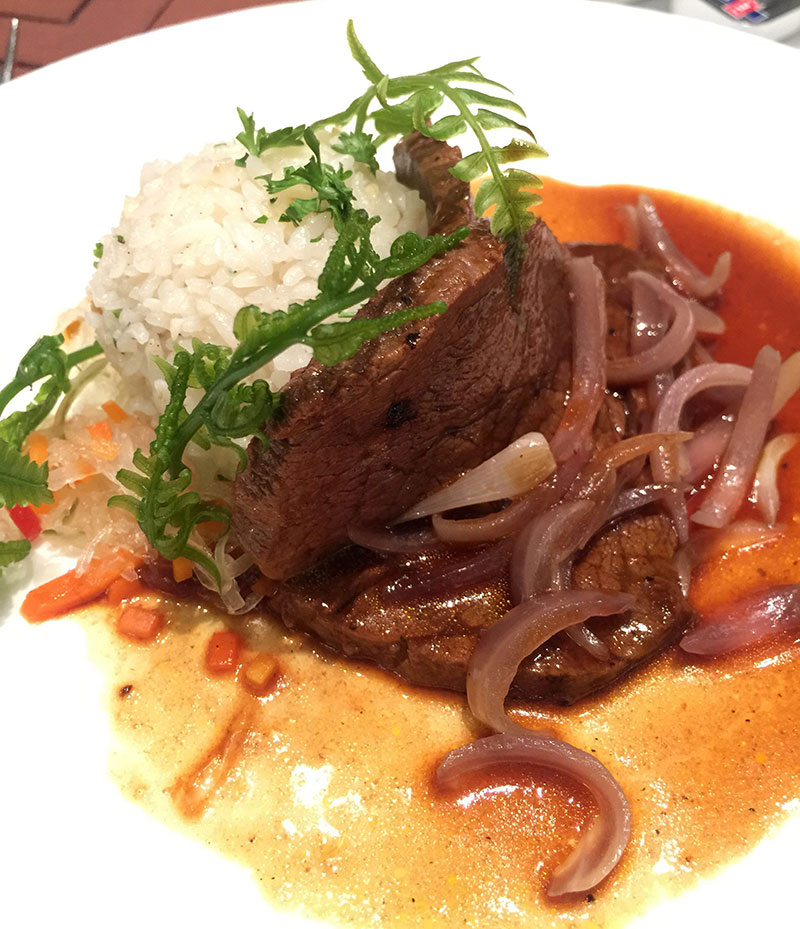 Jose Rizal was said to love Bistek, and no doubt would have loved this version by chef Jessie.
The dessert came with no description and just one word: "Budin." One spoonful of it and I quickly realized that no description was needed. Leche flan custard, macapuno strips and toasted sponge cake melted together into a light, velvety masterpiece that properly ended a terrific lunch.
Chef Jessie, as usual, humbly asked if we enjoyed the meal (but really, with me, she needn't ask) and then proceeded to tell us more about what's coming once the festival starts on Aug. 20 (and goes on until Sept. 2). Apparently her version of Sinigang sa Manga will also be featured and, with a twinkle in her eye, she reveals that whole roasted baboy damo (wild boar) will be making an appearance, too.
Once again, the wheels inside my head were turning. Which of our national heroes regarded sinigang as his/her favorite? What was the dish the fiery Gabriela Silang couldn't live without? What about the revolutionary Andres Bonifacio? Did the controversially strict Heneral Luna or the young Gregorio del Pilar even have time to break from their military duties to savor properly made Filipino food?
While I may never conclusively find the answers to all of these questions, my stomach and I will never stop searching and eating and the buffet at the Manila Hotel will be a great first stop of hopefully many more.
* * *
Follow Sharwin's food adventures on Instagram @chefsharwin and for questions, reactions, recipe and column suggestions, you can contact him on www.sharwintee.com.