My partner in the kitchen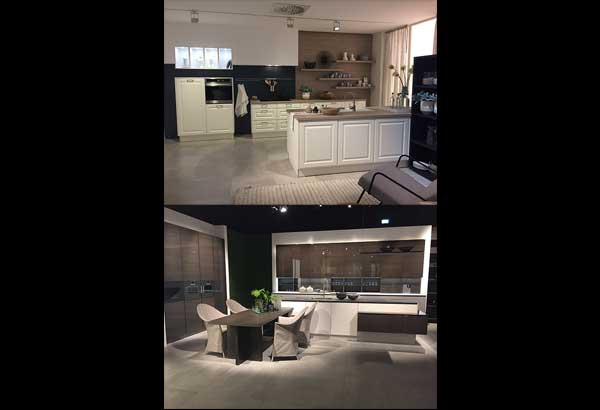 In all my years as a chef, instructor, food stylist, and even as a television show host, I find that, more than just quality ingredients and holding up a gold standard in everything I do, choosing the right partner and having the best equipment makes it possible for me to accomplish inspiring work.
My recent trip to Europe was full of learning and experiences that have not only enriched my technical knowledge, it made me more committed to excellence as well, I was fortunate enough to go with my daughter Carmela to revisit the Häcker Factory in Rödinghausen, Germany. I made this trip a few years ago and I must say that the speed of innovation and the evolution of design amazed me. Even though I knew the basics from my former visit, this recent trip made a great impression.
CYA Industries' Ellen Ruiz and Norman Reynoso organized the tour. Their company invited the best of the best in Philippine interior design and architecture. We were immersed in all things that went into elegant design and precise functionality. Being surrounded by the Philippines' premier architects and interior designers gave the trip more insight and depth as we were shown around the facility in a tour organized by Häcker board member Willy Kamm. During the orientation, we were told about the rich history of the company that was founded in 1898. For 119 years Häcker has remained a family-owned corporation that produces 850 kitchen systems daily, with a factory floor run by only 1,450 employees, covering all their activities from ordering and manufacturing to logistics.
One thing that I found quite remarkable in our tour was the safety and cleanliness integrated into the production floor itself; the workers did not need facemasks at all, considering that they were working with all kinds of wood and other elements that go into the fabrication of kitchen systems and cabinets. We were informed that, aside from integrated vacuum cleaners that sucked up the sawdust that would otherwise be in the air, there was no sign of leftover cuttings of wood or any other material. It turns out that all these excess materials were automatically transported to a large contained incinerator that converted the heat into energy that augmented their energy cost. It was all sorted out, from cleanliness to security to even energy-efficiency, and all this work was done with every employee going home at 5 p.m. on a single shift without having to do overtime.
Some areas of the factory have changed since my last visit as well. Every time I visit, the factory floor changes, not only because of new equipment, but also because Häcker takes their employees' feedback seriously. Should there be a suggestion or any idea they know will benefit the system and the workflow of the factory, they give a reward to the employee and invest in their ideas, making their company progressive and competitive with employee retention. The savings that Häcker makes on labor costs are invested in better equipment, since it just needs a few people to work together with the technologically advanced machinery.
All the advancement has made Häcker one of the most prominent kitchen brands in the world. The tour showcased all their available designs. They believe in the art of automated customization, so each Häcker kitchen is personalized. They only produce what is ordered, making them able to afford better materials without making their products too expensive. In fact, in their in-house Art Room, the architects and interior designers were pleasantly amused to find kitchens designed specifically with Asia in mind. The material used for these cabinets are tropicalized, designed with PUResist technology that is developed by Häcker themselves. They are the only kitchen equipment manufacturer that has this feature, making sure that the quality of their kitchen systems stays the same through humidity and the tropical climate. Add to that their attention to the latest trends and innovations based on changing lifestyle needs. Whether you're building a mansion or furnishing a condo, Häcker makes sure they give you the best customized options you can afford.
It's this attention to detail and excellence in technology that has made Häcker Germany's favorite kitchen brand; an independent survey even awarded them a gold rating.
I am happy to say that, after all these years, Häcker has always delivered in terms of the organization of their cabinets, the precision of their design and the functionality of their elements, be it a drawer or simple pullout pantry shelf. It's very reassuring to have a partner that has made my life's work both comfortable and enjoyable. If there is one thing that I took away from this tour, it's the fact that it's a worthwhile investment and I made the right choice with my kitchen partner.