The Istanbul (food) situation
December 29, 2016 | 12:00am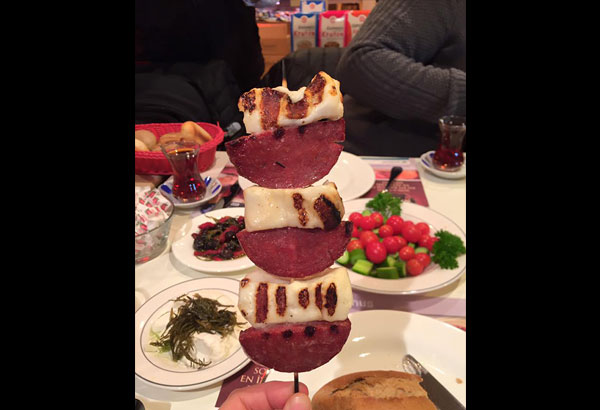 ISTANBUL, Turkey — Yes, I was in Istanbul on Dec. 10, the night the twin bombings happened at the Besiktas Stadium. Our hotel, situated at the heart of Taksim Square, was just five minutes away. I was lucky to have been out then, but a colleague who was working in his room said that the blasts were so strong the hotel shook.
We did see sudden throngs of police disperse around every corner of the city, and we couldn't get back to our hotel until 2 a.m. because they closed down all the roads. But it was most devastating to know that 38 people had lost their lives and 155 were left injured. Being in the city at the time made me wonder how the locals felt about these occurrences — and if they lived each day in fear.
Gastromasa
Why was I in Istanbul? I was there for Gastromasa, the largest gastronomy event in Turkey organized by Gökmen Sözen, a highly respected magazine publisher, editor and F&B stalwart.
Gastromasa's aim is for Turkey to become a global destination for gastronomy, and for this, their second year, they gathered some of the best chefs in the world to speak to over 800 people at the CVK Park Bosphorus Hotel: Andoni Aduriz (Mugaritz), Elena Arzak (Arzak), Albert Adria (Tickets Bar; Enigma) Josean Alija (Nerua Guggenheim Bilbao), Antonio Carluccio (Carluccio's), Regis Marcon (Régis & Jacques Marcon), Andre Luca de Lima (Brazil's master of meat), and World's 50 Best academy chair for Southeast Asia (North), Mason Florence, as well as celebrated Turkish chefs working overseas: Fatih Tutak (House on Sathorn in Bangkok), Somer Sivrioglu (Efendy and Anason Meze Bar in Sydney) and Serkan Güzelcoban (Schöner Hirte Bistronomie in Stuttgart).
It was a successful event wherein guests were attentively tuned to the speakers all day and left inspired by their stories. But prior to Gastromasa, Gökmen and his team put together for us — both journalists and chefs — a culinary and historical tour of Istanbul
A Culinary Tour Of Istanbul
We ate breakfast at Namli Gurme, a delicatessen with an amazing array of Turkish produce. (Think of it as a larger-scale Santis or Terrry's but all local.) It's where I first tried the breakfast dish sucuk and hellim (veal sausage and grilled haloumi). We were invited into the baklava kitchens of Karaköy Güllüo?lu, Istanbul's most famous baklava maker — a family-run business now on its fifth generation, where we saw how labor-intensive (they were all male, too) and meticulous it was to make Turkey's most famous dessert, with phyllo sheets literally as soft as silk.
We had traditional Turkish cuisine at Yanyali Fehmi Lokantasi and Nar Lokanta before being introduced to modern Turkish via tasting menus at Nicole and my personal favorite, Neolokal, where chef Maksut Askar recreates traditional Anatolian dishes with modern techniques, using local and seasonal ingredients in his restaurant housed in a former Ottoman bank.
I also made it my mission to try Turkish street food (minus the ubiquitous döner kebab this time), and really enjoyed kokorec (lamb intestines wrapped around sweetbreads and grilled over charcoal) and the wet burger ("wet" because it is doused in a tomato-based sauce before being left in the steamer for the fluffy buns to absorb the sauce) — both of which are often had after a night out.
And of course, in between, we walked through the Grand Bazaar, Spice Market, Hagia Sophia, Topkapi Palace, sailed down the Bosphorus (where we fed birds simit from the back of the boat), had breakfast on top of the Galata Tower with the mayor of Beyo?lu, H.E. Ahmet Misbah Demircan (they closed the tower for us) and culminated with a gala dinner at the gorgeous Çira?an Palace Kempinski Istanbul.
Turkish Hospitality
What warmed my heart were the people — the Turkish hospitality they extended and how passionate they are about their country and culture — from the organizers, chefs, restaurateurs, journalists/ bloggers, and even their national airline, Turkish Airlines. (It was my first time to try their business class and they had candlelight dining in the air, an actual Skychef who comes to every passenger, free Wifi and service that's two steps ahead — as in, the flight attendants mindfully apologize if they accidentally block your view of the screen while serving the person next to you!) Unfortunately, the pressing issues that make breaking news often push these steps they have taken back. There is another side of Turkey that the world needs to see.
To answer my question earlier, all the Turks I had asked said that they would continue to live their lives the best way they could every day (rather than in fear) and promote their country, which they love and are very proud of. They all said that they would never, ever stop and let terrorism win. I join Turkey on their quest to promote their cuisine, culture and country to the world.
* * *
You can reach me at inbetweendeadlines@gmail.com, on my blog www.cheryltiu.com, on Twitter at www.twitter.com/cheryltiu or on Instagram at www.instagram.com/chertiu.
For more information on Gastromasa, visit http://gastromasa.com.tr/en
Special thanks to Gökmen Sözen and the Gastromasa Team; and to Erhan Balaban and Angela Trinidad of Turkish Airlines Philippines.