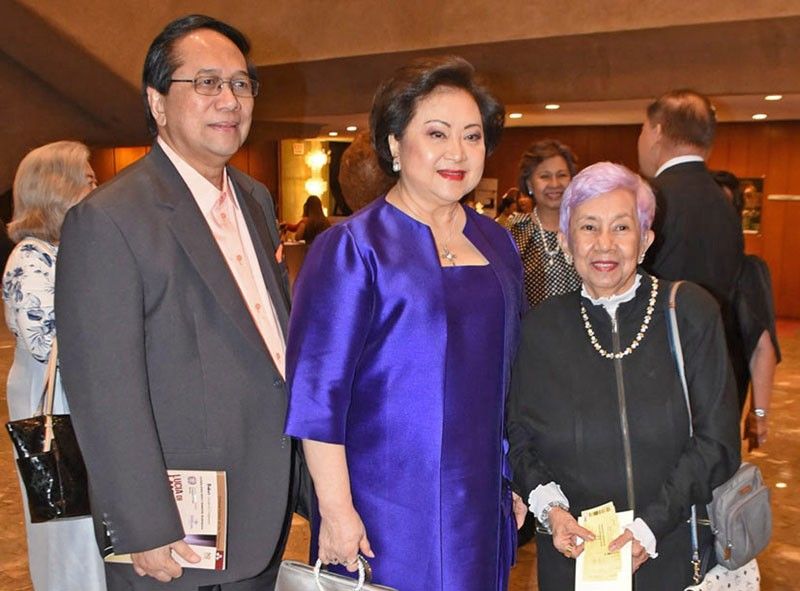 Rustan Group of Companies chairman and CEO Nedy Tantoco (center), Filipinas Opera Society Foundation Inc. Board of Trustees members Danny Dolor and architect Tina Turalba
Alex Van Hagen powered by MAC Center
The Philippine premiere of Lucia Di Lammermoor by genius Italian composer Gaetano Donizetti enthralled Manila's opera lovers.
Held at the Cultural Center of the Philippines (CCP), the most dazzling event in town was presented by internationally renowned Rustan Group of Companies, the Filipinas Opera Society Foundation, Inc. and the Embassy of Italy Manila.
The grand gala night was attended by distinguished personalities and opera fans led by Italian Ambassador to the Philippines Giorgio Guglielmino; Rustan Group of Companies chairman and CEO Nedy Tantoco, the lady with a 40-carat personality who is dedicated to the cultural scene; CCP president Nick Lizaso; and Filipinas Opera Society Foundation Inc.'s Dr. Jaime Laya, Danny Dolor and Tina Turalba.
First performed in Naples in 1835, the Donizetti opera has since become a favorite among opera lovers all over the world, "with its vivid heroine, beautiful orchestration, gothic story and psychologically realistic portrayal of a woman on the brink of collapse." The Opera follows the story of Lucia Ashton (played by soprano Melody Louledjian), a Scottish maiden who falls in love with Edgardo di Ravenswood (played by tenor Arthur Espiritu), the leader of the Ashtons' political enemies, but is forced by her brother Enrico to marry another nobleman named Arturo. Believing her brother's lie that Edgardo has betrayed her, Lucia is so gripped with devastation and grief that she begins to lose her sanity.
It is best known for its fantastic arias including Il dolce suono and Regnavanelsilenzio, among others. Lucia's heart-stopping madness scene has become one of the most famous, momentous moments in all of opera.
Completing the fantastic hard-to-beat Philippine cast are: baritone Byeong In Park as Lord Enrico Ashton, Lord of Lammermoor and Lucia's brother; tenor Ivan Nery as Lord Arturo Bucklaw, Lucia's bridegroom; bass Shi Zong as Raimondo Bidebent, a Calvinist chaplain; mezzo-soprano Camille Lopez-Molina as Alisa, Lucia's handmaid; and tenor Nomher Nival as Normanno, a huntsman and retainer of Enrico.
The opera is superbly directed by Vincenzo Grisostomi Travaglini, who also magnificently designed the set and costumes. Ravivaddhana Monipong Sisowath is assistant director; Giovanni Pirandello is lighting director; and Giampaolo Lomi Ormanni is creative project coordinator.
With the mind-boggling live performance by the Philippine Philharmonic Orchestra under the baton of Maestro Alessandro Palumbo, the ensemble was also joined by the choral group Viva Voce Voice Lab, with guest singers from the various music schools in Manila and Iloilo.
The Manila staging of Lucia di Lammermoor had the audience — including myself — covered in goose bumps throughout the opera presentation, dahlings, and was produced for the benefit of the Philippine Philharmonic Orchestra Society, Inc. (PPOSI) and the Philippine Italian Association (PIA) Endowment Fund.
Lucia di Lammermoor was presented in cooperation with Hilton Manila, SSI Group, Inc., East West Bank, San Miguel Corporation, LCS Group of Companies, Hermès, Danny Dolor, Ambassador and Mrs. Antonio M. Lagdameo, Advanced Foundation Construction Systems Corporation and Rustan Coffee Corporation. MAC Cosmetics Philippines was the official makeup sponsor.
What a show! It definitely had the culturati talking about this one-of-a-kind gorgeous happening.