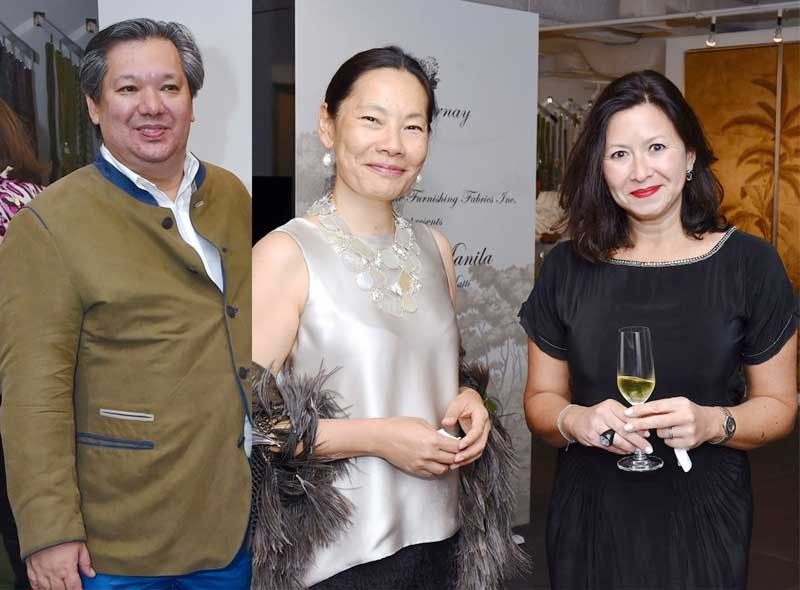 Interior designer Jonathan Matti with Patricia Liang of Elements and Stephanie Spero of De Gournay
Photos By Alex Van Hagenpowered, By Mac Center
The essence of true luxury
Latina Manila, the papier panoramique wallpaper designed by interior designer, palangga, Jonathan Matti for ultra-luxury design company De Gournay, no less, has finally arrived in the Philippines.
Elements Fine Furniture and Fabrics hosted a one-of-a-kind dinner event and cocktail party to introduce De Gournay and Latina Manila's luxurious products — porcelain, wall screens, panels and, of course, wallpaper — to its friends, clients and the adoring public.
Patricia Liang of Elements and Stephanie Spero of De Gournay explained to me that "Latina Manila comes in 20 panels — in various colorways and finishes — that, once installed, can all look so different. Everyone can make Latina Manila their own. Every piece of De Gournay wallpaper is either hand- painted or hand-woven, which is the essence of true luxury." Amen to that!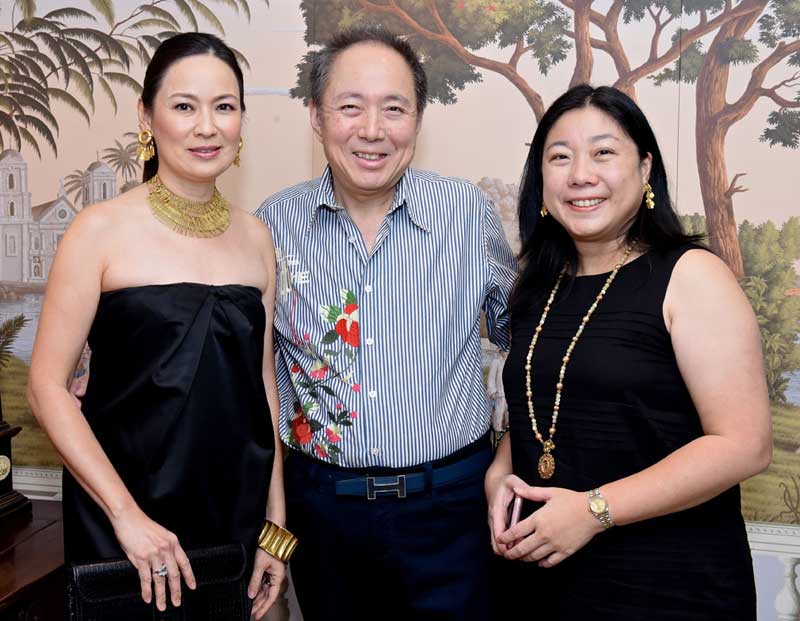 Hetty Que, Paulino Que, Emily Que Yap
The first celebration was an intimate dinner for 36 people — long-time clients — who have used De Gournay wall covering in their various homes designed by Jonathani who just happens to be the master of true luxury.
The chosen ones included the beautiful Maricris Zobel who used De Gournay in her various homes all over the world, the latest of which is in her Madrid apartment.
A little birdie told me that Johnny Velasquez and his lady love Maripi Muscat use Latina Manila in their brand new abode. Woman of substance and jewels Naty Papas with her Grecian beauty daughter Christina Papas were also present. I also spotted the low-key real-estate magnate Juanito and Lucy Que accompanied by their daughter Joanne Que Young who jetted in from Singapore for the dinner.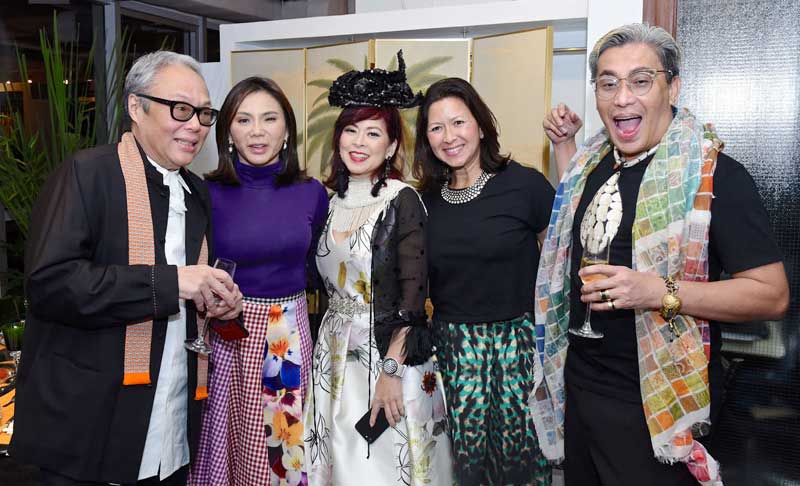 Andrew Gan, Dr. Vicki Belo, Tessa Valdes, Stephanie Spero, Jojie Dingcong
Premier art and antiques collectors Paulino and Hetty Que were also there to lend support to their favorite interior designer, together with their niece Emily Que Yap and her husband Edison Yap.
The brilliant couple behind children's clothing line Gingersnaps, Jerry and Sasa Uy, were also present. I shared an interesting table with Bridgestone's Mark and Michelle Tagle, Aida Cobankiat, Charlene and Jeremy Tiu, among others. Enjoying the flowing divine Fifi l'amour bubbly were Gina Aboitiz, Alicia Sy, Vicki Kim Delgado, Suzy Annetta of Design Anthology, Jim Weaver's Isabelle Ocier and Ester Que. The dinner was capped by a heartwarming speech of gratitude by Jonathan. He thanked Jemma Cave, creative director of De Gournay, whom he worked with closely "to make the wallpaper come to fruition."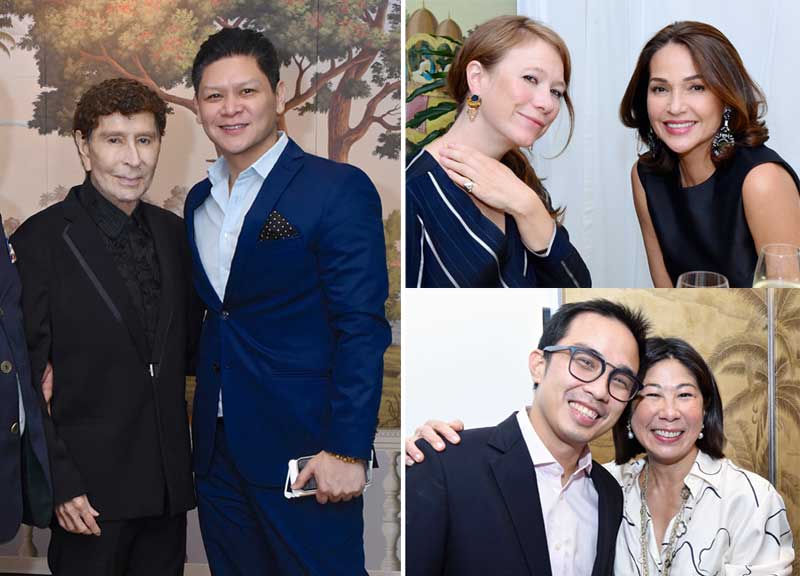 (Clockwise) Author Maurice Arcache, Anton San Diego, Jemma Cave, Maricris Zobel, Dr. Glenn Carandang and Kitty Go
The second celebration was a cocktail party with more of Jonathan's friends and clients. Spotted were Hermana Mayor's Rose Toda Delgado with her talented daughter Ines Delgado-Prieto, woman of culture and beauty Margie Moran-Floirendo, fun duo Cecile Reynoso and Victoria Preysler-Tuason. Early birds were sought-after contemporary artists Jose John Santos III and his equally talented wife Pam Yan Santos. Young beauties behind lifestyle store Lanai, Maria Parsons and Natalia Zobel, were there to congratulate our palangga Jonathan. More felicitations, from the Queen of Beauty Dr. Vicki Belo-Kho, accompanied by my palangga, manager to major stars Joji Dingcong. Jonathan's best friend, private banker Andrew Gan with my favorite brilliant ophthalmologist Dr. Glenn Carandang, had a great time. The cocktail party went way past dinner time as more guest's — Tara Santos, Bibot Nolan, Tippi Tambunting, Cinthy Recto, Ipe Cruz, Joe Miro, Tessa Valdes and Bambina Olivares — had a wonderful time at the Don Papa cocktail bar.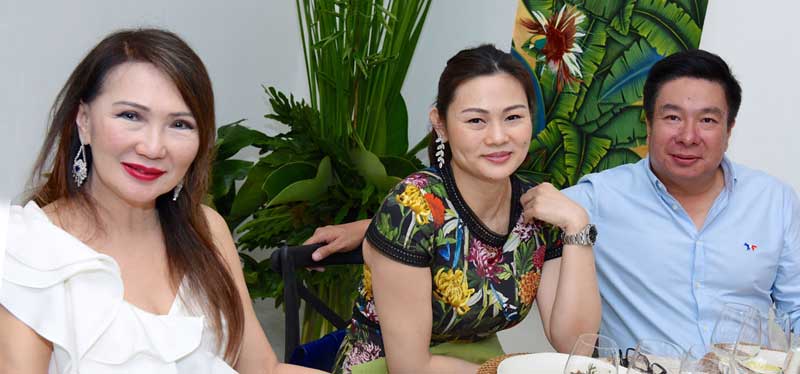 Aida Cobankiat, Charlene and Jeremy Tiu
From the corner of my eye, I saw Kassa's Karen Santos in deep conversation with famous architect Condrad Onglao. Enjoying the evening with their Hendrick's Gin and Tonics, the popular drink of the year, were interior designer Ana Ugarte and architect Robert Lilles, Sandra Padilla, Millie de Sequera and super vivacious Nashi Villareal.
Stylish gals of the evening were Jackie Ejercito in Sophie Rochas, Kitty Go in The Row and Shirley Hirand in Fendi.
Welcome home, Latina Manila, and we're glad you are here to stay.
Latina Manila is exclusively available at Elements Fine Furnishings, 9th floor, DPC Place, 2322 Pasong Tamo Ext., Makati City.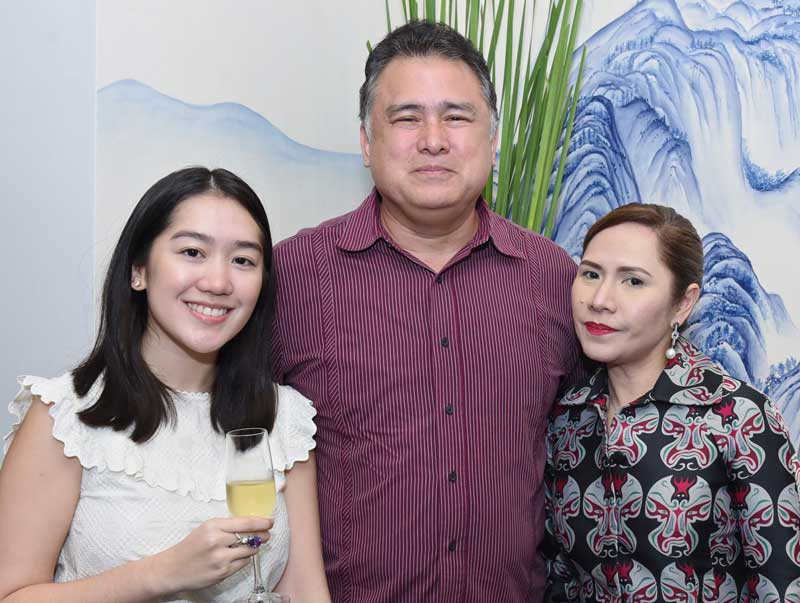 Bea Matti, Gabby and Jian Estrella