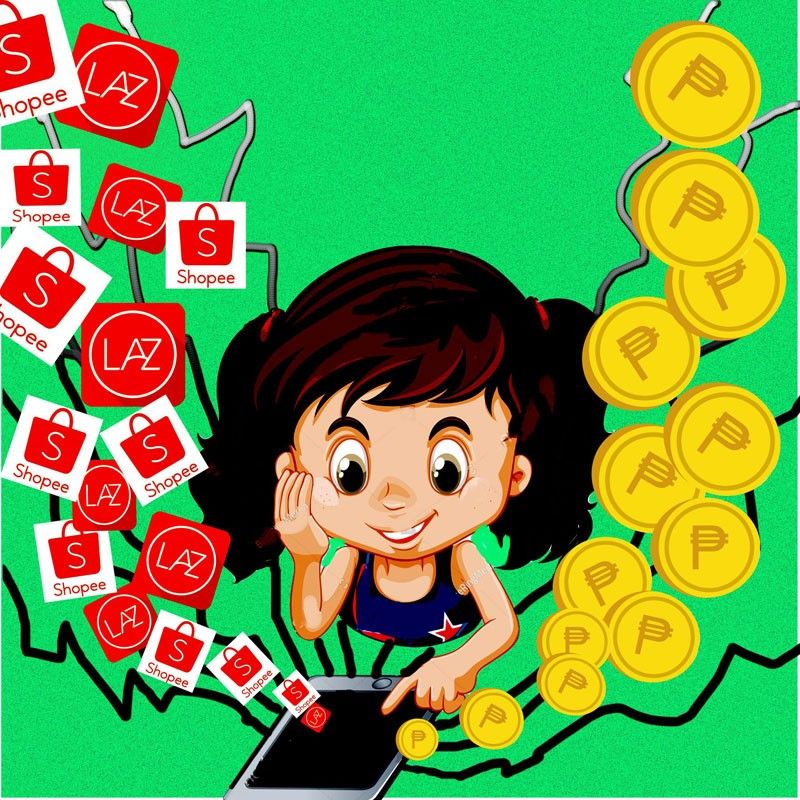 Centennials — the generation born from the mid-1990s, also known as Generation Z, GenEdge and Homelanders — are mobile natives.
Illustration/computer graphics by Scott Garceau
Filipino Centennials: A new breed of shoppers
Filipinos actively participated last year in online-led shopping occasions such as Single's Day and 12/12, led by e-tailers Lazada and Shopee. Having gotten their feet wet in these digital retail pools, Filipino consumers will continue to explore online buying this year across categories, as ecommerce hits the masses.
Centennials — the generation born from the mid-1990s, also known as Generation Z, GenEdge and Homelanders — are mobile natives. They are an essential and influential segment whose buying expeditions will be heavily digital. To better understand their buying habits, DAN Philippines, in collaboration with eConsultancy, implemented a shopping-habits study focusing on this critical group.
These young buyers in their teens to early 20s are excited about digital retail formats. Yet they can be a tough crowd, uncompromising in their demand for good value and great user experience. In this report, we will show brands eight critical insights to navigate this segment, and summarize with imperatives to bolster ecommerce strategies in 2019.
Bea Atienza, DAN Ph chief strategy officer, said, "Through Hakkan, DAN's intelligence pipeline, ecommerce is a big focus of our research and productivization this year. This ensures that we counsel our clients with the right go-to-market ecommerce strategies that will be properly supported with a full-funnel marketing plan. We are looking forward to sharing this study in detail with marketing and communications people."
Portrait of a centennial shopper
• Value is the biggest online shopping driver. Filipino Centennials are trying ecommerce by managing spend levels. The majority are spending between P50 to P1,500 per month, indicating that most are still testing the waters, with the largest spend level at 25 percent. These spenders fall below their Southeast Asian counterparts in the higher average spend levels (P 3,000 and above). When asked about the most important qualities of an online store, the highest agreement was on "free delivery" and "low prices."
• They move between online and offline platforms as they review options. Online browsing is a significant part of their decision-making process, even for products that are bought in-store. When it comes to browsing products in-store before purchasing online, 47 percent do so frequently, while 43 percent do so occasionally, because they want "to get a better idea of the physical qualities of the product, such as color, size, texture or fit." When it comes to browsing for products online before purchasing in-store, 71 percent do so frequently, while 28 percent do so occasionally, since they like, "to check out reviews of the product."
• They consider social media a valid online shopping platform. Filipino centennials prefer to shop in branded online stores such as Lazada. The prevalence of social media in the country is reflected in the number-two choice of shopping platform: social media and chat apps such as Facebook and Instagram. Several micro-entrepreneurs sell directly to consumers on these platforms. Least popular in the country are discount-based websites. This area represents the largest difference between Filipinos and their SEA counterparts, where discount sites are the second most popular shopping platform type.
• Ease and experience are important to them. The majority use mobile to shop, 90 percent use smartphones to browse, and 86 percent use smartphones to buy. With mobile as the main access point, users will expect ecommerce experiences to be as easy and consistent as those they encounter on their favorite apps, even non-ecommerce ones. As such, 85 percent expect to be able to find products online easily. This will mean an emphasis on ease of discovery through their choice of search platform, and within the buying environment itself. Driven by strong user experience, consumers are starting to discover options that fit their needs through online platforms — 82 percent usually see products that they want to buy online first. Linking to ecommerce, where consumers can immediately convert, is critical to closing the loop. An enhanced shopper experience is also an opportunity to delight Centennials: 81 percent are excited about futuristic shopping technology, such as virtual reality.
• They are "shortlisters" who use online research to review options and make selections. When in-market for a specific product, consumers use online channels to refine their options. The majority of surveyed consumers agreed that they can find better choice online, making it easier for them to review options, product variables and make an informed decision. The top three online information sources used are written reviews, brand websites and video reviews. Search engines come in fourth.
• Fashion and beauty are the top categories bought online. Based on the study findings, 70 percent buy fashion items online, and 48 percent buy beauty items online. Even categories such as home and living and food and groceries are bought online, by 37 percent and 22 percent, respectively. Other categories seeing online purchase are entertainment, fitness and sports, travel, books and automotive.
• They value personalization over privacy. Filipino Centennials want to be in control of their data and get the most out of sharing it: 77 percent are happy to share data with websites if it makes recommendations more relevant. They are more aware of the value exchange between consumers and brands. They have come to terms with providing their data if it is in their control to decide whether to do so or not.
• They won't be stopping online shopping any time soon. Outlook: Filipino Centennials see great value in online shopping, and are positive they will continue do so. In fact, 81 percent will continue to shop online in the future. They will continue to include more online channels in their buying behavior, from browsing to actual purchase; 16 percent strongly agree that they prefer to shop online rather than in-store, with 52 percent somewhat agreeing.
The shopper mindset + the brand ecosystem
Coming from these insights, it is important to bolster our understanding of the ecommerce buyer mindset, as well as the brand assets and ecosystem that will support ecommerce action.
The buyer mindset: short-listing as they browse. With such easy access to product and price information, consumers are quickly able to assess different options and make decisions based on reviews, brands, prices, shopping platform (ease, availability, payment options and fulfillment variables come in). The challenge to brands is how to stand out to ultimately be chosen through the selection process. Here are a few things the brand can do:
Highlight the best possible value through competitive price points and offers.
Cater to the customer's need for validation, as seen in search, reviews, testimonials and customer success.
Provide sufficient detail, to give customers an approximation of physical properties of the product.
Provide product demonstration: rich content featuring the user experience and product craftsmanship.
Check the partner experience: selecting partners with a favorable digital sales experience.
Provide fulfillment options: a range of partners that allow the customer to select the modes of payment and delivery that fit their needs.
Once triggered, Filipino centennials are likely to move independently through the funnel, finding the options that fit their individual needs: price, availability, ease, trust. Brands must bolster their range of assets that cater to them at mid- to lower-funnel.
Many brands still focus on top-funnel goals through mass-targeted campaigns, social content and branded entertainment. To ensure that this converts, assets and channels must be in place to support in-market audiences through mid- and lower-funnel activities. A few assets for the brand to review include:
Website: Responsive, optimized and planned against clear-use cases
Service capabilities: Customer care processes and facilities ready for inquiry or support
Reviews: Testimonials and proofs of effectiveness
Audience management: In-market targeting, lookalike tactics and remarketing to nurture acquired audiences
CRM: Methodologies to collect customer data, segmenting users in terms of engagement and usage.
* * *
Email bongosorio@gmail.com.