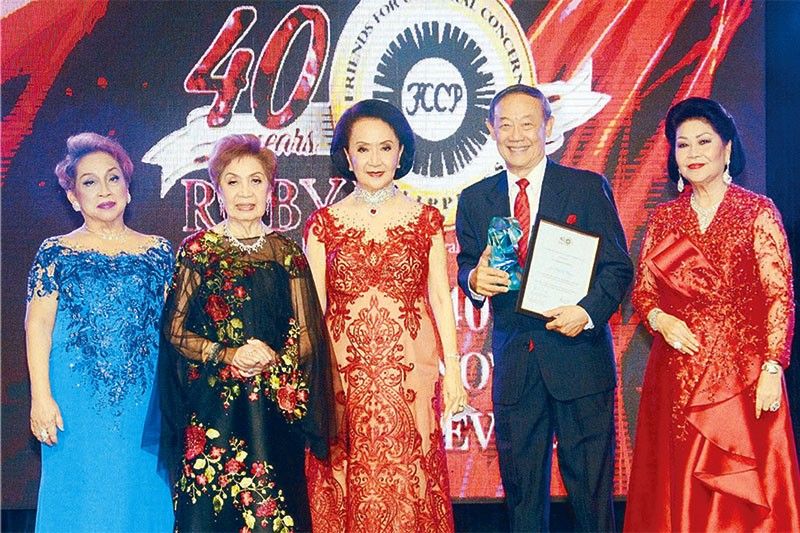 (From left) Friends for Cultural Concerns of the Philippines (FCCP) past presidents Lulu Castañeda, Rose Lazaro and Nonie Basilio with Award for Excellence honoree Jose Mari Chan and FCCP president Mimi Valerio.
The Friends for Cultural Concerns of the Philippines (FCCP), led by its president Mimi Valerio, commemorated its 40th anniversary with a ruby-themed grand celebration at the Rizal Ballroom of the Makati Shangri-La Manila.
Originally organized in 1979 as a sustaining arm of the Cultural Center of the Philippines, FCCP has developed into an esteemed cultural organization dedicated to the development of arts and culture in the country.
The Ruby Jubilee was a fitting way to pay tribute to FCCP's four tireless decades of protecting the Philippines' cultural heritage. "At 40 years old, we are creating clearer pathways to growing our organization from good to great, concretizing our true legacy, the affirmation of our Filipino identity, our heart… our culture," Valerio said.
Congratulations to FCCP for 40 years of meaningful existence! *
Greetings
Happy birthday to our celebrator today, Techie Velasquez.
Advance birthday greetings to Auto Nation Group Inc. president Felix Ang, Oct. 28; Titang Montinola, Louie Kierulf, photographer Lorna Llanes and Jeanette Reyes, Oct. 29; Tessie Tomas, Oct. 31; Joe Rebano, Nov. 1; Victor Rufino and fashion designer Ito Curata, Nov. 2.
So, how was your week?
(For comments and inquiries, please e-mail me at jjlitton@indanet.com.)