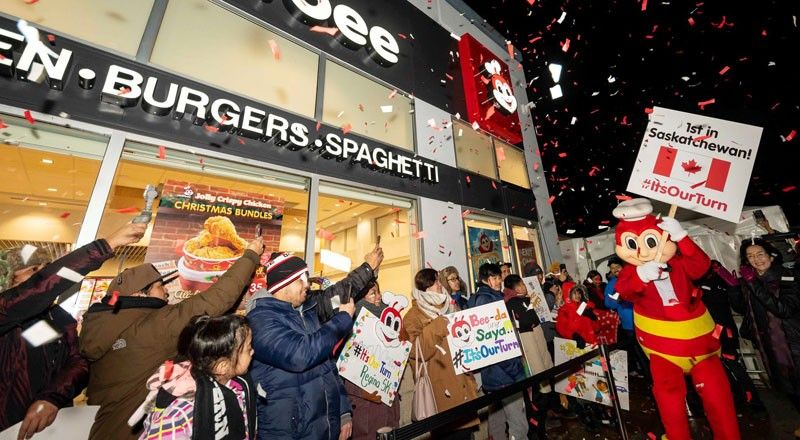 Jollibee, the flagship brand of Jollibee Foods Corp., ended the decade with back-to-back milestone openings in Chandler, the first in the state of Arizona in the US; and Regina, the first in the province of Saskatchewan, Canada. The openings were greeted by thousands of people in line, many of whom camped out for as long as three days amid extremely cold temperatures.
Jollibee opens new US, Canada branches
MANILA, Philippines — Jollibee, the flagship brand of Filipino-owned Asian food conglomerate Jollibee Foods Corp., has expanded anew in the global market with openings in Chandler, the first in the state of Arizona in the US and Regina, the first in the province of Saskatchewan, Canada.
The two openings bring Jollibee's total store count in the US and Canada to 50, and are part of the brand's accelerated North American expansion plan.
JFC plans to grow its North American network to 250 stores or 150 branches in the US and 100 branches in Canada.
The Arizona store is located at 2800 E Germann Road, Chandler, AZ 85288; while the Regina store is located at 2830 Quance Street, Regina, SK, S4V 3B9.
As with other international Jollibee openings, eager customers had lined up days ahead for a first-hand experience of Jollibee in their countries.
"I waited in line for a long time for my son and niece because they have never experienced Jollibee. My mom and dad usually took me to Jollibee when I was younger, and I want my son to experience it. I'm very ecstatic, and with Jollibee, I feel like I'm back home again," said Irene Ballesteros-Shields, the first customer of Jollibee Chandler, Arizona, who lined up three days prior to opening day, JFC said in a statement.
The Arizona line set a new record for Jollibee US openings as even non-Filipinos lined up.
Jason Marx, a Canadian, was first in queue in Jollibee Regina, Saskatchewan and lined up for 19 hours before the opening.
"I've known about Jollibee for a while, but without any stores in Canada at that time, it was hard for me to try it," Marx said.
JFC is now one of the world's largest and fastest growing Asian restaurant companies with more than 5,800 stores across 15 brands in 35 countries.
In 2019 alone, the brand more than doubled its store count in Canada. For 2020, the brand's expansion in Canada will focus on Ontario, Manitoba, Alberta, British Columbia and Quebec.
At the same time, the brand's areas of focus in the US will be in Florida, New Jersey, New York, Maryland, Texas, Nevada, California and Hawaii
JFC North America president Beth Dela Cruz thanked the customers who lined up for the new openings.
"Jollibee is a family brand so it means the world to us that members of the community linked up with their loved ones to come to our store and share in the joy that Jollibee brings."