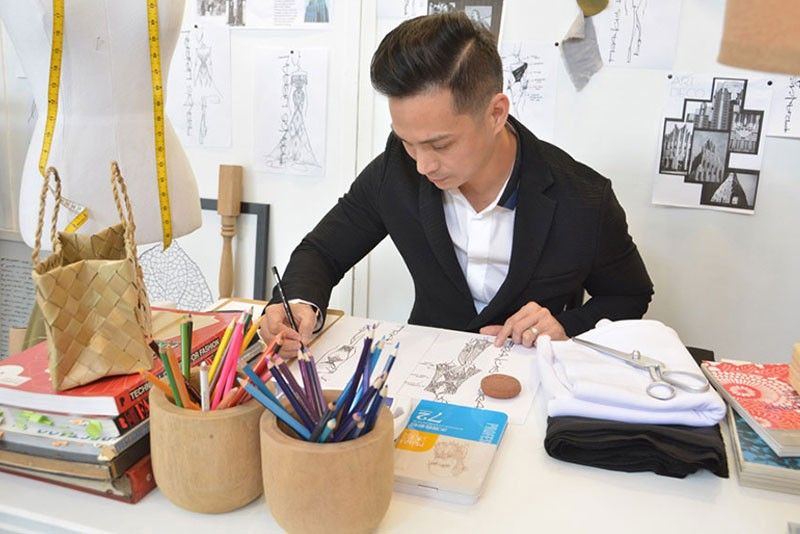 The formalwear and bridalwear designer Francis Libiran admits locking himself up in a hotel room for one day to "scale down" and mesh his design DNA with Bayo's classic ready-to-wear sensibilities.
Bayo gets new designer-in-residence
MANILA, Philippines - The '90s was a breakthrough period in Filipino retail. It was in this period that womenswear label Bayo, an iconic staple known for its classic and preppy separates — especially its white button-down shirts worn by Lea Salonga — was born.
For creative director Anna Marie Lagon — whose family only officially acquired full ownership of the brand two years ago after first joining Bayo as a vendor when the brand was only five years old and then as a manufacturing partner — 25 years in the business does not mean resting on one's laurels but revving up, setting the brand's sights on an international market.
Instead of getting another face, Lagon tapped internationally recognized Francis Libiran who has made his mark for his architectural approach and art deco detailing in bridal wear and formalwear (donned by Tyra Banks in the reality show franchise America's Next Top Model), not for a one-off designer-and-brand collaboration collection simply meant to bring a different demographic of customers through the door but a year-long joining of forces to take the brand not necessarily in a new direction, but further. In January, Libiran was appointed as the brand's designer-in-residence, initially for the duration of the year but the brand has made it clear that this is only the beginning of a long-term plan of designing clothes to suit the needs of the modern-day Bayo woman together with Libiran.
Libiran's art deco fixation, even as an architecture student, makes it way to the collection called FL x Bayo in separates and shifts done in monochromatic black, white and blue tones. The '90s silhouettes are an ode to Bayo's beginnings, notably the skort and the button-down done as a dress and long-sleeved polos, in higher-end fabrics and finishes, thanks to Bayo's manufacturing control. YStyle talks shop with the two champions of Filipino heritage in fashion.
YSTYLE: The Bayo woman: how has she changed through the years?
ANNA MARIE LAGON: The Bayo woman is an achiever, active, social and well traveled. In our store windows now, we have on display a history of our past endorsers and you can see that, as their faces change, the clothes, not so much. She knows her personal style already. There have been a few changes to adapt with the trends and her needs but we stick to our classic, sophisticated signature.
You enjoy creative freedom designing gowns as elaborate as you wish them to be but what made you say yes to designing ready-to-wear basics?
FRANCIS LIBIRAN: As a designer, I do want to see my aesthetic interpreted into other forms like accessories, T-shirts, which I have done. Here in the Philippines, designers are mostly confined to (made-to-order) couture. We didn't look into doing ready-to-wear until recently but that's not even a lot of designers.
What did it take to scale down your output?
LIBIRAN: I'm so used to beads, embroidery, everything, I had to lock myself in a hotel room with a "No Disturb" sign on the door and I just sat there and thought about how to mesh the two together. This collaboration is unique because, in the way that people are able to say "she's wearing a Francis Libiran," whenever a woman wearing one of my creations walks by, Bayo has such a defined design DNA, an identity that will always be classic and sophisticated. And then I realized, when I focused on my lines, it's a perfect match!
Can you tell us about the collaboration process?
LAGON: We would just always talk about it, bouncing ideas off of each other. One thing we didn't use were "pegs" of pieces that had already been done.
LIBIRAN: When we first sat down for the initial meetings, there were no restrictions about what I (could or) could not do. I researched Bayo's DNA pieces over the past 25 years. Whenever we had dinner and coffee or messaging each other on Viber or Whatsapp, we would always go back to how we could add the "Tatak Pilipino" on Bayo clothes without it being "too Filipino." We want this collaboration to have international appeal.
LAGON: It was clear for the both of us that we didn't want to just make clothes but to tap into emotions. We carry the Filipina's heritage and lifestyle through clothes.
LIBIRAN: We thought of how, whenever a woman travels and a unique print catches her eye, she will bring it home and wear it as a statement piece, or when a woman shops for a statement piece to wear for her travels and people ask her about who she's wearing.
LAGON: We're not available internationally — at least not yet!
Where are you taking this collaboration for the rest of the year?
LIBIRAN: Eventually we will evolve into brighter colors and use prints of Philippine iconography like palaspas. It says it is made in the Philippines without shouting it out loud.
LAGON: This is a small collection just to show what we can do together. It's like storytelling, not "this is a collection, wait for the next one." We have told Francis that this is not going to be a short-term thing. We want to keep making beautiful clothes together. And more than his designs, he has a bigger heart. It inspires all of us in the office.
For the rest of the year, we will showcase other talented Filipinos recognized worldwide like Miss International 2016 Kylie Versoza who represents the same ideals as Francis. We want to inspire more Filipinos.
* * *
FL X Bayo is available starting today in Bayo stores in SM Mall of Asia, TriNoma, Glorietta, SM Megamall, Alabang Town Center, Market!Market!, Robinsons Place Manila, SM North EDSA, Robinsons Galleria, Eastwood Mall, Greenhills, Greenbelt, Shangri-La Plaza Mall, SM Marikina, Robinsons Place Ilocos Norte, Robinsons Place Tacloban, Evia Mall, Ayala Solenad, Robinsons Place Bacolod, and SM Iloilo.