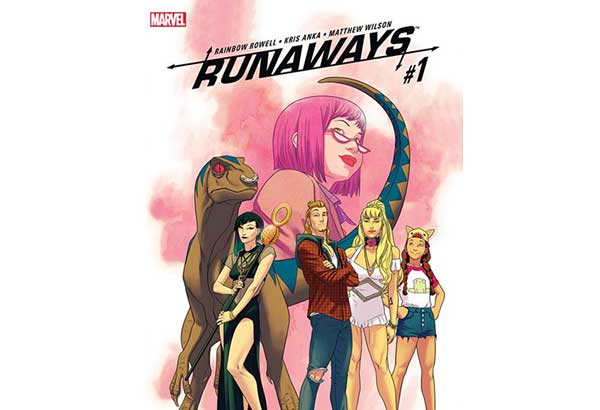 Not a plot twist: What if your parents were actually super villains?
The return of the Runaways
I remember it like it was yesterday. I had been reading comics for about a year by then. At that time all the comics I had were either Batman, Superman or Superman/Batman. I wasn't an expert by any means and I considered it a fun little hobby more than anything else. And then one lazy summer afternoon at the old Cats comic book store in Greenhills I decided to get a comic called Runaways by Brian K. Vaughan and Adrian Alphona. I didn't know who the superheroes were, Vaughan's track record as a writer, let alone who Adrian Alphona was. The main reason I even considered buying it in the first place was because at the back of the book there was a blurb that suggested it was "The O.C. of comics." That was enough to get my attention, but I would soon find out that Runaways was so much more than that.
Runaways was, is, and perhaps always will be my favorite comic. It was the comic that made me truly want to become a writer. No other book, film, TV show, led me to where I am now more than Runaways. The premise itself was the freshest idea in comics I had ever heard. "What if your parents were actually super villains?" And with that simple question I was hooked. The cast of teenage heroes instantly grew on me. From geeky Alex Wilder, mysterious goth Nico, lovable frat boy Chase, to the charming pessimism of Gert, it was a collection of outsiders John Hughes would've been proud of. While the plot was still very much your typical superhero-fare, what made the comic so good was the characters themselves. The cast, in my opinion, contained the most endearing and relatable superheroes since Peter Parker. Most of this success is owed to Brian K. Vaughan who, at that time, was still just an up-and-coming writer with a penchant for wit and heart-stopping cliffhangers. But it was through Runaways that he was able to connect with a much wider audience. There are only a handful of writers who can successfully pull off teen dialogue and Vaughan nailed it to a T. The dialogue was fast, sharp, unpretentious and earnest. The characters actually talked their age and their reasoning and emotions never felt forced or out of place. Vaughan showed with Runaways how adept he was at making his characters multi-dimensional and current, all the while still delivering an exciting mainstream superhero comic — a feat that is easier said than done.
Like Vaughan, Adrian Alphona provided a unique and ever-evolving art style to Runaways, his art growing along with the characters he drew. In his first few issues, Alphona was clearly inspired by eastern and Asian art, giving the comic some multi-cultural aesthetics. It wasn't quite manga, and it wasn't quite western either. What it was was fresh and inviting, glueing the reader to the story just as much as the writing. Over time, the art moved towards more of traditional western influences and, working with colorist Christina Strain, he gave the art some realism and an animated look. By the end of Alphona's run, Runaways was up there as one of the most beautiful, dynamic and youthful comics the industry ever produced.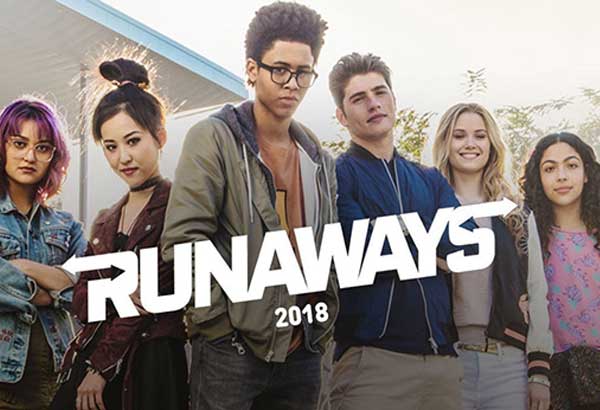 Hot and streamy: Runaways will hit our screens and debut on Hulu this November, thanks to the creators and executive producers of The O.C. and Gossip Girl.
Runways was such a hit that after Vaughan and Alphona finished their story, Marvel didn't want it to end and even got pop-culture icon and geek god, Joss Whedon, to immediately continue the story and follow up Vaughan. Sadly, it wasn't the successful sequel many had hoped and after several writer changes, Runaways was never really the same. Marvel eventually ceased publishing the title and had spread some of their characters into other comics, but after a couple of years on hiatus, Runaways finally returns this week with a brand spanking new relaunch from YA favorite Rainbow Rowell and breakout artist Kris Anka. Not only that, this coming November, Runaways will hit our screens and debut on Hulu from the creators and executive producers of The O.C. and Gossip Girl.
It's been almost 15 years since I first got a copy of Runaways, and I have to say I haven't been this excited for a title in a long time. Over the years the comic has gained a cult following. While a lot of the diehard fans, myself included, can be overprotective at times, it seems Marvel will finally recapture the magic that Vaughan and Alphona first created.
If you haven't read Runaways yet, I sincerely suggest you do so soon. It is easily one of the best comic books to come out in the last 20 years with just as many twists and turns as any episode of Game of Thrones. And with the TV show coming up, it's best to prepare and read up now. If you see any spoilers coming your way, run.