Stop going over budget: Swak budgetarian tips to keep your wallet in check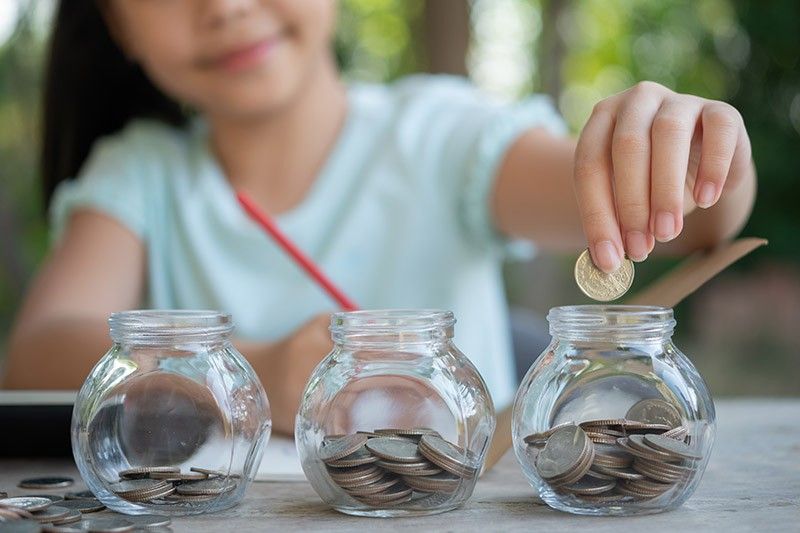 MANILA, Philippines — With the soaring cost of goods and services these days, Filipinos are well aware that happy-go-lucky spending is definitely not the move. There's nothing worse than falling short on your budget, especially when there are monthly essentials to replenish and obligations to fulfill.
So unless you want to end to up in the red, you're going to have to pull yourself by the bootstraps and stave off spending more than your means. Also helpful is employing some swak measures that not only help save resources but also make the most out of what you spend your money on.
Here, we list down some budgetarian tips to keep you and your wallet happy.
1. Pay bills, shop online
No need to go to the nearest supermarket or Bayad Center to settle your groceries and monthly bills. Remember to pay your bills online and save your precious time! This also lets you save on gas, which is the goal with today's skyrocketing gas prices.
On the other hand, when you buy your groceries online, you get to use various discount vouchers and free delivery. Some services even let you set delivery dates that are most convenient for you. Now that's surely wais.
2. Get a 'swak' internet connection
Whether streaming your favorite media or doing school or professional work, you don't want to spoil enjoyment or stall productivity with a weak, spotty and slow connection. But as a budgetarian, remember to choose an internet service provider that's swak for your budget as well as your needs!
SKY Fiber is one such provider offering fast speeds that fit perfectly for what you need. With SKY Fiber, you get seamless internet speed at the best value. This means you don't have to overpay for your subscription since other high-speed internet plans can be pricey with over-the-top speeds you won't be able to maximize. Truly, SKY Fiber offers a service that's swak for every Filipino household and lets them get more out of every cent!
3. Forget the fancy gym
Do all your workouts right at home with countless YouTube tutorials and free fitness apps. This way, you get to save on exorbitant membership fees monthly.
Not only is this ultra-accessible, but also easier to be consistent knowing you have what you need to keep track of your fitness goals from home.
4. Skip the brands
Ever heard of the saying, "Pangalan lang binibili mo diyan?" This is generally true. We spend a higher price on brand-name products compared to those without established brand names.
When it comes to medicines, groceries and other home items, it might be best to go for generic brands that let you achieve the same things as branded ones.
5. Telecommute, work hybrid
These days, the preference for working from home no longer makes you the odd one out. Given the global situation, it's become a commonplace and practical option for more and more people.
More than a near failsafe way to stave off exposure to sickness, telecommuting or hybrid work assures that you get to save more from spending on transportation and shelling out more cash eating out. Just make sure that you have stable and budget-friendly internet from the comfort of your home, like SKY Fiber.
Choose a SKY Fiber Super Speed Plan that's 'swak' for you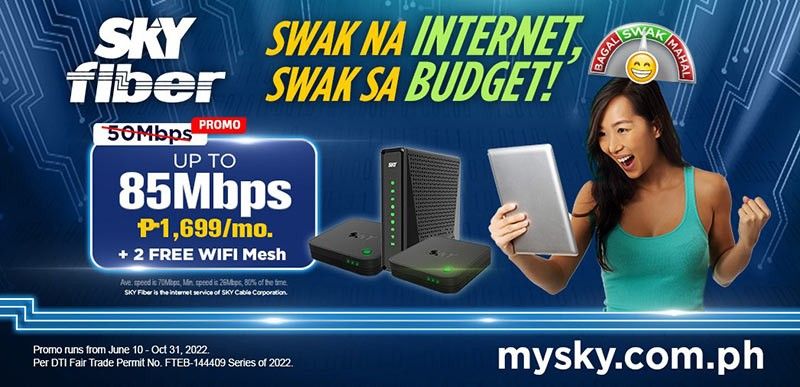 Depending on your needs, SKY Fiber offers corresponding plans that fit right into your budget, with speeds up to 200Mbps and options bundled with SKYcable subscription.
Right now, you can get their 50Mbps Plan for P1,699 a month with an improved speed boost promo where you can experience up to 85Mbps for free until the end of October! This plan also comes with a high-speed modem and two free WiFi Mesh for create a seamless WiFi connection all over the home.
Here are other SKY Fiber plans you can choose from:
100Mbps Unli Broadband Plan (boosted up to 170Mbps for free until October 31) for P2,299 a month. This plan comes with a high-speed modem plus two free WiFi Mesh.
150Mbps Unli Broadband Plan (boosted up to 200Mbps for free until October 31) for P2,799 a month. This plan comes with a high-speed modem plus two free WiFi Mesh.
80Mbps Unli Broadband + HD Cable TV Plan (boosted up to 135Mbps for free until October 31) for P2,499 a month. This plan comes with a high-speed modem plus two free WiFi Mesh. The cable plan includes 27 HD and 69 SD Channels and a SKY Evo digibox for convenient access to streaming and Google Play apps.
Subscribing to SKY Fiber is made easier because you can do it online via their website or chat with their 24/7 virtual assistant KYLA on the website, Messenger, or Viber. If you apply online for the 50Mbps Plan or higher speed plans, you can get up to P400 Jollibee e-GCs until June 23 as an added treat.
So if you want fiber-speed internet that doesn't break the bank, look no further than SKY Fiber. Subscribe today for #SwakSaSKYFiber satisfaction!
For more information, visit the website at https://www.mysky.com.ph/skyfiber.