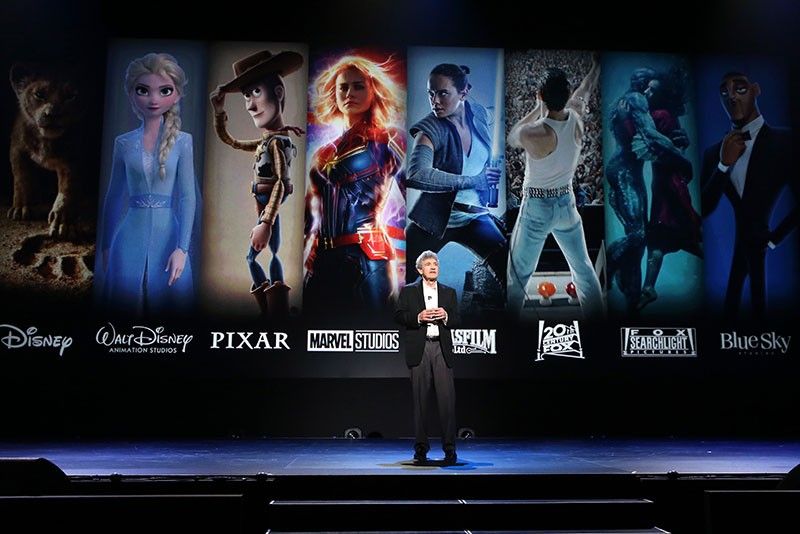 Walt Disney Studios head Alan Horn announces the upcoming slate at D23.
The STAR/Scott Garceau
D23 gives fans inside peek at studio offerings
Scott Garceau
(The Philippine Star) - September 9, 2019 - 12:22pm
MANILA, Philippines — It's arguably the most anticipated part of D23: all the Disney Studios heads take the stage and roll out what's coming in the next two years — for Disney Animation, Disney Live Action, Pixar, Lucasfilm and Marvel. These are the stories that have hooked fans for nearly a century, and they keep coming back to D23 for more.
Perhaps Disney is best viewed as an epic, unfolding story, hurtling in many different directions and subplots: from its origins at the tip of Walt Disney's pencil, to the invention of theme parks and animation that changed the world, to its current search for new ways to spread their unfurling narrative across the globe — Disney is an epic that we watch with curiosity, sometimes a raised eyebrow or two, even puzzlement, but always with a fascination about how it will turn out, and what's next. Because we all love a good story.
Here were the highlights at D23 EXPO 2019: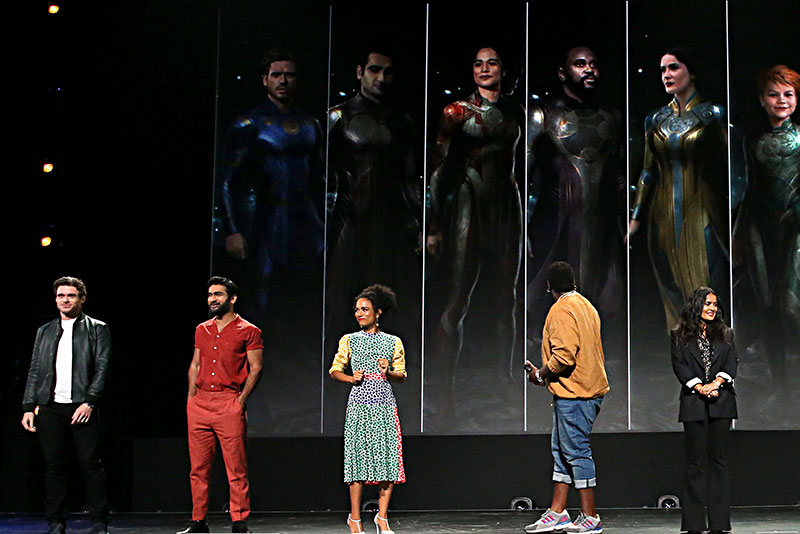 Meet The Eternals: Richard Madden, Kumail Nanjiani, Lauren Ridloff, Bryan Tyree Henry and Salma Hayek at D23.
• Pixar gave us a peek inside Soul and Onward, their offerings for 2020. Still under wraps, Soul takes us inside the You Seminar — a facility where souls are formed and prepared for life on Earth inside a human form, while Onward follows two brother elves in post-magical times on a quest to bring back their deceased dad.
• Disney's live action offerings include a title based on a park ride — and no, it's not Pirates or Haunted Mansion, but River Cruise, starring Dwayne Johnson and Emily Blunt, who played up the gender feud at the heart of this African Queen-meets-Indiana Jones adventure.
• Angelina Jolie, Michele Pfeiffer and Elle Fanning took the stage to tout Maleficent II, and the six-minute clip convinced us this sequel is even more, well, maleficent than ever.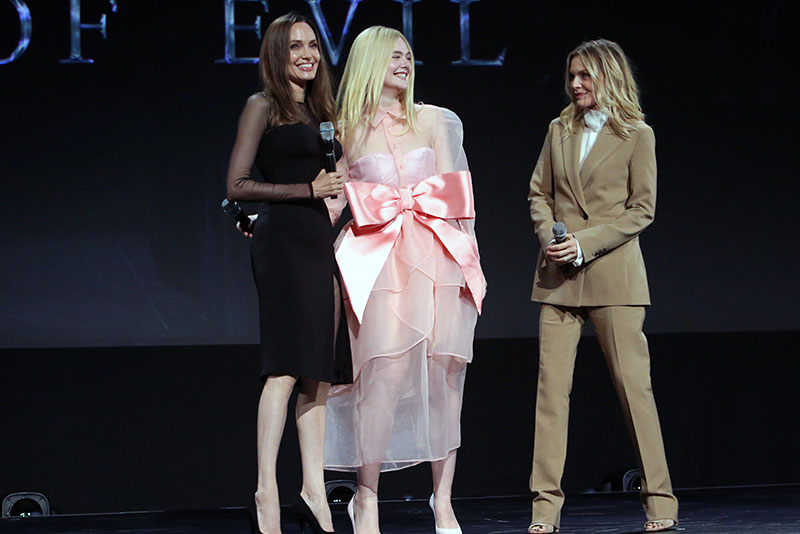 Angelina Jolie, Elle Fanning and Michelle Pfeiffer return for Maleficent 2.
• Following up on live action remakes of Lion King and Aladdin, the princess adventure Mulan promises to be even more faithful to the Chinese folklore at the heart of the original Disney animated musical. No Lea Salonga in this one, but the long live action clip — involving a certain elusive insect and a lot of balanced tea china — left us intrigued.
• Frozen II is coming. The top-grossing animated film of all time ($1.6 billion and counting) finally spawns a sequel just in time for the "ber" months (release here: Nov. 20). It's a prequel that digs further into why Elsa was born with magical powers, bringing back the cast and award-winning songwriting due of Kristen-Anderson and Robert Lopez. (Also to watch: Disney's animated Raya and the Last Dragon taps into Asian themes and features Awkwafina as a girl on a quest with a script by Crazy Rich Asians writer Adele Lim.)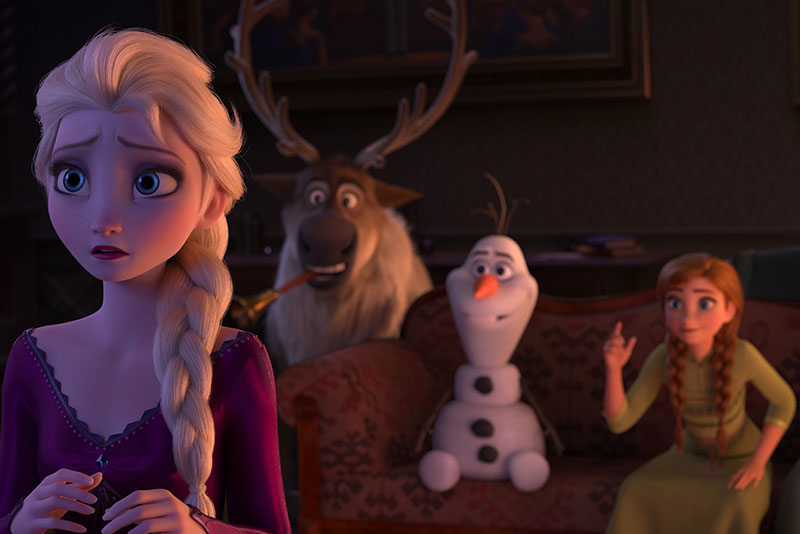 Frozen 2 is coming in November.
• Not just children's fare: Disney's acquisition of 20th Century Fox and Fox Searchlights means more titles coming to local cinemas in the "ber" months, including Brad Pitt in space epic Ad Astra (September), Schwarzenegger returns for Terminator: Dark Fate (Oct. 30), and Matt Damon and Christian Bale face off on the F1 circuit in Ford V Ferrari (November).
• For Star Wars fans, it's peak frenzy levels. Not only is Episode IX: Rise of Skywalker set for release this Dec. 18 (rounding up a 40-year epic with a well-received teaser that had geeks speculating about that balisong-like double red lightsaber and Rey's apparent embrace of it), there's Jon Favreau's The Mandalorian series to drop on Disney+ (with the endorsement of George Lucas on-set, no less) and an as-yet-unnamed Obi-Wan Kenobi series bringing back Ewan McGregor in the iconic role, plus an untitled series starring Diego Luna reprising his role as Cassian Andor (charting his formative rebel days before Rogue One).
• Marvel hasn't been quiet, despite Avengers: Endgame shutting down the most successful movie franchise in history (and Endgame now officially the top grossing film, beating Avatar). We got a sneak peek of things currently being filmed — video reports from the set of Black Widow with Scarlett Johansson — and quite a few shows being developed for Disney+, the streaming service launching Nov. 20.
The Disney franchise that counts Filipinos as its biggest fans in the world has plenty under development in Phase Four — including origin story Black Widow (May '20), The Eternals (Nov. '20), Shang-Chi: Legend of the Ten Rings (Feb. 2021), Doctor Strange: Multiverse of Madness (May '21) and Thor: Love and Thunder (Nov. '21) — but also a slate of original live action series for Disney+ including Falcon and the Winter Soldier (fall '20), Wanda Vision (spring '21), Loki (spring '21), What If…? (summer '21) and Hawkeye (fall '21).
• The fate of Spider-Man remains hanging by a thread, poised somewhere between Sony and Marvel. Despite Spider-Man: Far From Home's big box office performance, setting up Peter Parker as the next Tony Stark, there are more earthbound financial matters to work out first. Stay tuned to see how this ends!
• Black Panther director Ryan Coogler came onstage to say… he couldn't say much about Black Panther 2 yet. But he did offer us a release date: May 6, 2022.
Parks and recreation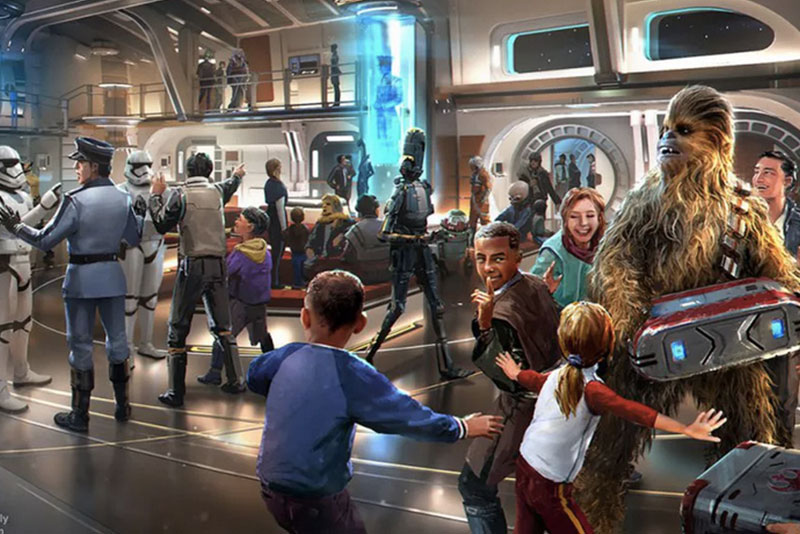 Board the Chandrila Line Halcyon at Disney World next year for a two-day immersive Star Wars hotel experience… in space!
One of the most exciting areas of expansion is Disney Parks and Resorts. In addition to Star Wars: Galaxy's Edge opening in Disneyland and Disney World, there was two tantalizing reveals for Florida next year: Epcot Center is undergoing its biggest makeover ever, launching the new Epcot Experience with four separate zones. And there's an amazing Star Wars-themed Galactic Starcruiser two-day hotel experience for the whole family set to open in Disney World. With its realistic onboard environment and Star Wars characters mingling with guests, a bevy of casino-like games and dining options, and a freaking view of space(!!!) from every hotel window, the Halcyon ship experience looks like it will literally change our off-world hotel experiences forever.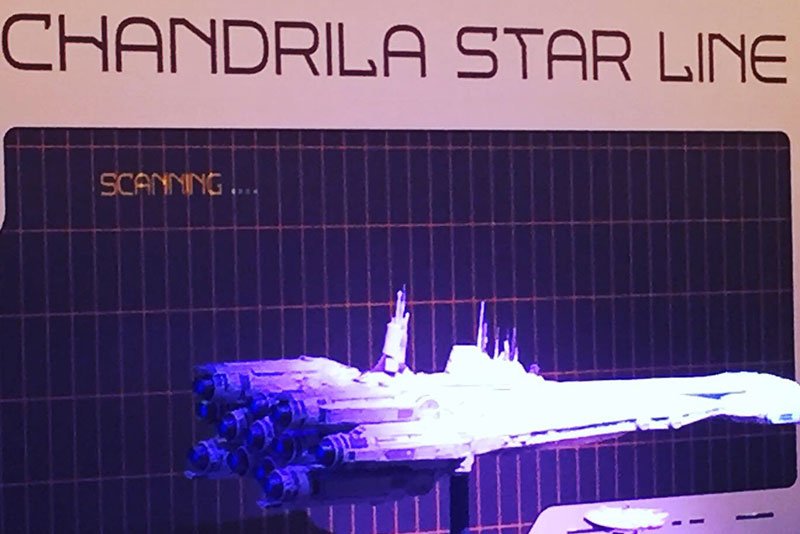 Board the Chandrila Line Halcyon at Disney World next year for a two-day immersive Star Wars hotel experience… in space!
Marvel's also big into park expansion, with a slew of attractions that will keep MCU fanatics very, very busy. Starting in 2020 with Disney California Adventure Park (later expanding to Disney World, Florida and Disney France), fans can join their favorite heroes in full costume at Avengers Academy and learn about the advance of Stark and Pym technologies to solve real-world problems with interactive pavilions. Science meets sci-fi as guests dress up as their favorite Avengers for a ride-through experience that (finally) incorporates Spider-Man. (Because nerds do make the best superheroes.)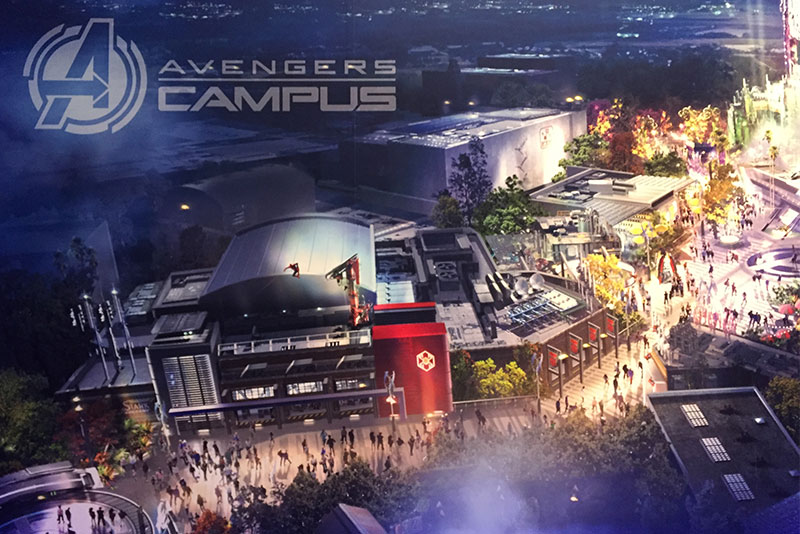 Avengers Campus will give Marvel fans a deep dive into Stark and Pym technologies next year.
And, as we heard from Walt Disney Imagineers Dan Fields, Bryan Thombs and Fangxing Pitcher, there's an expanding world of Disney park live attractions — including "heroic encounters" with Spider-Man, Iron Man and Guardians of the Galaxy characters that make the bond with fictional superheroes even more tight.
At Hong Kong Disney and Disneyland Paris, Spider-Man roams the area of feature rides, dangling from overhead webs and interacting for selfies; also in Paris, an animatronic Doctor Strange interacts with younger guests, showing them how to open portals and cast spells, while live versions of Star Lord, Gamora and Groot teach guests how to evade sensors with dance moves — thus offering a storyline reason to dance to the groovy Guardian soundtrack songs.
The Imagineers continue to expand the presence of Marvel characters throughout Disney parks, from Black Panther parades in Disneyland to Black Widow martial arts demos in Disneyland Paris, to a whole Captain Marvel live feature on Disney Magic Caribbean cruise. It hasn't taken Marvel long to leave their mark in a lot of new ways in the Disney pantheon.
Perhaps the biggest sign that things are still expanding rapidly is over at Hong Kong Disney, where the Iron Man Experience has led to another ride — Ant-Man and the Wasp — that overlaps and crosses over its storyline. "It's the first time ever that attractions are linked," says Thombs, who helped design the Ant-Man ride. "It's unique storytelling that lets us create a richer storytelling environment, going from one adventure to the next."
That's the way Disney fans have always liked it: one seamless adventure after the next.