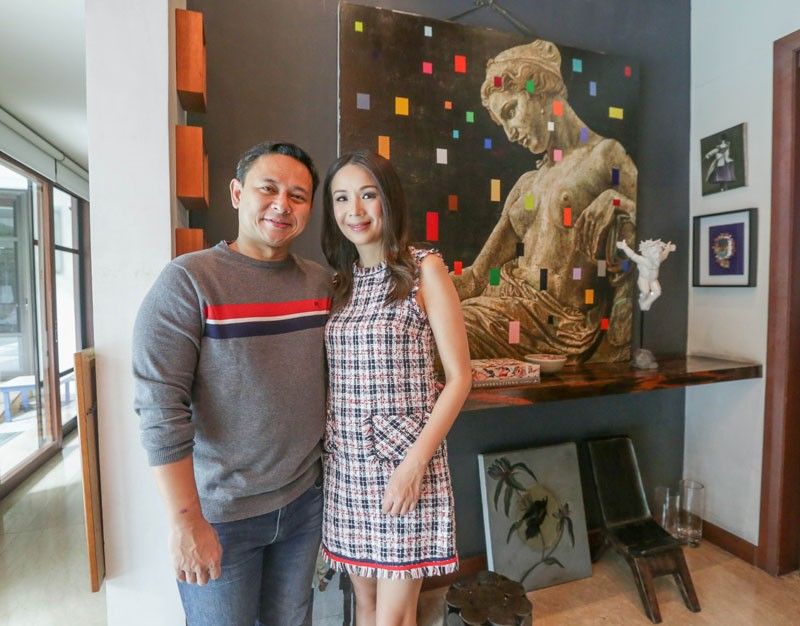 Senator Sonny Angara and Tootsy Echauz Angara with an Indonesian artwork from the Philippine Art Fair, early works of Geraldine Javier and a sculpture by Ronald Ventura
Photos by Geremy Pintolo
All art & heart with senator Sonny Angara
LIFE AND STYLE
-
Millet M. Mananquil
(The Philippine Star) - July 6, 2019 - 12:00am
Tootsy Angara says: 'Sonny is really the art lover. It is he who decides where to put the artworks.'
The last time I was in the house of Juan Edgardo "Sonny" Angara for an interview-pictorial was five years ago. "No, that was six years ago," his lovely wife Elvira "Tootsy" Echauz Angara says.
Nothing much has changed in the last six years. There are still a lot of artworks all over the place — on walls, floors, behind cabinets. And there are still a lot of assorted chairs randomly placed inside and outside the house.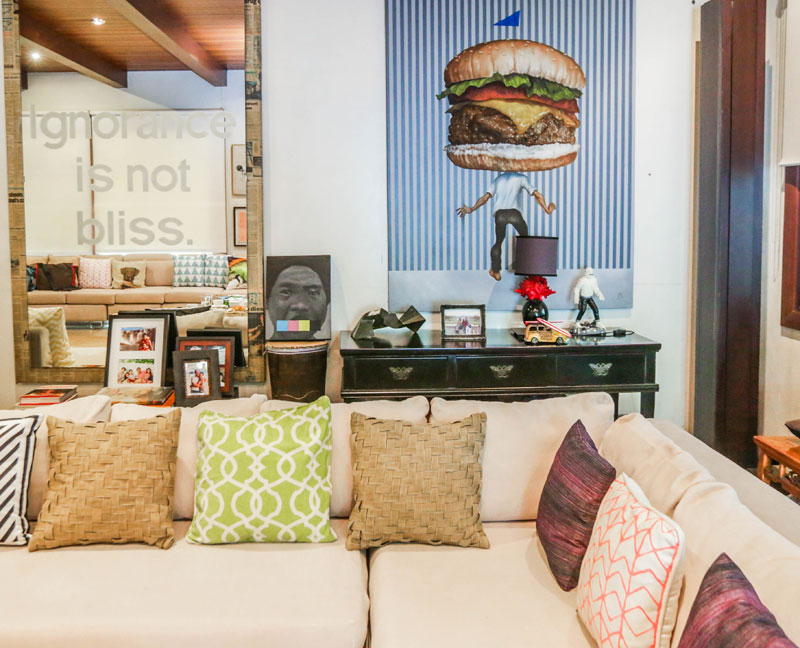 Mark Justiniani's hamburger painting and a mirror that reads "Ignorance is Not Bliss" are some of Sonny's top picks for their living room.
"Ang dami namang upuan dito. Ilan ba kayo?" Sonny's dad, the late Senator Ed Angara, would joke the couple.
At the entrance, you see a brown Abueva sculptured bench and a Kenneth Coponbue green "Yoda" chair beside an MM Yu painting. In the pocket garden to your left, an Arturo Luz sculpture lies on the grass, right beside still another artsy bench. In the garden by the pool, there is an Ann Pamintuan chair beside several other chairs and benches, plus Cobonpue's "People Power" sculpture.
As you enter the living room, you are greeted by a long sofa with countless throw pillows bearing geometric or animal designs. On the right, comfortable clusters of sofas surround a black-and-white coffee table by Blue Carreon, itself also surrounded by tiny stools and mini Ottomans.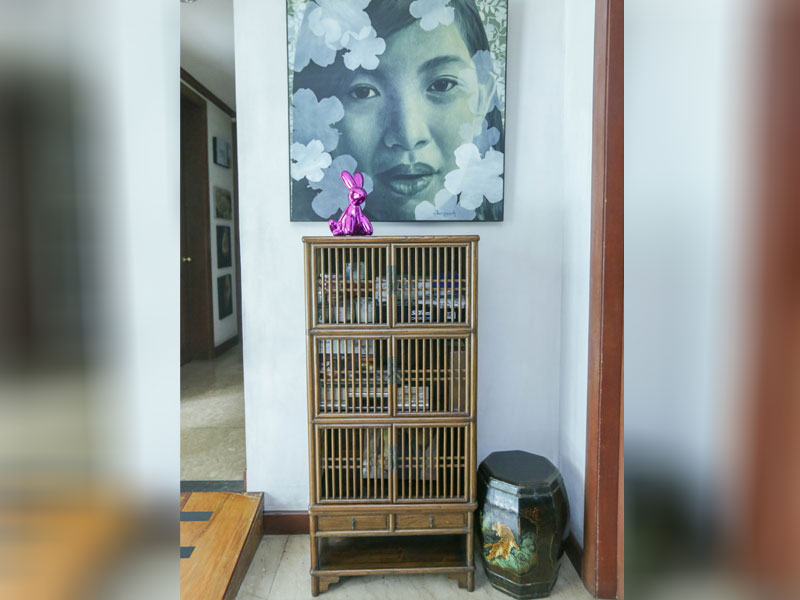 An Andres Barrioquinto artwork hangs by the hallway.
"Our kids like gathering around that coffee table with their friends," Tootsy explains.
In one corner, you see a pile of neon-colored vests. "In case of an emergency," a secretary tells me. The house is ready for disasters.
"But is our house really ready for a pictorial?" Sonny had asked Tootsy the night before.
My answer was yes. I liked that it looked like a real home with a comfortably lived-in look, just the way they like it. No effort to to have that interior-designed look. Everything is natural and honest. Just like the owners.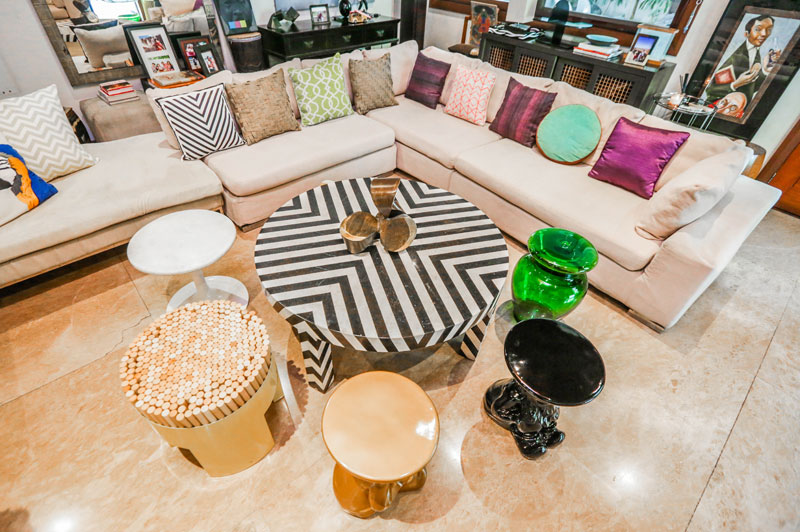 Kenneth Cobonpue's famous ''Chiquita'' stool plus Kartell gnomes surround Blue Carreon's coffee table. "Our kids like gathering around that table with their friends," says Tootsy. Mark Justiniani's Rizal painting is at far right.
In our conversation with Sonny and Tootsy, I feel a couple that's all heart and art. One with a deep love for family and country.
PHILIPPINE STAR: Tootsy says it's really you who fixes the house and decides where to put the artworks.
SENATOR SONNY ANGARA: If you want to call it that, it's not really fixed, medyo magulo lang. It's not really interior-designed. Just very homey.
You obviously like art, especially by the Philippine contemporary artists. There's Mark Justiniani, Rodel Tapaya, Ronald Ventura, Geraldine Javier, Emmanuel Garibay, Kawayan de Guia, Andres Barrioquinto, Zean Cabangis, Dennis Atienza, Maxine Syjuco...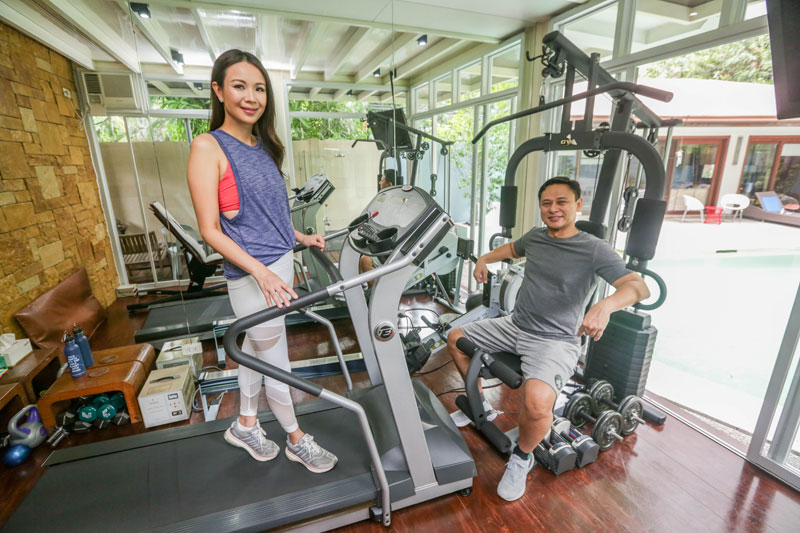 "Sonny inspires me to take care of both mind and body," says Tootsy.
SONNY: Yes, I used to go to SM Megamall where all the galleries are — Duemila, West, Finale, Crucible in one floor. Isang pasada lang, you've done and seen so much. But now, with galleries spread everywhere and with all the traffic, it's different.
You obviously go to the art fairs.
SONNY: Yes, the Art Fair at The Link, and Art in the Park, where you get to meet and greet the artists in a very casual environment.
You're friends with some artists?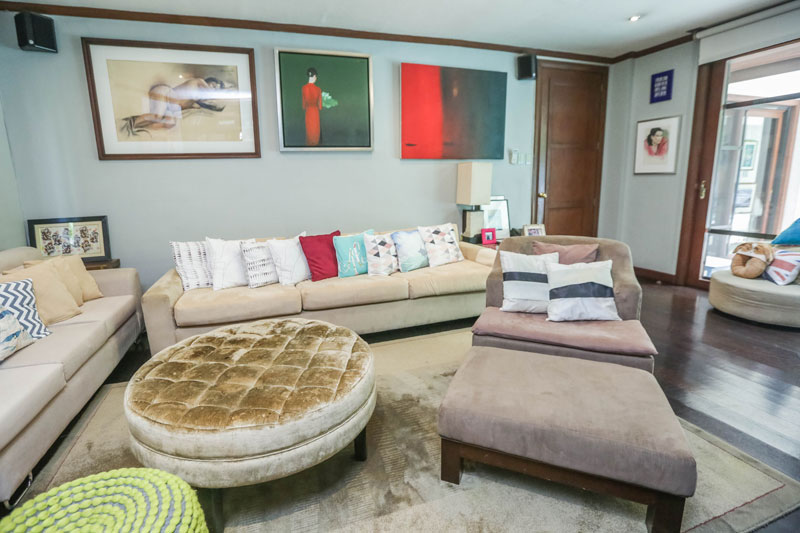 "Manansala's nude of Tootsy's mom, Baboo Mondonedo, hangs with a Vietnamese painting and a work by Bermudo. At far right is a portrait of Tootsy by BenCab.
SONNY: Yes, young artists like Louie Cordero, MM Yu, Nona Garcia…it's a small world, you meet a few and you get introduced to their other friends. Yasmin Sison is another good artist.
I see a BenCab portrait of Tootsy in your den.
SONNY: BenCab was a good friend of Tootsy's late mom (activist-writer Baboo Mondonedo), and both founded Cafe by the Ruins in Baguio with other friends.
What do you look for when you buy a painting?
SONNY: If I like it, I buy it, I don't think about it too much. If it's something that connects with me, relaxes me, I buy it. Basta, there's a connection.
What was your first art purchase?
SONNY: It was a Ross Capili painting when I was a law student in the 1990s. At that time, I could only afford the younger artists. You could buy a Ronald Ventura for P10,000 and a Geraldine Javier for P15,000. And then the Philippine art scene took off, and their prices went up. The Saling Pusa group of Elmer Borlongan became prominent. These guys, because of their themes, will probably be future National Artists — Borlongan, Garibay, Justiniani...
But I see a lot of older classical artists too , in your home.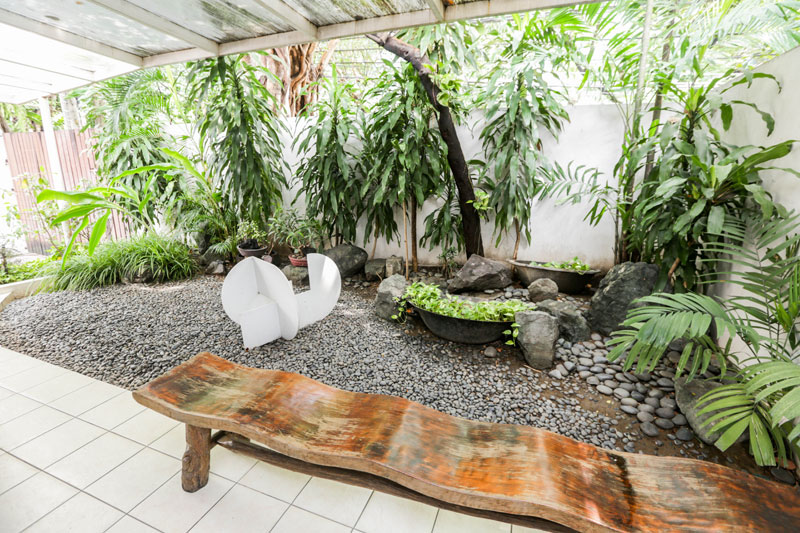 A white Arturo Luz breaks the greenery in the garden.
SONNY: Those are borrowed artworks from my parents — the Arturo Luz, Zalameda, Botong...
And a Manansala nude in your den.
TOOTSY ANGARA: Oh, my mom posed for Manansala, and luckily, I found it in an art gallery!
What do you think of the current art scene?
SONNY: It's fantastic. Good that younger artists have gained more recognition, and their artworks now fetch high prices. A lot of art buyers are now in it for investment purposes.
What's your favorite part of your home?
TOOTSY: Our bedroom because we spend much of our time there with the kids. It's our bonding place. They hang out in our room, eat with us, watch TV with us, they sleep with us!
Enjoy it while it lasts!
SONNY: That's what other parents tell us. Our eldest (Manolo, 15) actually now transfers to his room when it's time to sleep. But we still enjoy the company of our two younger ones (Ines, 13 and Javier, 8).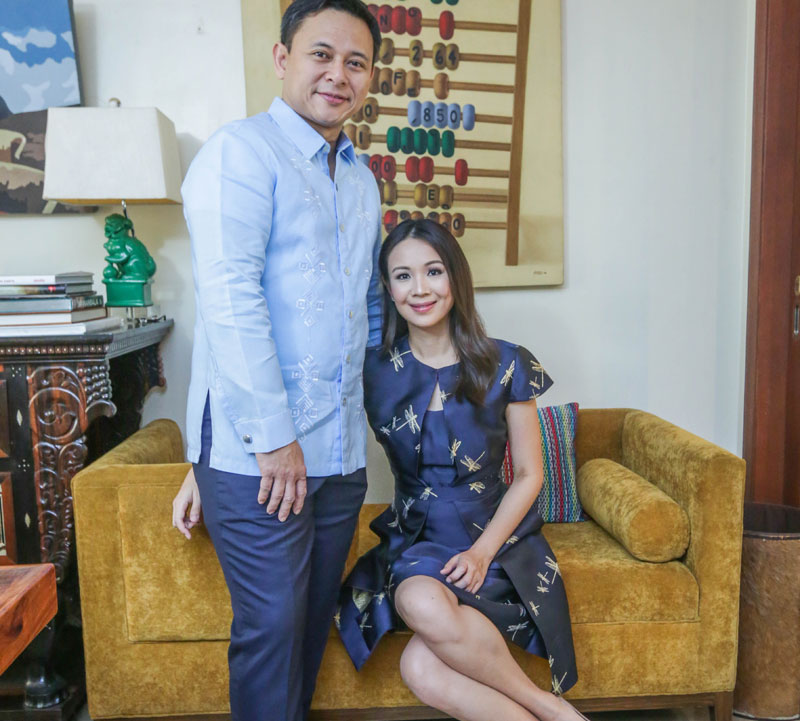 In a dining room corner are artworks by Dennis Atienza and Zean Cabangis.
How would you describe yourselves as parents? And what are the most important lessons you teach your kids?
SONNY: I'm fairly liberal, I allow them to make their own choices. I don't try to be a helicopter dad. As for lessons, it's about working hard, and trying to keep learning. The world is fast changing, so they should be open to new things. They'll probably be switching from one job to another, so it would be good to be multi-talented.
TOOTSY: The world is getting more complicated with social media being a big thing now. I tell my kids to remain kind, because at the end of the day, it's your best weapon in navigating life. For me, being a parent means having faith in them. If you show your kids a lot of love, they will also show love to others. It's really parenting by example.
What's the first thing you do when you wake up?
SONNY: Ideally, I'd like to say a prayer, but it doesn't always happen.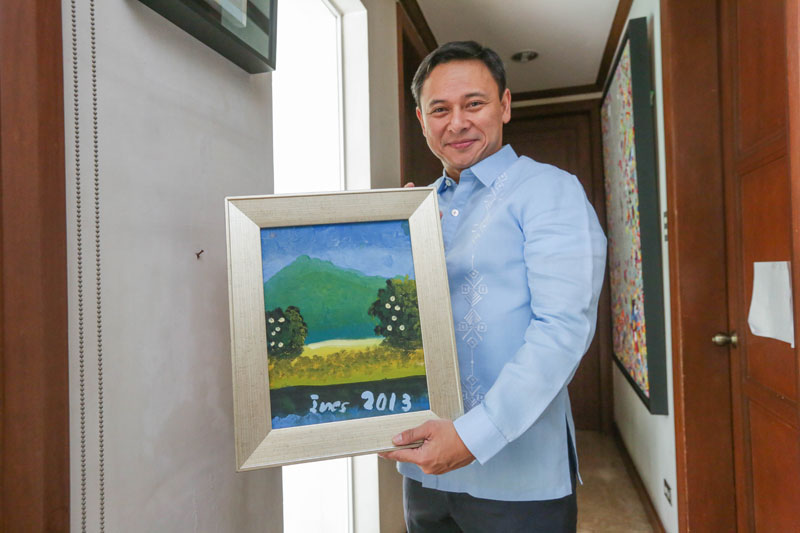 Sonny is proud of an artwork done by daughter Ines.
What's the last thing you do before sleeping?
SONNY: Also a prayer, but more chitchat with Tootsy about the day. We read, watch TV…
TOOTSY: Usually late night news and basketball replays.
SONNY: I actually enjoy watching live basketball, I still watch PBA. There's no substitute for watching the games live, it's really electric! I was a Toyota fan. My favorites were Mon Fernandez and Francis Arnaiz . I also liked Kareem Jabar.
How did the two of you meet?
SONNY: Through common friends. Though actually we met when I was 19 and Tootsy was 16, but we were both too young then.
TOOTSY: That's why we say it was love at second sight.
SONNY: We started dating in 1998, then Tootsy went to Northwestern. When she came back, I went to Harvard. I took my undergrad in London. We will mark 16 years of marriage this September.
What did you like about each other?
SONNY: Tootsy's very funny, very spirited. Masarap kasama. The joy of living is there with her.
TOOTSY: Sonny is very compassionate, intelligent and his sense of humor is super top, off the roof. He inspires me to read more, to do bigger things.
When was the last time you cried?
SONNY: I cry a lot when I think of my dad, though it's been 14 months since his death.
What's the most important thing your dad taught you?
SONNY: To open doors for people. To help as many people as you can, give them opportunities.
Your dad authored the most meaningful landmark bills relevant to the real life of Filipinos. And looking at your list of achievements, it looks like you're following his path. Your dad authored the bill providing free high school education in public schools…and you went further by sponsoring the bill providing for free college education.
SONNY: We worked together for free kindergarten too.
Your dad authored the law providing 20 percent discount to senior citizens. You expanded this by giving 12 percent VAT off for senior citizens. and including PWD ( persons with disability).
SONNY: My dad was the principal author of the law creating Philhealth. And I am proud to have made Universal Health Care applicable to all and not just for seven diseases.
TOOTSY: My favorite bill of his is the Anti-Bullying Law which requires schools to have anti-bullying policies. This was inspired by our son who became a victim of bullying when he was seven, when he and his classmates were into rough playing..
SONNY: It was Tootsy who researched extensively on bullying and measures taken worldwide to address this problem. When we questioned our son's school on why there was no one who acted when he was bullied in school, we were told that was just a normal rite of passage that builds character. Now, there is a consciousness on how to prevent bullying.
What bill are you working on right now?
SONNY: I want to help set in motion a made-in-the-Philippines Tatak Pinoy campaign. This will require all regional development councils headed by governors and mayors to identify the products and services of their provinces and cities, and how to improve and promote them. For instance, there is Marga Nograles who is promoting the woven textiles of her Mindanao province's tribes. Albay is known for its abaca, and Aurora for its coconut, but we have to find more uses for these products so that there will also be more and better job opportunities for people, especially in the provinces.
This is something that will define each province and unite us all towards a consciousness for made-in-the-Philippines branding. The story of the Philippines the past decades is unfulfilled potential.
What is your dream for your country?
SONNY: That Filipinos don't have to leave their country as OFWs and be separated from their loved ones to find employment. They don't have to be overseas workers to survive.
* * *
Follow the author on Instagram and Facebook@milletmartinezmananquil. Email her at mmmananquil@philstarmedia.com.