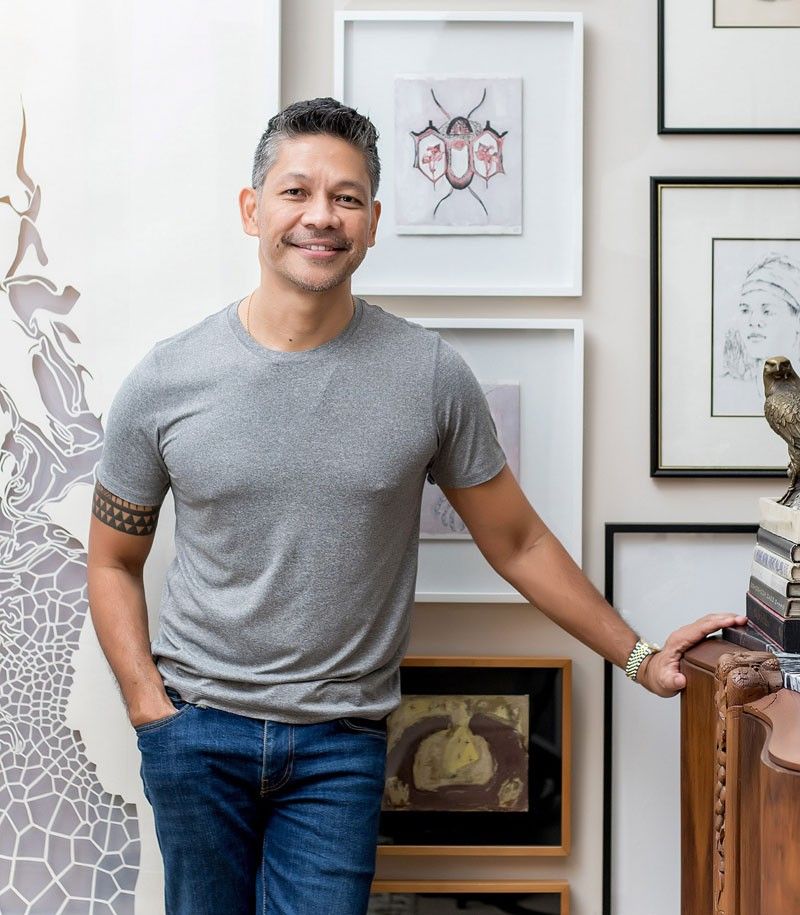 Award-wining designer Ito Kish: "My aesthetic is very Asian. But because I was buying for the (now defunct) store for over 15 years, my own personal spaces went through a wave of changes as I adopted other design styles."
Tales from visual storyteller Ito Kish
Visitors to his home expect nothing less than spectacular. 'If you ask me what it is, the answer is I do not know. I go with my gut and go with the flow.'
There was a time designer Ito Kish thought he would die for furniture. Literally die. One may love mid-century modern pieces but that's taking it a little too far, isn't it?
Ito is standing in a farmhouse in the middle of nowhere in Denmark where a stranger is pointing a rifle at him and says, "Do you think this is loaded?"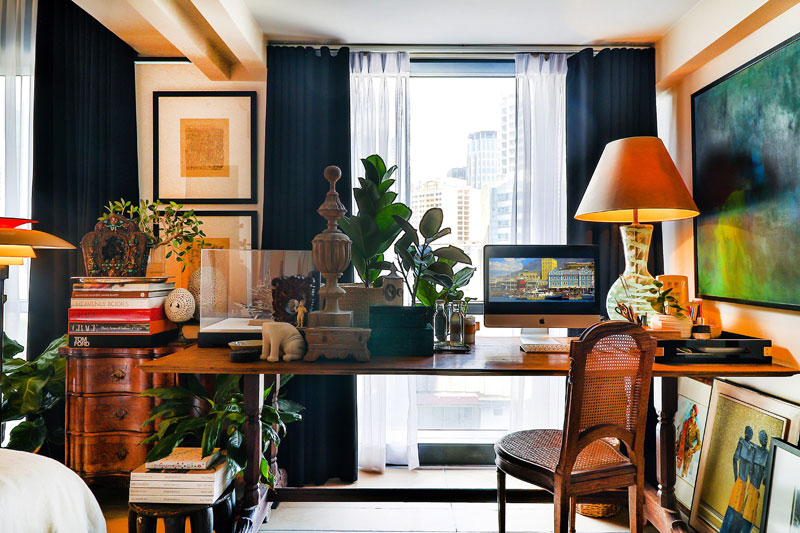 Ito's workspace with a view of Ayala Avenue buildings. The table is 20th-century Filipino and the chair is vintage French
It isn't. The cheeky Dane is just messing with him. Ito's in his house because this man has amassed through estate sales — which probably explains his morbid sense of humor — a large collection of Scandinavian mid-century modern furniture that Ito just had to see and eventually buy and ship to Manila.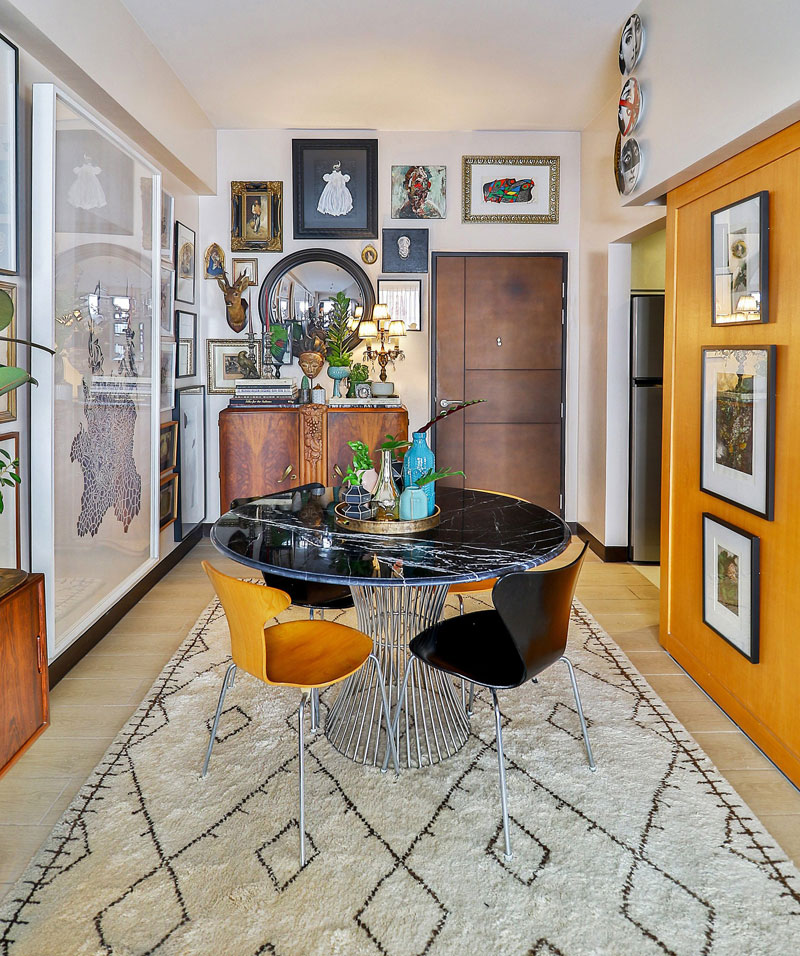 More artworks from Joan Miro, Bitanga, Sanso, Tracie Anglo Dizon, Allison Wong David and Lo Franco
I heard this story from Ito in 2016 when I interviewed him for his pop-up store in a gallery space in Makati. Perhaps he already knew then, or maybe he didn't, that a year later he would close down his own store on Nicanor Garcia, that street in Makati that's become an unlikely host to stores by award-winning furniture designers. I remember sitting with him in that lovely space surrounded by things he sourced from around the world, and catching up on personal stories with both of us swinging from shock to laughter as the afternoon settled into evening.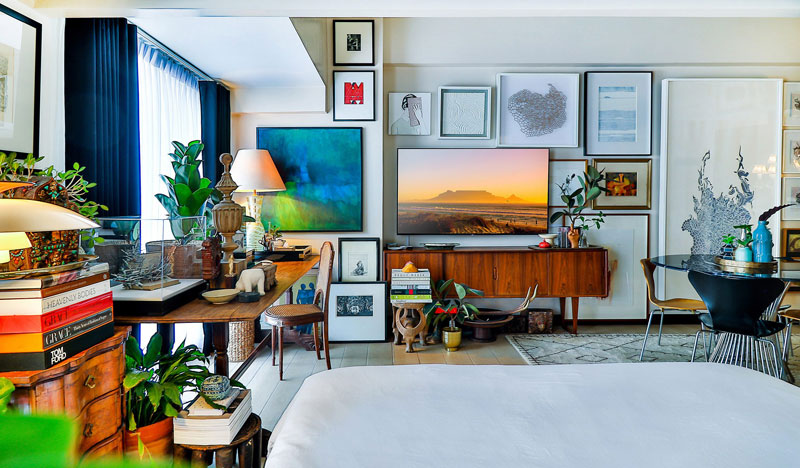 More than 48 art works in 41 sqm. by from Concepcion, Luz, Malang, Tapaya, and an Ai WeiWei wood carving. Commode is vintage Danish, chairs are Wishbone by Hans J. Wagner, Mosquito & Black Series 7 dining chairs by Arne Jacobsen
"I left retail because I was not happy," he says now. "I sensed that I was turning nasty and that's not me. Keeping the level of the brand high came with pressure and stress."
And yet he couldn't bring himself to be completely out of retail — because that would be like taking away a concert pianist's piano.
Today, as executive advisor at Robinsons Department Store, he's involved in visual merchandising, store development, marketing and the creation of an in-house brand for Robinsons called the Curated Home.
The view from the entrance
"The previous general manager was a very good friend of mine; we go way back during the early years of Robinsons when there were only two branches. I was actually the very first management trainee of RDS," he says. "About eight years ago I was asked if I wanted to be a consultant for visual merchandising (VM) but I turned it down, then three years ago they invited me to do a talk on VM. After that, they offered me a contract as executive advisor/consultant. I am also involved with the VM of the three major seasons, plus other projects such as the renovation of some major stores.
"Robinsons' home department is good and is constantly evolving. I am happy that since I joined them in 2017, the team has been inspired to improve their regular categories."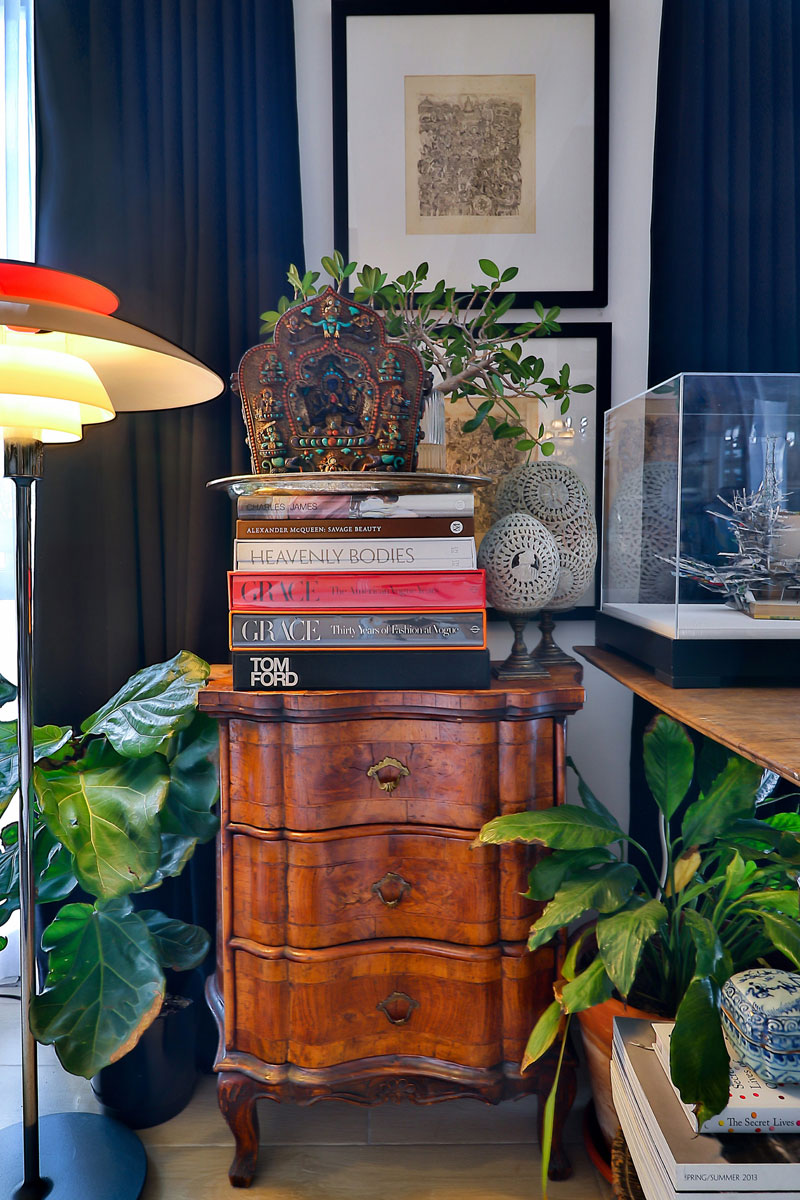 Antique side table from Sweden, Baldemor prints, and vintage lamp, PH80 by Poul Henningsen
They have also inspired their fans. In the last six months, their Instagram account (@curatedhomeph) attracted more than 18,000 followers and an uptick in sales.
Ito Kish has always loved to tell stories through his design. "When you design, the piece should tell a story, as well as serve its purpose."
And it works the other way around too — a particular story informing his design. Take his first foray into furniture with the now famous Baluster collection.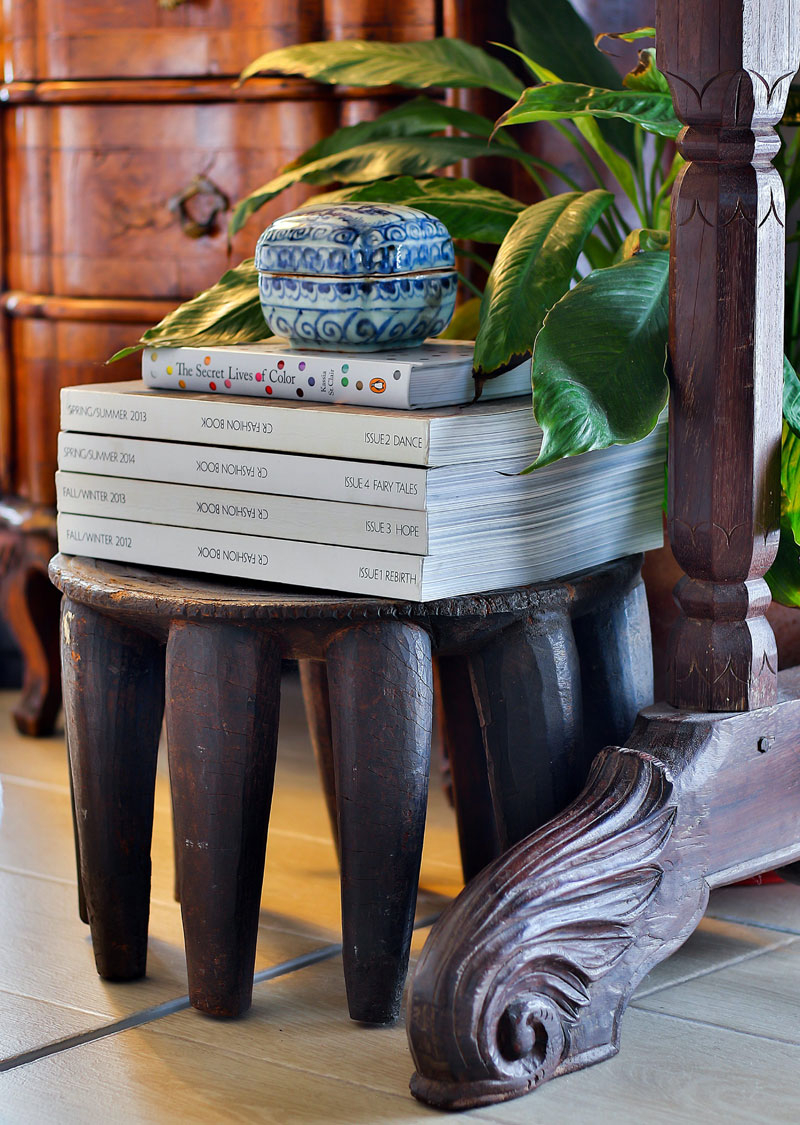 African stool, side table from France and details of the legs of the Filipino table
Gregoria lounge was named after his mother and the other pieces after her five sisters — Concesa, Flora, Francisca, Romana, Elpidia — and her only brother Raides.
Ito's inspiration was the balustrade, the ubiquitous structural and decorative element in Spanish colonial architecture that he saw everywhere when he was growing up. As the central motif, wooden balusters are used primarily as a support structure while their placements and variations lend a decorative touch.
Gregoria lounge won Katha Award Best Furniture Design at FAME in 2012, and hoisted other recognitions like the Gwangju Design Biennale Icons of Asia in South Korea and A' Design Award & Competition Silver Best Design for Furniture in Como, Italy, both in 2013.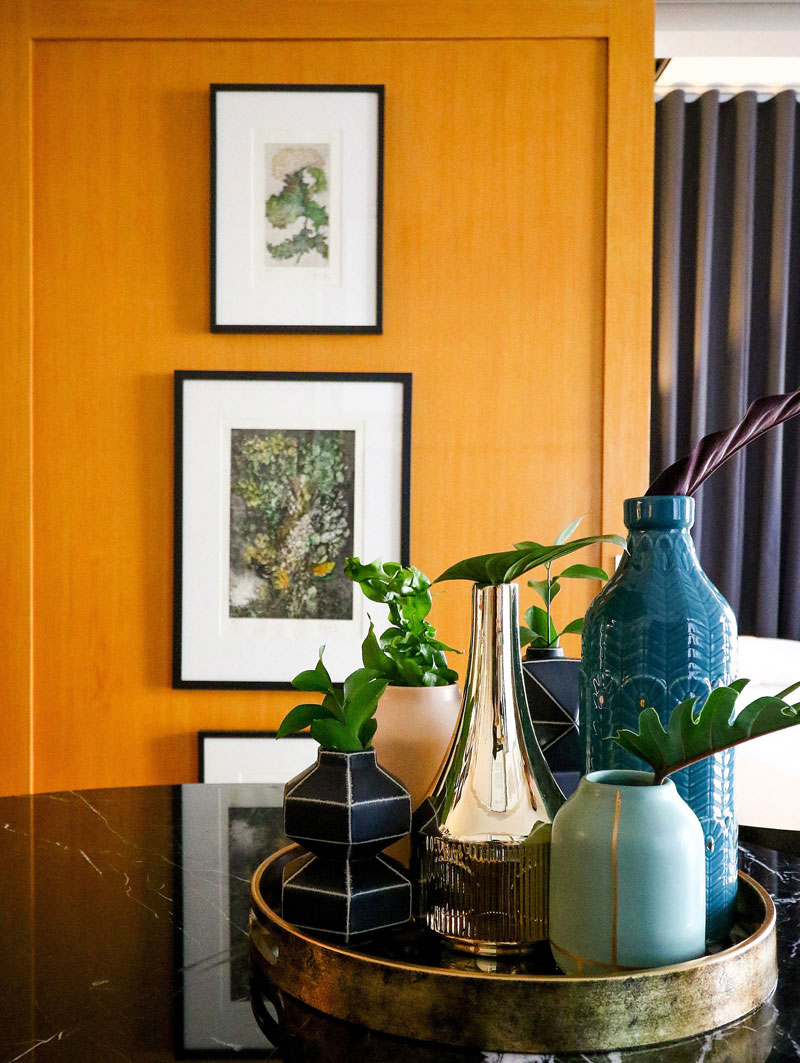 The 2019 June collection of vases and tray from Robinsons Department Store's Curated Home and Sanso prints behind
Then there's the Basilisa collection that he named after his maternal grandmother. The design combines geometric forms with intricate lattice inspired by solihiya woven rattan. "Under the sun, coins of light form dramatic patterns, adding an exquisite beauty to each piece."
His home tells stories as well — Sanso prints mixed with Curated Home pieces; a wall covered with artworks by Allison Wong, Lo Franco, Joan Miro and Tracie Anglo Dizon; a 19th-century oil painting and Fornasetti plates; accessories like an African stool and French side table.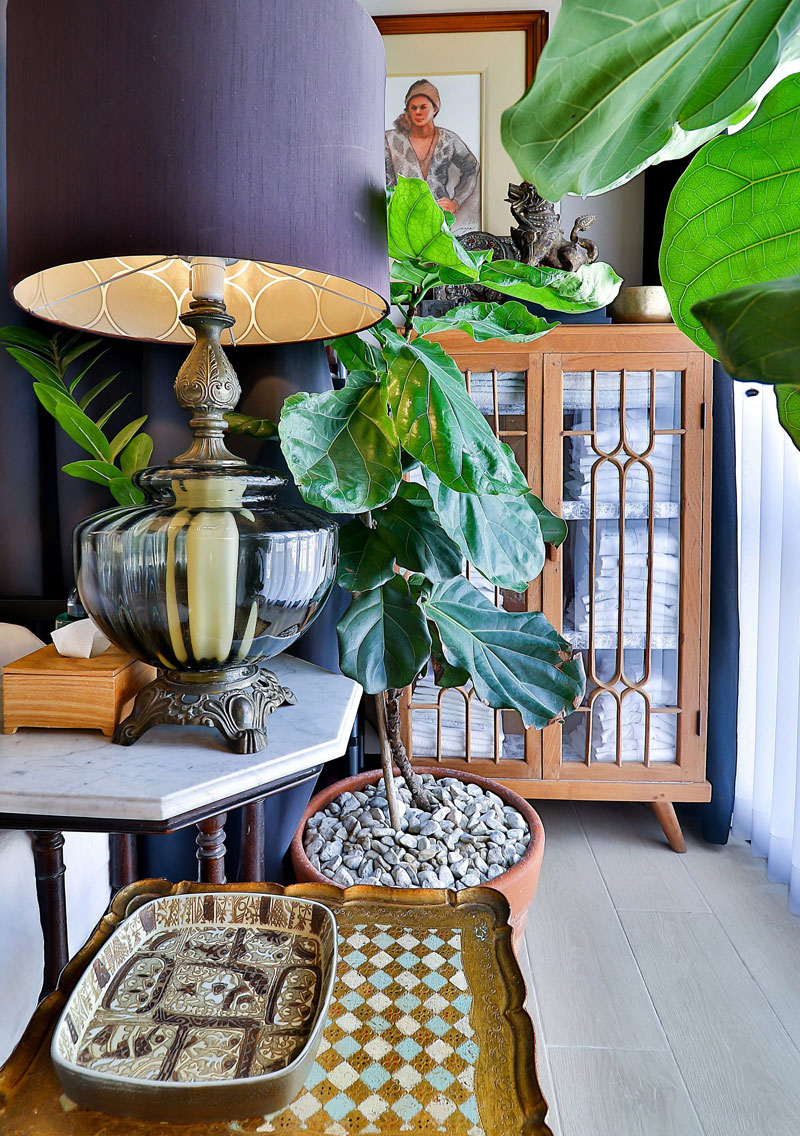 The cabinet is from Burma and Ito's portrait, wearing Manobo clothing, is by National Artist Jose Joya
He mixes everything from everywhere and creates conversation corners. You can imagine him flitting from one city to another, poring over antiques and art prints, examining vases and holding up crystal against the light.
This is not the last of his houses nor is it the first (he lived in Salcedo Village for 12 years, in a 136 sqm. two-bedroom apartment). This is his transitional space until he falls in love with something that could be more permanent.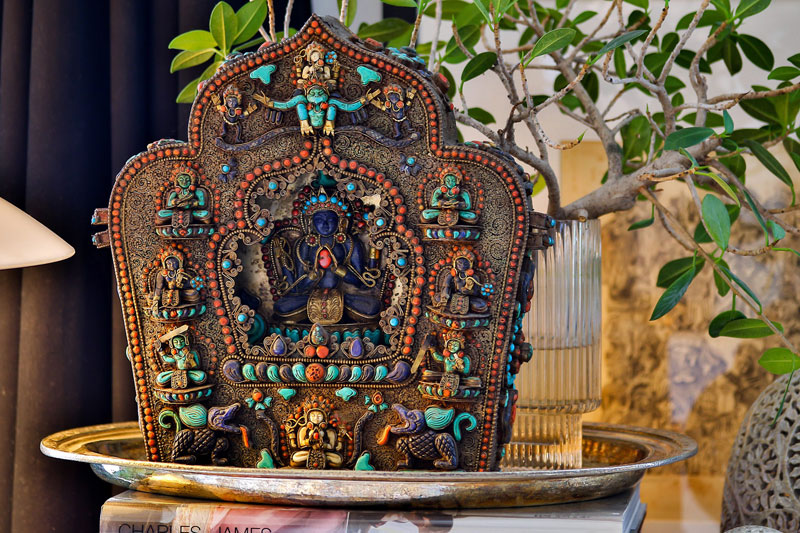 Prayer box with precious stones from Nepal on top of a silver tray salvaged from the now closed Waldorf Astoria in New York.
"The current space is very eclectic because I edited all my stuff based on what I want to keep from what I have collected through the years. The last space went through changes as well based on what I was buying for Kish when the store was still open. Its last look was very mid-century with pieces from Denmark."
From Scandinavia, he has a favorite one: "I will always be in love with the Arne Jacobsen Chair Series 7. Simple, beautiful, sexy, dependable and comfortable."
With design, he says, you can create something and change the way people live. "When I was young, there was nothing solid that I wanted to do. Opening a store happened only when I was 38 years old."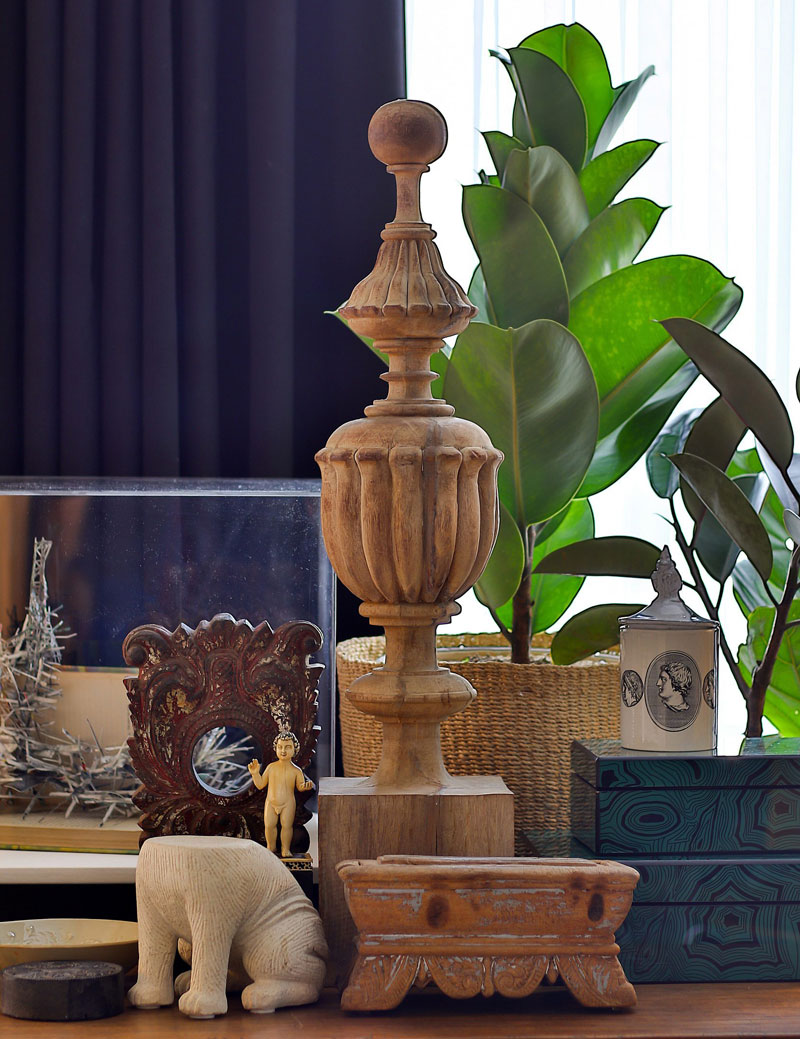 A mix of pieces from all over like the Ryan Villamael piece, ivory Sto. Niño, tall and small wood carving from Bali and Burma, box from Java, Fornasetti candle
On his artworks, Ito says, "I have a few small pieces from Philippine masters and young artists. I buy because I love what I see. I wish I could buy all that I love like Ian Franco from the recent Art Fair but I cannot afford it! Also, I have no space. Of all the pieces, I have to love my portrait by National Artist Jose Joya. I do not think I can let go of that. I have to specify in my will for my family not sell it. They have to remember me."
Visitors to his home expect nothing less than spectacular in the vignettes and they're not disappointed. "They're surprised at how I can manage to put things together and tell me there is something beautiful about it. If you ask me what it is, the answer is I do not know. I go with my gut and go with the flow."
How does he choose his accessories and artworks? "Parang love. Alam mo sa iyo yan kung tumibok ang puso mo. Wag lang mahal."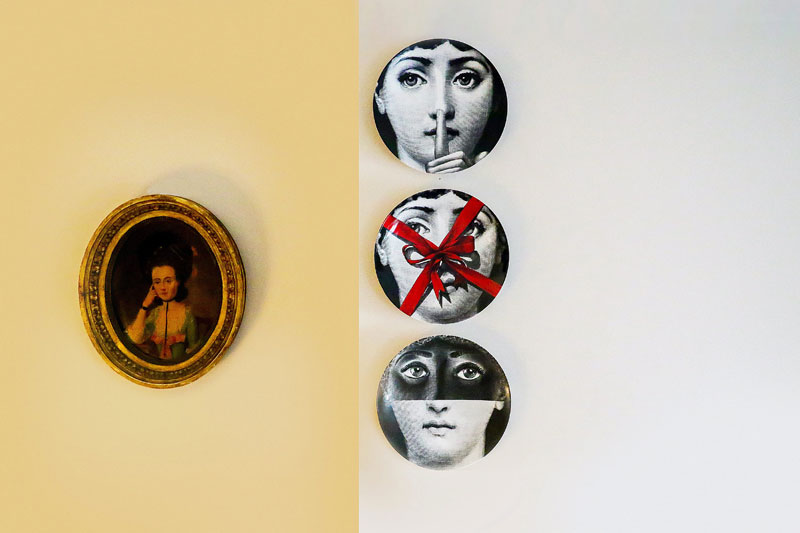 A 19th-century oil painting and Fornasetti plates
After he closed his store, Ito took a long, hard look at his life. "I saw what I have accomplished and thought it wasn't bad considering I came from very humble beginnings. I am even more thankful about the life I have now."
He also cherished even more his growing-up years. "I went to a very religious Catholic school in my early years. When I moved for high school, I became involved in other activities — I was dancing, singing, acting and into the arts but I could not make my school project radio emit any sound! I remember in high school I had to beg my music teacher to accept me in the glee club."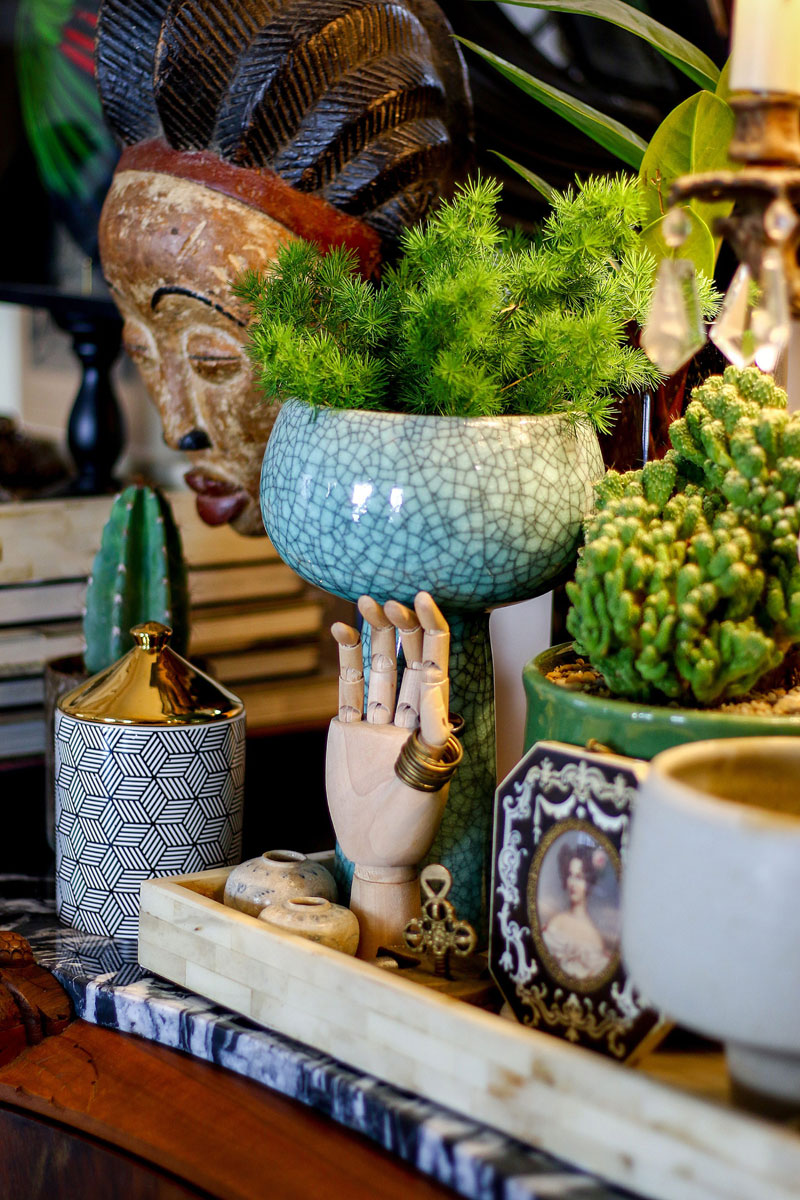 Details of pieces collected through the years
He kept being rejected but he wouldn't give up. After four attempts, he was finally accepted but they made sure he nowhere near the microphone when they began singing.
"Perseverance does help you get to your goals," he says.
* * *
Visit the author's travel blog at www.findingmyway.net. Follow her on Twitter and Instagram @iamtanyalara.