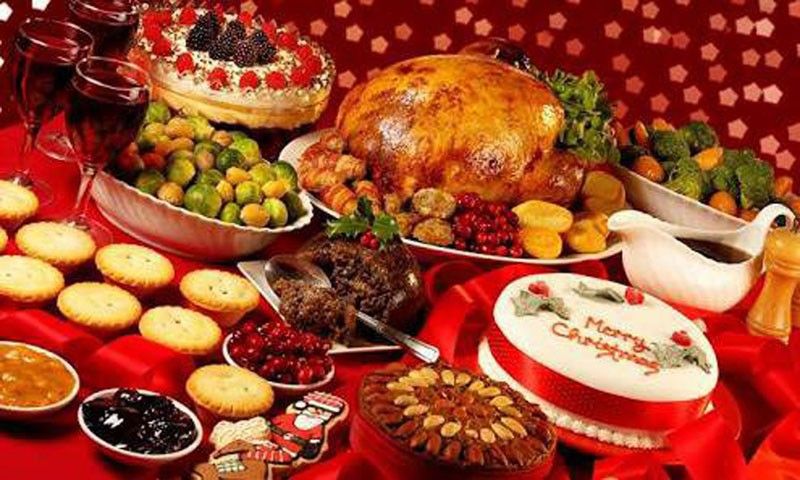 This holiday season, practice portion control to avoid the unwanted pounds.
How to stay lean and healthy during the holidays
In the Philippines, the malls and radio stations start playing Christmas carols at the onset of the "ber" months. The countdown to Christmas begins and the stores start putting up their Christmas decors — the glitzier, the better. We all look forward to Ayala Avenue's Christmas decor, which is always uniquely beautiful year after year.
In Manila, there are events and parties all year round, but they triple or quadruple during the Christmas holidays. With the heavy traffic situation, it is difficult to attend more than one a night, unless the events are near each other. Accepting these invitations involve the wardrobe factor which is the other part of the equation.
My friends tell me they get stressed big time just thinking of what to to wear to these parties. On my part, I made a conscious decision to re-invent my Christmas this year. I decided not to get stressed over the usual mundane matters that used to be my major stress factors during Christmases past, namely, my holiday wardrobe, shopping for gifts and the inevitable food binges.
This year, my mindset is this: if I don't have a new party dress or gown to wear to an important event, wearing an oldie is nothing to be embarrassed about. Investing on a new set of formal party wear (with matching shoes, bags, jewelry) is not for the fainthearted. It could put a big dent on one's finances, so why not enjoy wearing them more than once or twice. With so many people in the world having health, family and financial issues, worrying over one's holiday wardrobe is such a shallow concern.
To put the consuming public into a shopping mode, most of the stores are on sale, some as much as 75 percent off. Yes, it is the season to be jolly, to party, to shop, to eat, to gain weight and get stressed. Most people admit that in as much as the Christmas season is a happy one — what with the endless parties and family reunions going on — the stress level is high. Buying presents for everyone could be stressful! My friends and I made an agreement of no gift giving, except one exchange gift during our group Christmas party.
We put numbers on each of our gifts and you get the gift of your corresponding number. We set parameters on the amount and the quality of the gift. We don't allow food gifts except good quality wines or champagne. We decided to focus on our camaraderie and our feeding-the-poor- project rather than burdening each other on gift-giving. But, of course, there are still gifts to be bought — for special friends, family members, godchildren, to beauty salon ladies who give us good service, among others. For my godchildren, I ask their parents what I can give them so I don't have to second guess. For our service providers, they appreciate some cash which, in fact, is the most practical gift.
One Christmas, I received a gift card from a friend who attached a receipt from the priests of the Sacred Heart which stated that in lieu of a gift she gave a donation in my behalf. What a marvelous idea! I am now doing this for the simple reason that the recipient of my gift does not need another material item while the charity could use the donation.
Another stress factor during the holidays is the endless eating — giving us weight and health problems if left unbridled! I just received an exasperated text from a friend who gained five pounds during a three-day trip to Hong Kong. She couldn't understand how she could have packed in the pounds because she was walking all day in the malls. But she admitted that she and her travel mates had big dimsum breakfasts, sumptuous lunches, usually with roasted pig, goose, duck and all those Chinese delicacies, cocktails with wine and champagne, and a gourmet dinner where they drank more wines and champagne. Go figure why she even wonders how she gained the extra weight!
First of all, wines and champagne are high-caloric drinks. Oenophiles like them will use any excuse to drink wine. Calories from alcohol make a lot of difference in one's weight gain or weight loss.
A glass (five oz.) of champagne has 101 calories and wine, between 105 to 122 depending on the vineyard. Wine lovers don't stop at one glass so indulging in alcoholic drinks is a sure-hit formula for weight gain. When I am on a diet, I take out alcohol and desserts. I lose weight in no time. So be moderate in your wine consumption to avoid unwanted pounds.
During this season, we seem to eat more quezo de bola, majestic ham, relleno, turkey, lechon, bibingka, puto bumbong, ensaymada with tsokolate eh, than any other time of the year. They exist all year round but somehow they taste better during the holidays. Usually the season's parties start on Thanksgiving Day which is a big feast in the US. Family reunions happen more often during Thanksgiving than Christmas. Stuffed turkey is the main course and is served with all the condiments like sweet yams, chestnuts, cranberries, corn bread, cakes etc. I attended a few Thanksgiving dinners in NYC and I felt the pounds just by staring at them! The food- laden table had a reverse psychology on me as I could not eat much after! Eating with no ( or little) restraint just because it is the holiday season shows no respect for your body and your health. You will surely come out of the holidays with all the numbers on your blood test hitting the roof, not to mention the numbers on your scale.
Let me share with you tips from my socially active friends Dr. Cecile Infantado and Hera Geriene on how to stay fit and healthy during the holidays:
• If you have an exercise regimen, do not skip it just because it is the holiday season and you are busy shopping for gifts. And talking of shopping, walk around the mall to get your gifts as it is one way of burning calories.
• Even if you have a lunch or dinner party, do not skip breakfast as it jump-starts your metabolism. But reach out for a low fat yogurt instead of a donut. Substitute fruits and cereals in place of pancakes and bacon. Drink black coffee with fat free milk instead of a cream topped latte from Starbucks which has 500 calories.
• When in a party, stay at arm's length away from the munchies (like a bowl of nuts & chips ) while chatting with friends. Choose your food wisely so you are not stuffing yourself with useless calories. For example, when eating a green salad, go for the vinaigrette dressing ( olive oil & vinegar) instead of the fattening thousand island or ranch dressing.
• Go low on your sugar and carbs. Skip wine, sodas, rice & bread if you can. Avoid second helpings and practice portion control.
• If you must attend both lunch and dinner parties, don't indulge during both meals. If you decide to eat a heavy lunch, eat like a pauper during dinner.
• Choose fat-free and sugar-free, low-sodium food when you are buying your grocery items. I always buy fat free yogurt, transfat- free crackers, sugar free cereals, nitrite and nitrate free bacon, salt free butter. Your palate will get used to them and your mirror will show a slimmer you.
• Weigh yourself every other day or daily. Research shows that people who step on the scale often are less likely to gain weight because they act accordingly either by increasing their exercise or getting stricter on their diet when they gain a lb or 2.
• Drink a glass or two of water before a meal to feel full. This helps with portion control. Eat only till you are 80-percent satisfied. Stop before feeling like a «stuffed» turkey.
• Keep up your spiritual disciplines. Don't forget that the true meaning of Christmas is the birth of our Lord Jesus Christ. This will keep you grounded and will always remind you to avoid excessive eating, drinking and shopping.