Fitbit Versa: a smarter way to track your sleep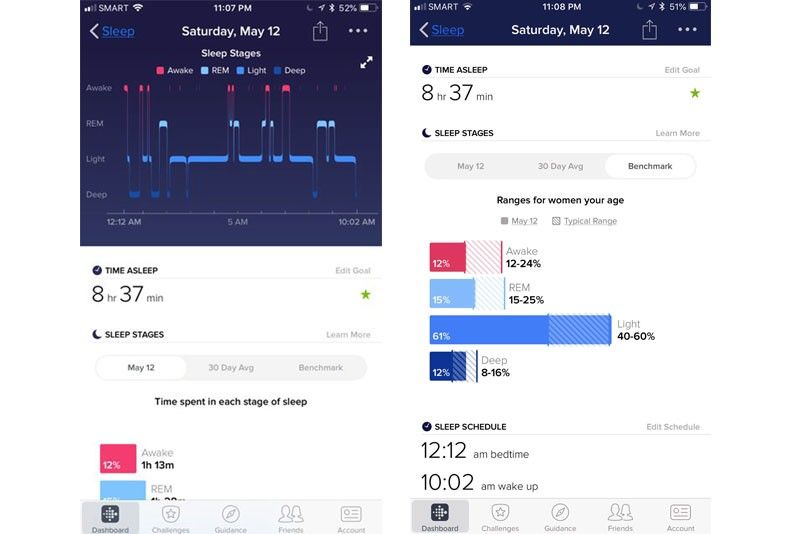 Sufficient sleep is important to our health and how we efficiently function in our daily lives. Lack of it can cause stress, mood swings, decrease in productivity, loss of memory, a bulging midsection, among many other undesirable things.
All these years I thought I was good in keeping up with my seven to eight hours of sleep. When I listen to my body, I am certain that I do not function well when I get less than that. Knowing that has made me strive to keep my sleeping hours sacred, or so I thought until my Fitbit Versa.
This month the newest Fitbit, Versa, debuted in Philippine stores (like Digital Walker). While several wearables have stopped production, Fitbit is still the leading wearable in the world with a sale of 76 million since it launched in 2007. In a social scale, it boasts a large global community of 25.4 million users.
While I admit that the Versa is my first wearable, it did not take me a long time to figure out the wealth of data it provides. I will leave the product review to a better Fitbit expert (our Lifestyle managing editor Kathy Moran) and will focus on the feature I appreciate the most — the sleep tracker.
Versa is not uncomfortable to wear while sleeping and since it has a long battery life, I could just charge it quickly while taking a shower or driving to work. As soon as I sync the Fitbit app, I get in-depth insights into how I slept. The app provides me tips on how to achieve my desired sleep and reminds me when it is time for bed.
After one month of using Versa, I have learned that I didn't get to sleep for seven to eight hours. To do so, I have to go to bed earlier to give allowance to the times I will be restless or awake. It also helps to keep a consistent bedtime schedule throughout the week.
"Over time, lack of sleep can change how your body processes blood sugar and regulates the hormones that control hunger and appetite. Sleeping well can help your body regulate metabolism and regulate food cravings, and make better decisions about what and when to eat," says Fitbit sleep advisor Michael Grandner, PhD, MTR, director of the Sleep and Health Research Program at the University of Arizona College of Medicine.
In last March 2017, Fitbit added a new Sleep Stages feature that uses accelerometer data, heart rate variability, and algorithms to estimate how long users spend in each stage of sleep. This is to help its users plan, analyze and understand their sleep patterns.
Deep sleep takes up 10 to 25 percent of your sleep. "The thinking parts of the brain are largely offline. Your muscles are very relaxed. You're not dreaming at all during this time. Your body is doing a lot of rebuilding and repairing. There's no real way to get too much deep sleep," says Grandner. "Your body has its own natural drive for it, so once you meet that, the need will dissipate and you'll just start going into REM and light sleep."
REM makes up about 20 to 25 percent of your nightly sleep. "If deep sleep is about body, REM is about the brain. The brain is very active during REM sleep, yet the body is very inactive. Actually it's so inactive, you're actively paralyzed during REM sleep. REM is when most dreaming happens and your eyes move rapidly in different directions. Heart rate increases and your breathing becomes more irregular. If you cut your sleep short, most of what you're cutting out is REM. And too little REM sleep can leave you feeling groggy, less able to focus, and might lead to memory problems," Grandner explains.
"Light sleep is very important because it takes up more than half of the night. It's when your body processes memories and emotions and your metabolism regulates itself. So there's a lot of body maintenance occurring during lighter stages of sleep. Breathing and heart rate typically decrease slightly during this stage," he concludes.
Fitbit's lead sleep research scientists also shared findings from their analysis of six billion nights of its customers' sleep. The analysis found that women average six hours and 50 minutes of sleep a night, 24 minutes more than men. Both averages fall short of the recommended seven or more hours of sleep per night for optimal health.
While the average American goes to bed at 11:21 p.m., it was discovered that changing bedtime during the week causes reduced sleep. It is also interesting to note that while the average Fitbit user is in bed for seven hours and 33 minutes, he only gets six hours and 38 minutes of sleep. The balance of 55 minutes is spent restless or awake.
Generation Z (ages 13 to 22) goes to sleep the latest, but they also sleep the longest. Baby Boomers (52 up) sleep the least, averaging 6 hours and 33 minutes per night. REM and light sleep stay pretty stable throughout a person's lifetime but deep sleep decreases from an average of 17 percent at age 20 to 12 percent at age 70.
* * *
Post me a note at [email protected] or [email protected].