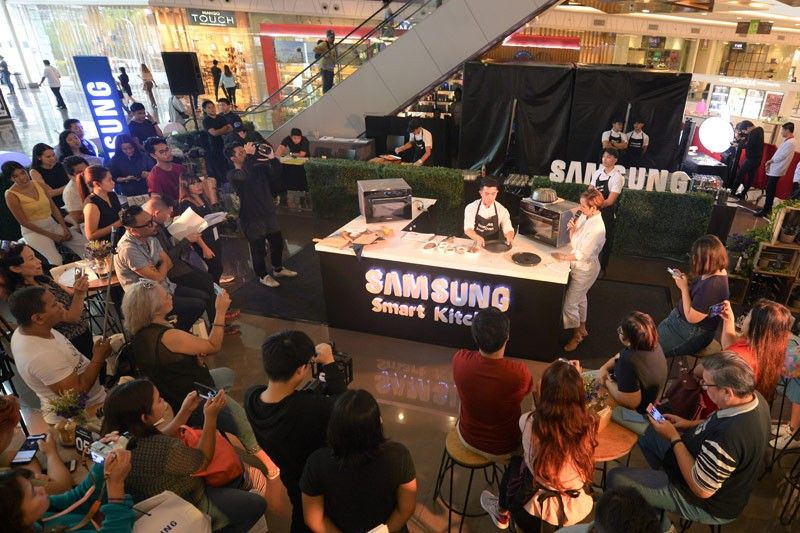 Samsung Digital Appliances built a pop-up smart kitchen and restaurant for mallgoers and media at Robinsons Magnolia to showcase the oven's state-of-the-art capabilities.
Photo Release
Samsung creates healthy recipes for its latest 6-in-1 smart oven
(Philstar.com) - October 9, 2019 - 12:00pm
MANILA, Philippines — With everyone's busy lifestyle, it's hard to find the time to create dishes that are healthy and delicious. Many opt for instant or ready-to-heat food, which may not be the most nutritious choice.
Samsung's Smart Oven aims to make healthy mealtimes easier by allowing individuals to do it all with one handy device, for any type of occasion, anytime.
To showcase its culinary capabilities, Samsung Digital Appliances built a pop-up smart kitchen and restaurant at Robinsons Magnolia for mallgoers and media guests.
"We developed the idea of setting up this pop-up restaurant because we wanted people to experience firsthand what the smart oven can do," says Mon Medina, head of Household Appliances Group. "Homemakers don't need to go to a culinary school to start cooking or have the fanciest ingredients to create a scrumptious meal," he added.
Here, the smart oven was put into action as guests got to taste a wide variety of dishes, starting with the Roasted Eggplant and Pepper Dip with Pita Bread as appetizer. They also chose their main course from a selection that included Baked Spiced Chicken Breast with Creamed Spinach, Texas Style Pulled Pork Sandwich, Slim Fry™ Honey-Sriracha Chicken Wings, Beef Kebabs with Garlic Cream Sauce, Charsiu BBQ pork, and Salmon Teriyaki Fillet.
Finally, for dessert, guests were treated to a serving of Dark Chocolate brownies. All these amazing dishes were cooked and prepared using the Samsung Smart Oven.
A live cooking demonstration was also held to guide the guests with how easy it is to cook a meal using the smart oven. The chef prepared Steamed Zesty Garlic Shrimp, Ribeye steak, and Baked Apple Cobbler, using just the smart oven.
These dishes were based on the Do It All Cookbook, which will be launched soon in partnership with Maggi.
The Samsung Smart Oven is a 6-in-1 kitchen partner that can produce virtually any dish with its HotBlast technology that reduces cooking times significantly. Powerful hot air is blown through multiple air-holes directly onto food, so it's cooked evenly, retaining the crisp texture on the outside but still juicy on the inside. It also has a Cook with Ease presets that makes it easier to use by individuals who aren't kitchen savvy.
With these two features, there's no more excuse for not having tasty and healthy meals at home.
What's more, its Grill function evenly distributes heat so perfectly grilled and browned meat are achieved without having to set up an entire grill at home. Those looking for healthier alternatives, meanwhile, can use the Slim Fry Technology, which can cook meals with less oil. They can also try the Power Steam function for nourishing ways to prepare fish, chicken breast, and vegetables.
Whipping up scrumptious desserts is also possible with the Samsung Smart Oven.
Aspiring and expert bakers can design sweet confections through the Convection Mode. It can keep the oven's temperature even and regulated so treats are always soft and moist. They can also create homemade yogurt or dough with the Fermentation feature.
"It will amaze everyone with the different functions it could do. It will surely change the way people see cooking innovation. We want everyone to be inspired and get excited to start cooking, whether for their families or for anyone looking to have a healthier lifestyle. We just want people to know that by using Samsung's Smart Oven, we don't need to worry anymore about the work and time we need to put in cooking," said Stephanie Chua, head of Product Marketing of Samsung Digital Appliances.
The Samsung Smart Oven has two models: The 35-Liter Smart Oven (MC35J8088LT/TC), priced at P29,995 and the 32-Liter Smart Oven (MC32K7055KT/TC), priced at P15,995.
The Do It All Cookbook will be available this November and can only be availed upon purchasing a MC35J8088LT/TC or MC32K7055KT/TC Smart Oven. It contains 35 easy-to-follow recipes specially made for the Samsung Smart Oven.
For more information on the Samsung Smart Oven, visit https://www.samsung.com/ph/cooking-appliances/microwave-ovens and like SamsungPH on Facebook.