Nothing can keep the Toyota Fortuner off the road
It was one of those heavy rained out days but luckily, I had a 2014 Fortuner as a test-drive vehicle for a few days. Rain, rain and more rain can make travel a pain, but I was amazed how this baby allowed me to get from here to there with nary a hitch.
As I took to the Fortuner's cockpit, I immediatley turned on the radio (AM station) to know where the flooded areas were. But I also took to the street with much confidence as I know that the Fortuner would not let me down — no matter where I go.
Although I am a small driver, having a vehicle that is big and can make it through the floods gives me a sense of confidence, not to mention true pleasure. When I was younger I would take lots of risks with cars but now that I am a bit older and hopefully a little wiser, taking calculated risks is what good driving is really all about.
WHAT'S NEW
Toyota has been known for its ability to reinvent its vehicles to suit the times. With the Fortuner — it was done the same.
This is why I like the Fortuner. Toyota has redesigned it with a bolder and sportier exterior as seen in its new smoked headlamps, taillamps and chrome fog lamp bezel. It now sports new gunmetal alloy wheels, lending the popular SUV a stylish new look on the road. This new appearance, coupled with its ever-reliable advanced Variable Nozzle Turbocharger (VNT) Technology, boasts better fuel efficiency, additional engine power and increased torque. Changing the old to make it more current, but keeping the reliable features that make the Fortuner one of the best SUVs on the market today.
As I stepped inside the vehicle, I was quickly drawn to its new black interior finish giving the Fortuner a modern look. The Fortuner, in 4x4 V Diesel and the 4X2 G Diesel Automatic (which I test drove) variants, has the installed Audio system with Navigation Global Positioning System (GPS) that offers the most POIs (Point of Interests). This comes standard with a 6.5-inch Digital LCD with touch screen function and so much more.
The drive in the Fortuner was easy for me — although the Fortuner is a big SUV. I did not have a tough time getting in and out of tight spots even on the super traffic EDSA.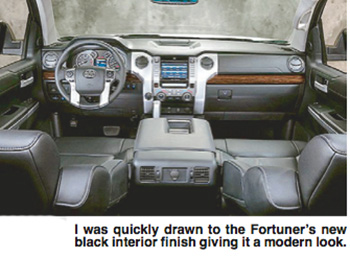 But it was the during the drive through some of the flooded areas in Metro Manila where the Fortuner was a savior. As I made it through hard-to-drive streets, I didn't feel the Fortuner falter even one, not even in the slightest. When one is driving in traffic and through floods, it is more than important that the vehicle keep its steady course — and the Fortuner did just that. As I listened to the traffic and flood updates on the radio while on the road, I was glad the Fortuner was reliable all throughout.
I also love being able to drive myself — no matter where and under what conditions. Many times I have been asked if I have not arrived at an age where I would prefer to be driven by someone else. The thought often crosses my mind. I know how tiring and even exasperating it can get to drive through Metro Manila floods and traffic. Any little amount of rainfall can be the cause of a major traffic jam.
But while I was behind the wheel of the Toyota Fortuner — and even if the traffic situation was less than ideal and the rising floods were cause for concern, I had so much fun piloting this SUV.
As I sat in traffic, I looked over the brochure that Toyota thoughtfully included in the test drive for the variants of the Fortuner. The improved Fortuner is available in 4X4 and 4X2 drive trains. The 4X4 comes along with a 3.0-liter V diesel variant priced at P1,770,000; while the 4x2 2.5-liter V diesel option A/T is priced at P1,495,000. The 4X2 2.5-liter G diesel option on the other hand is priced at P1, 365,000 for the Automatic Transmission and P 1, 295,000 for the Manual Transmission. A 2.7-liter G gasoline option is also offered at P1,282,000.
The Fortuner is available in super white (G Grade only), dark steel, silky gold mica metallic and its new shades of gray metallic, attitude black and silver metallic. A white pearl color on the V variant is also available for an additional P15, 000.
There are many reasons why I love driving. It gives me time to think things through, I can escape from the stress and tensions life sometimes throws my way and it allows me to be in control of the situation with only myself to rely on. It's a treat to drive a vehicle that is created for people like me — goal-driven individuals who love the thrill of being able to conquer any road in an ultra-dependable vehicle.
Ahhh, the Toyota Fortuner.