2021: A rum odyssey
September 16, 2021 | 12:00am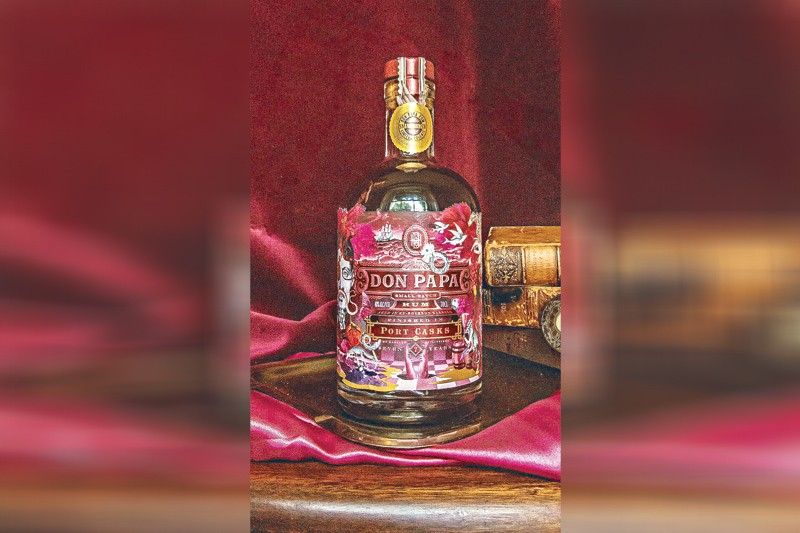 Yo-ho-ho! Just in time for the quincentenary, Don Papa rum invited media on a journey of food and port cask concoctions. The theme was "Diner de Odisea," a dining and sipping odyssey prepared by chef Victor Magsaysay — he of Le Renard and Sake, the oldest Japanese restaurant in Paris — to celebrate the first circumnavigation by Magellan, but, more to the point, the September release of Don Papa's limited edition, super-premium Port Casks.
The Port Casks bottle arrived in a lavish home kit that fit the whimsical, kaleidoscopic flavor of the event. First, there was the hand-woven, boat-shaped basket by local design outfit Zacarias 1925; inside, an array of colorful plates (featuring Don Papa icons), two Portuguese glasses (for measuring shots), a generous bottle of The Port Casks, a pair of bottled flavor infusions to mix our cocktails, and a stacked selection of food items.
We worked our way down the food boxes, starting with chef Magsaysay's "El Trinidad" appetizer (a fine salted, cheesy tart in the shape of a boat, in honor of Magellan); followed by "A Farewell Gazpacho" (a lovely chilled tomato soup in a "Drink Me" bottle straight out of Alice in Wonderland, served with a buttery bread hunk); third was "Homage to Antonio Pigafeta" (featuring — you guessed it — a delicious pork slab in tribute to Magellan's scribe, served on a bed of beets, cream, roasted coconut, papayas and bamboo shoots); fourth was the "Datu Cilapulapu de Mactan" (a finny but delicious lapu-lapu with a ginger counterpoint, offering savory goodness); and the final dessert dish, "Ylang Ylang ang Gubat" (a classic local leche flan scented with the Filipino flower).
Also along for the journey was Don Papa co-founder Andrew Garcia, marketing manager Angeline Manahan, and communications director Monica Llamas-Garcia. They gave the lowdown on the colorful bottle — featuring not the usual cartographic design with tarsiers and tukos, but something decidedly more Dali-esque and surreal, bathed in rich burgundy tones.
We got a rundown on The Port Casks tasting notes from brand ambassador Aaron Goodall, who noted its amber color and hints of ruby from aging; notes of licorice, polished oak, Muscovado sugar and dark chocolate, followed by zesty summer fruits, ripe berries and vanilla on the nose; and "a wonderfully complex expression" on the palate that has to come, in part, from the seven-year aging that includes two years in Spanish casks as a finish. That expression is rich, with notes of toasted oak, cinnamon, Arabica coffee and toffee; a bit of fresh, subtle orchard fruit, and a "dusting" of brown sugar.
Don Papa's story has always harkened to port wines, and Spanish casks are like the icing on the cake. As an historical side note, port first originated in Portugal, Magellan's birth country — so it all fits together. Of course, Don Papa is derived from the sugar cane of Negros (or locally, "Sugarlandia") and the aging story here is particularly lavish: two years in American oak for signature vanilla and candied, fruity notes; then transferred to port casks from Spain's Douro Valley, aged five more years to create another layer of complexity. Don Papa is distilled and casked in the unique volcanic climate surrounding the foothills of active volcano Mt. Kanlaon, Negros, for an intense, full-bodied expression. The extra aging makes it even more captivating.
That wasn't the end, though. The cocktail infusions were next. One thing that works well for Don Papa is the idea of island spices and exotic infusions, as they did using Muscovado sugar, cinnamon, white sugar and orange for the "Two Worlds" and white sugar, pomegranate juice, overproof rum and orange peels for the San Lazaro. We used our handsome port glasses to measure out the infusions over tall glasses filled with ice. The Port Casks, which already has a stand-up profile, is turned, almost literally, into a journey of the taste senses. We liked.
Reflecting on the historical quincentenary, Garcia noted that Magellan never really did "discover" the Philippines. "It was more like our coming-out party, us sharing our identity with the world."
He also mentioned that, while Don Papa is rolling out its Port Casks here in Manila, it's also embarking on an overseas journey this month — to Germany, the brand's largest market, as well as other parts of Europe, for product launches. How did Don Papa manage to break through the European market amid a sea of rums? Garcia puts it down to special cask aging, great product, and great marketing.
And in this instance, the libations were as lavish and worthy of attention as the plush presentation.