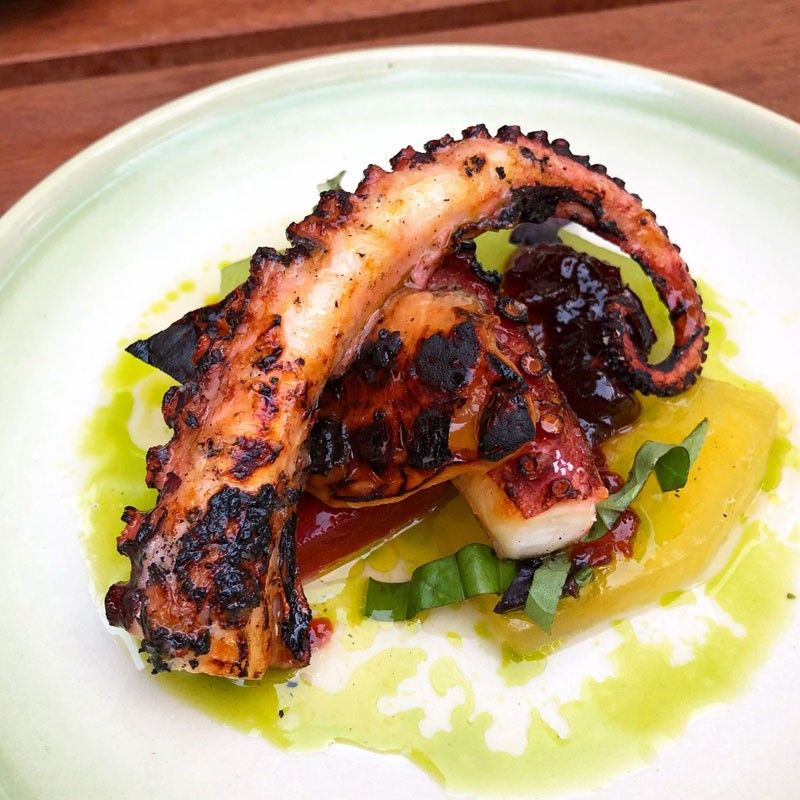 My favorite dish in LA: The Hearth and Hound's Char Grilled Octopus and Compressed Melons
After doing three cooking engagements in three weeks, there was only one thing I wanted to do when I arrived in Los Angeles: I was going to eat! As with all great tasks, it was essential to have an able partner in crime and in LA, it would be my friend, The Voice USA runner-up, Dia Frampton.
Dia, who I met when she did a pair of concerts in Manila, has been living in LA for the past few years — singing, songwriting and acting — and she's my go-to person for all things LA. As soon as I arrived, she already had a list of suggestions for me. She knows me so well! Here are just some of the highlights (believe me, there's a lot more).
The one place I wanted to visit was April Bloomfield's latest restaurant, The Hearth and Hound. Chef Bloomfield has been a chef I've admired for a while now, especially for her no-nonsense and "nose-to-tail" approach to food. This new restaurant celebrates California and her local produce.
As expected with a chef of her caliber, Bloomfield astonished with her Charred Octopus with Compressed Melons, Grilled Eggplant and Hanger Steak with Broccolini. They were all simple, straightforward dishes, but each and every element was executed perfectly and that was truly impressive. Special kudos to the octopus, as it took all the willpower in the world not to eat Dia's share.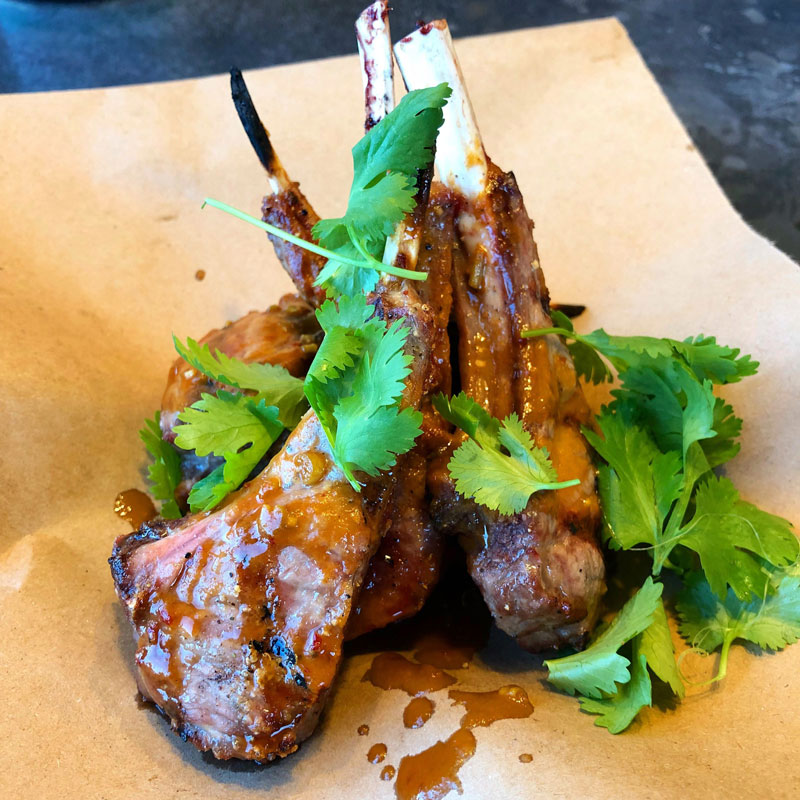 Tender, moist and flavorful: Lamb chops cooked in a super-hot oven with just harissa at MhZh
Later on, I spied chef Bloomfield in the restaurant and I hesitated to approach her, not wanting to look like an obsessed fanboy, but Dia pushed me to do so, warning me that I would regret it if I didn't. She was right. Not only did I get to talk with chef Bloomfield, I also got to meet Food Network's chef Marc Murphy! I got to talk to them about Filipino food and the popups I do around the US. It was a moment I won't soon forget.
The following day, I had the day to myself as Dia was off to a songwriting session, but she made sure I got the best suggestions. For lunch, I headed to Night Market Song. I belatedly realized why the name was so familiar. It's one of the places featured on Netflix's Ugly Delicious. I ordered the Moo Sadoong or spicy pork salad and the Tom Khar Gai, and neither disappointed. The pork was tremendously spicy, but balanced well with sweet and sour flavors, while the soup was one creamy bowl of love.
I then walked a few blocks down to grab some dessert and, while I was two days away from going home to the Philippines, I wasn't going to say no to some Filipino treats. Frankie and Lucy, owned by Filipino-American Kristine de la Cruz, has been featured by Food Network and Buzzfeed and her Upside Down Ube Pie is one of the biggest reasons why. She told me the story of how one day, while making an ube leche flan for a restaurant, she left it in the oven a bit too long, making the top surface just a touch harder than she'd have liked. She ended up adding a delicious crumble on top and sold it at a market instead. People loved her salvaged dessert and it became one of her signature dishes! It's a must-have. The ube flan is silky, creamy with the perfect amount of sweetness and the crumble gives our leche flan the contrast in texture it does need. It was a great way to cool my palate down after the spicy Thai lunch.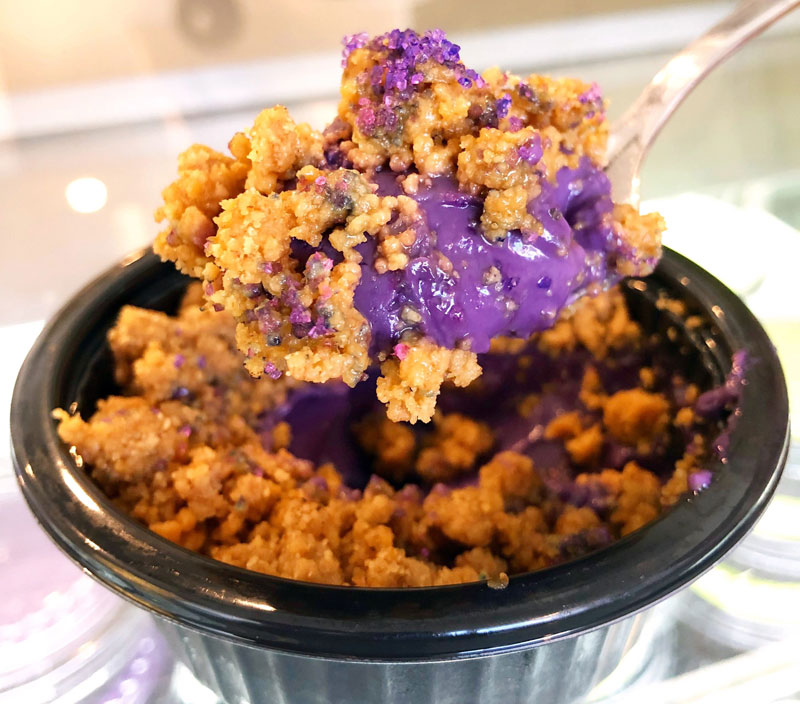 All-Filipino and all delicious: Frankie and Lucy's Ube Upside Down Pie
I walked around the Silverlake area to explore and a few hours later, was hungry again. I headed to another of Dia's recommendations, MhZh. It's a cozy restaurant with the simplest of kitchens: just a super-hot oven and one stove, with just three people behind the counter, but the food that comes out is absolutely delicious.
I sat at the counter to get the best view of the action and watched the chef simply season my lamb chops with salt and pepper and put it in the oven. At over 600 degrees F, it takes no time to cook the lamb, which the chef seasons with harissa and cilantro leaves.
I dug into the lamb and it was one of my favorite lamb chops I have ever had. Simple cooking at its finest! I paired it with some mixed pickles and the sour onions, beets and carrots provided the zesty flavors that cut right into the rich, fatty lamb. They also make awesome baked potatoes, where the potatoes are cooked for an hour. The result is a super-tender potato on the inside, almost like a mash, and crisp skin on the outside. Slathered with butter, you will thank me once you try it.
Vegan jewel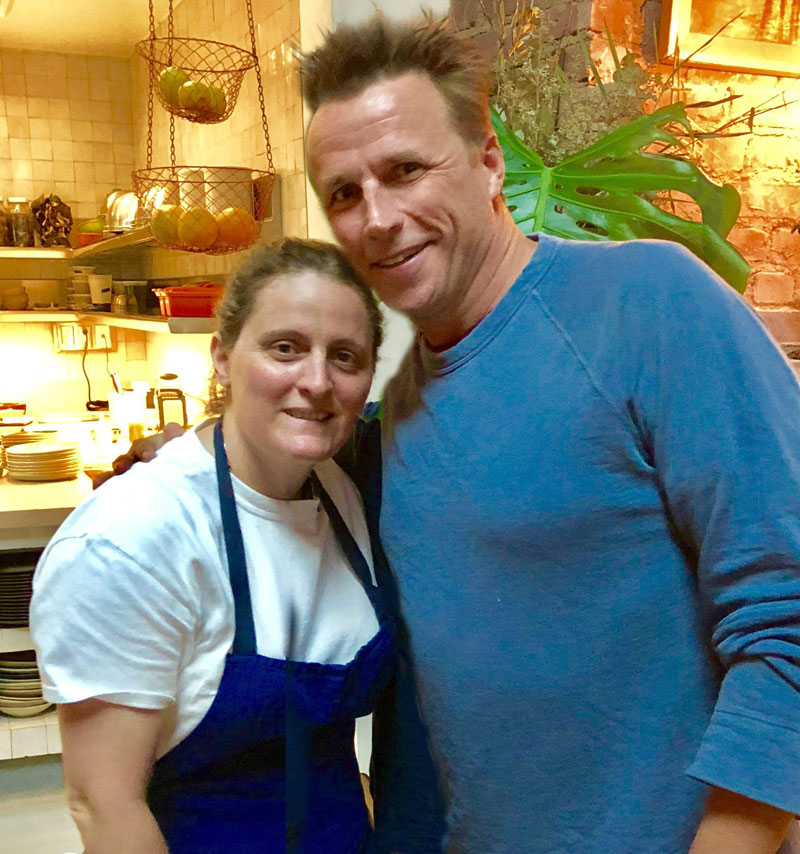 It was an honor trading notes on Filipino food with chefs April Bloomfield and Marc Murphy.
"A vegan restaurant?" I was skeptical when Dia suggested we eat at Jewel the following day. Being in LA, I knew it was only a matter of time before I would run into a vegan place, but I am glad I did. Owned by a Filipino-American as well, Jewel uses a ton of fresh local vegetables and they churn out some pretty darn good food. My perfectly crisp toast was topped with avocados, greens, tomatoes, spicy vegan mayo and faux bacon.
While the faux bacon is nowhere close to being bacon, it was smoky and sweet and just the perfect protein to complement the fruits and vegetables. I also loved the fresh dill on top. Yes, I had to admit later on, my skepticism was unfounded.
I read in an article a few weeks ago that Los Angeles may have replaced New York as the best place to eat, and while I have no plans of getting in the middle of that debate, I can confidently say that LA has indeed become one of my favorite places to eat. I am looking forward to eating more there and, knowing Dia, she'll have a new list ready soon.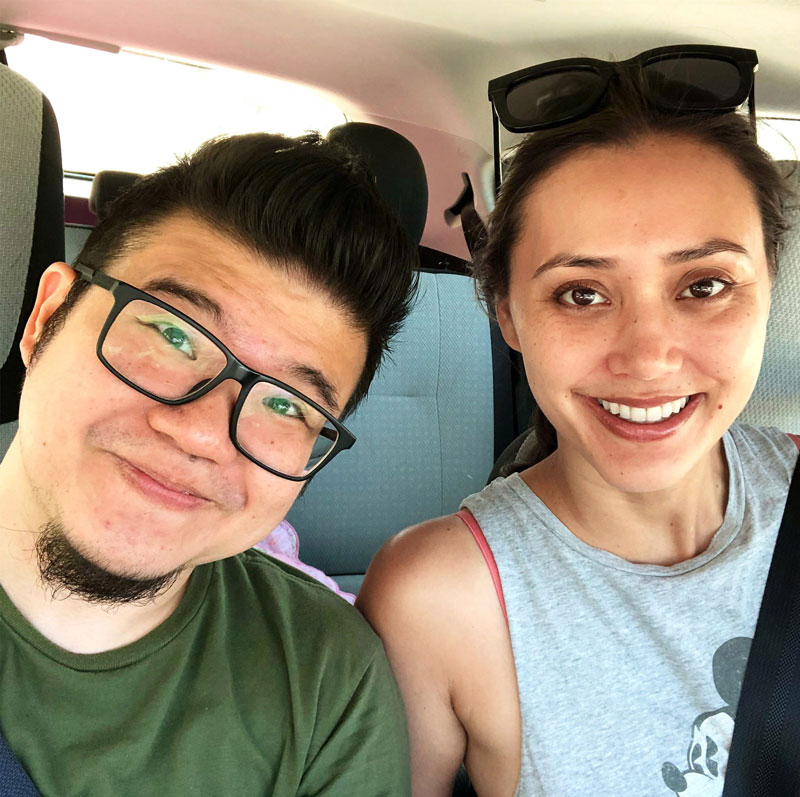 My go-to food guide in LA, The Voice USA's Dia Frampton
* * *
Sharwin's book, So, You Want To Be A Chef? is available in all National Book Stores and Powerbooks nationwide. Follow Sharwin's food adventures on Instagram @chefsharwin and for questions, reactions, recipe and column suggestions, you can contact him at www.sharwintee.com.