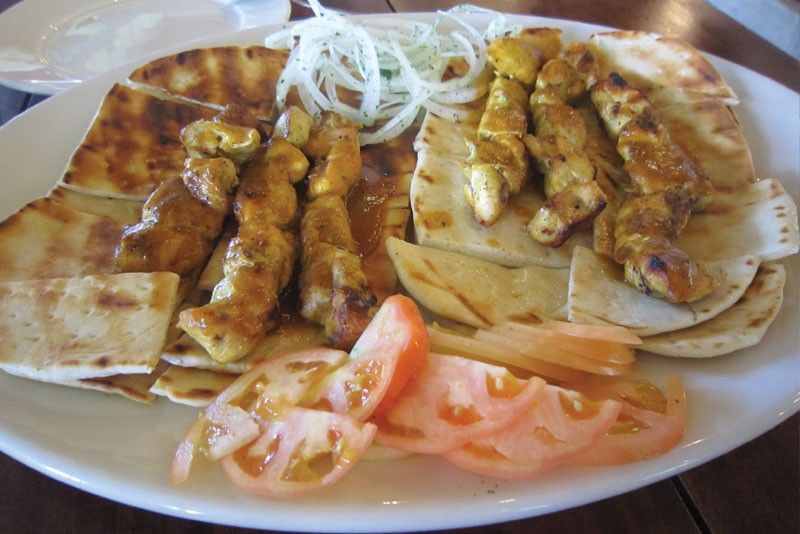 Souvlaki chicken made from Magnolia chicken breasts at Lemon and Olives
Photos by Julie Cabatit-Alegre
Discovering dinakdakan, pinikpikan, YOLO yoghurt and other stuff on a four-hour trip to Baguio.
MANILA, Philippines — While it is popularly known as the oldest European hotel and restaurant guide that awards stars of excellence to select establishments, the original Michelin Guide published by the owners of the French tire company listed not only hotels and restaurants but also the names and locations of tire mechanics, garages and gas stations along the countryside. It was an innovative way of promoting road travel.
We were reminded of this during a recent road trip organized by the San Miguel Pure Foods Culinary Center (SMPFCC), which teamed up with TPLEX that brings guests to various northern provinces, culminating in Baguio City. It's not an exact analogy, but it recalls the original Michelin Guide's intention: to promote road travel and the pleasant experiences that go with it.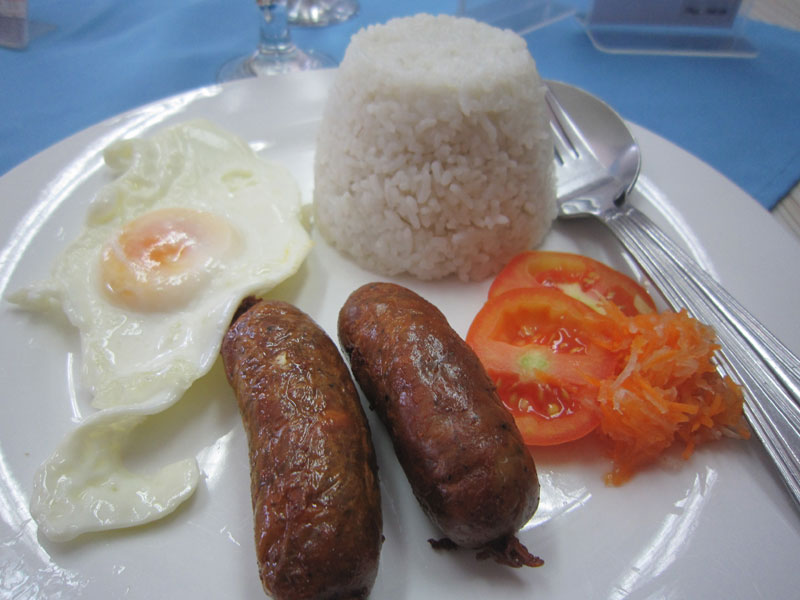 Longganisa at Ruperto's is served with fried Magnolia brown egg.
"Because of TPLEX, you can now go to Baguio in just four hours, and aside from that, you can make side trips on the way," says Helene Pontejos, San Miguel
Purefoods-Great Food Solutions VP and general manager. For the generation that still remembers when a trip to Baguio in the past meant 10 long hours on the road, this is great news indeed. The Tarlac-Pangasinan-LaUnion Expressway (TPLEX) connects central to northern Luzon, from Tarlac City, Tarlac to Rosario, La Union.
On this trip, we stopped not only at dining spots that are "under the radar," as SMPFCC culinary services manager, Llena Arcenas-Tan remarked, but also places of interest and destinations, such as the Sanctuary of the Holy Face in Nampicuan, Nueva Ecija. Located just a short distance from TPLEX's Anao exit, in the church can be found the only replica of the Holy Veil of Manoppello, the precious relic of the Resurrection, which is kept in Mannopello, Italy. Formerly classified as a Class D parish due to its remote location, more pilgrims are now able to visit the shrine, thanks to TPLEX, says parish priest Fr. Christian Magtalas.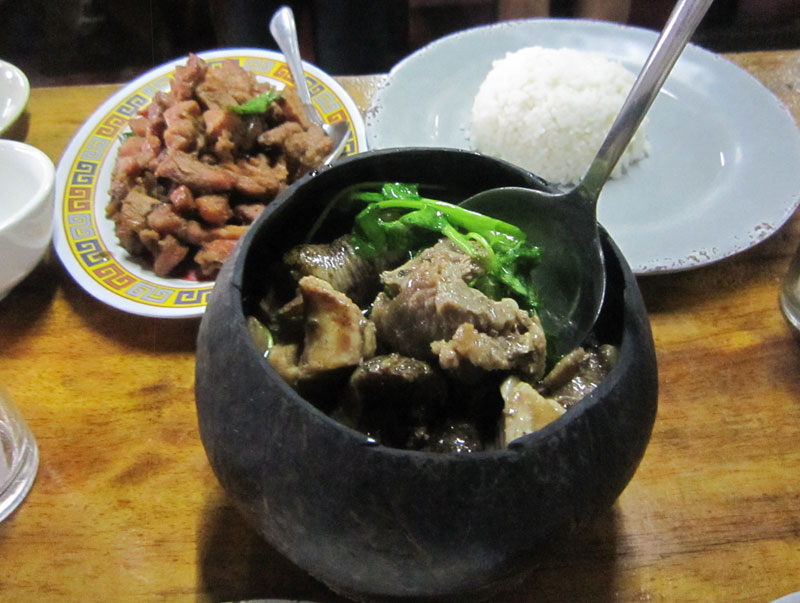 Pinikpikan at Farmer's Daughter
Anao in Tarlac is known as the ylang-ylang capital of the Philippines. Perfume as well as candles, bath soaps and shampoos are made with oil extracted from the ylang-ylang flowers harvested from the trees that line the streets and cultivated in plantations. Ylang-ylang is one of the essential ingredients in Chanel No. 5, one of the most expensive perfumes in the world.
The TPLEX Binalonan exit in Pangasinan was purposely created to provide easy access to the pilgrimage church of Our Lady of the Most Holy Rosary in Manaoag, which is just 12 minutes away, says TPLEX marketing and business development manager, Tony Reyes. There are many other churches worth visiting in the provinces along the route traversed by TPLEX such as the St. Padre Pio church, a few minutes' drive from the Pozzorrubio exit.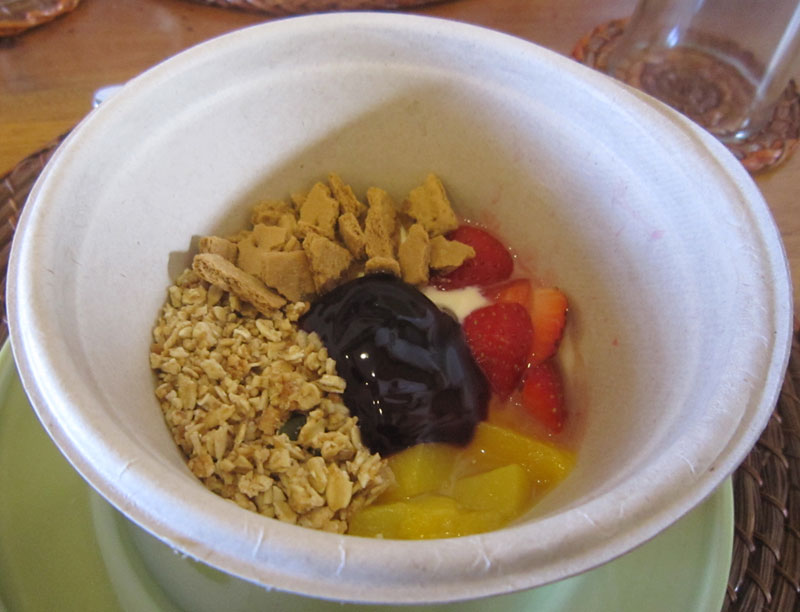 Yoghurt with fruits topping and coarsely crushed La Pacita graham crackers at H.O.Y.
Binalonan is known for their longganisa and at Ruperto's, past the Binalonan exit, chef Aldwin Soriano demonstrated how to make longganisa using Monterey lean ground pork mixed with finely chopped garlic and onions. Practically all vendors at the town's wet market have their own version of the local sausage, says chef Aldwin, who has been making longganisa for the past 15 years. The cooked longganisa was served with Magnolia brown eggs and fried daing na bangus.
"We have different regional longganisas, such as the ones from Lucban which has a reddish color due to the anato," Pontejos says. This is different from the Baguio longganisa, which we had at the breakfast buffet the next day at the Baguio Country Club.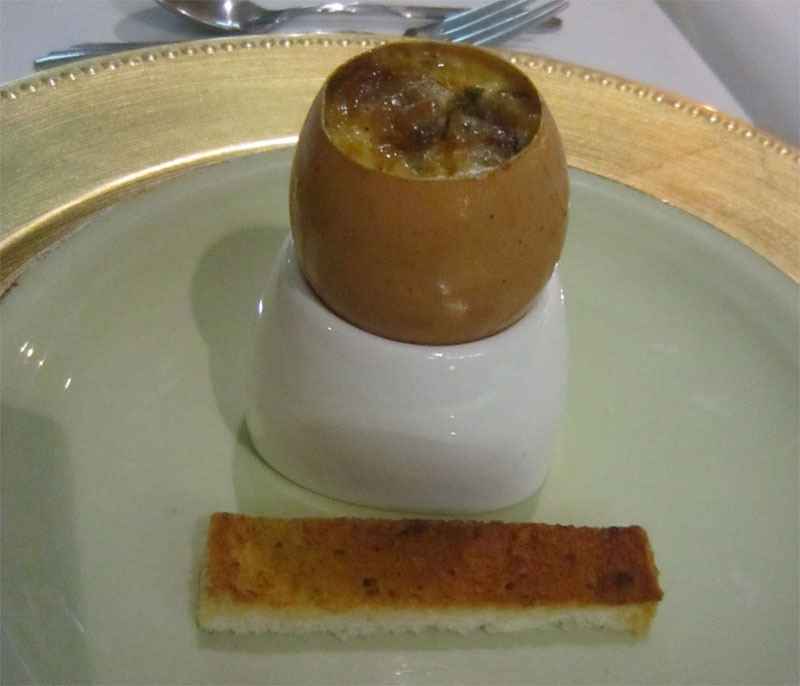 Quiche in an Eggshell prepared with Magnolia cream cheese
"Our products are used in different areas in the Philippines,' Pontejos says. "Going on food tours like this develops and enriches our library of flavors and ideas for creating new products. We benchmark against these flavors, but first we have to get the authentic."
Farmer's Daughter along Benguet Road serves authentic Ibaloi dishes such as dinakdakan (charred pork ear, tongue and snout dressed with pig's brain and spices) and pinikpikan (an Igorot chicken dish, which is the Cordillera version of tinola, with etag or salted meat). Gin, beer or rice wine usually accompany an Ibalois meal and on this visit, each guest was given a shot glass of Ginebra San Miguel Premium Gin for a toast at the start of the meal.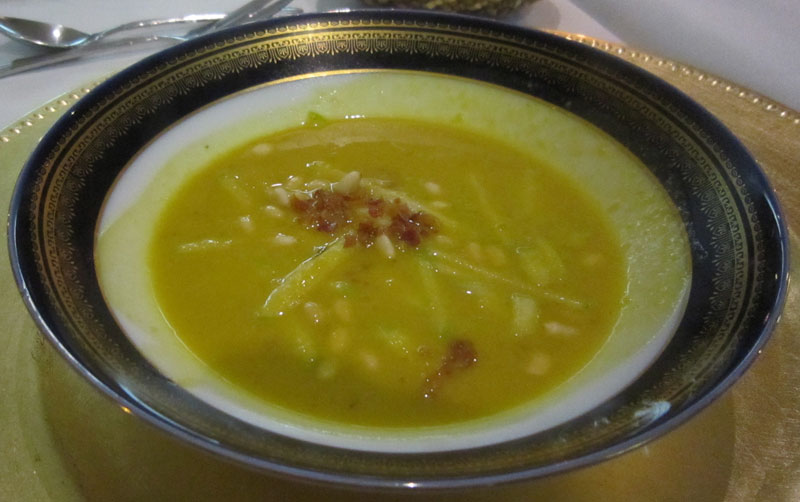 Squash soup topped with smoked Purefoods Honeycured Bacon
After checking in at the Baguio Country Club, itself a historical landmark in the City of Pines, it was a short drive to Mama's Table on Ambuklao Road.
From regional cooking at Farmer's Daughter, we moved on to the French-inspired eight-course dinner prepared by chef Vicky Tinio Clemente at Mama's Table.
A former teacher, banker and paralegal, chef Vicky in her 50s took a sabbatical and studied at the New York Culinary Institute to fulfill a lifelong dream, then never looked back. For her thesis, she created an eight-course meal using recipes inspired by all the mamas she had known including her grandmother and her own mother; thus the name, Mama's Table. She opened Mama's Table for private dining (by reservation only) at her parent's charming vacation house, complete with a working fireplace, in Baguio in 2011.
The table is set at Mama's Table.
Her menu changes constantly. Tonight, chef Vicky served Quiche in an Eggshell prepared with Magnolia Cream Cheese followed by squash soup topped with smoked Purefoods Honeycured Bacon. The seafood course was baked Norwegian salmon while the main poultry course was roasted Magnolia Chicken Breast with cheese and cured bacon. Dessert was a duo of chocolate mousse and crème brulee sprinkled with Essenso Microground Coffee.
Just like its exciting food scene, the art and culture scene is alive and well in Baguio. In 2017, UNESCO recognized Baguio City as a "Creative City" for its crafts and folk art, the first Philippine city to become part of the exclusive global network.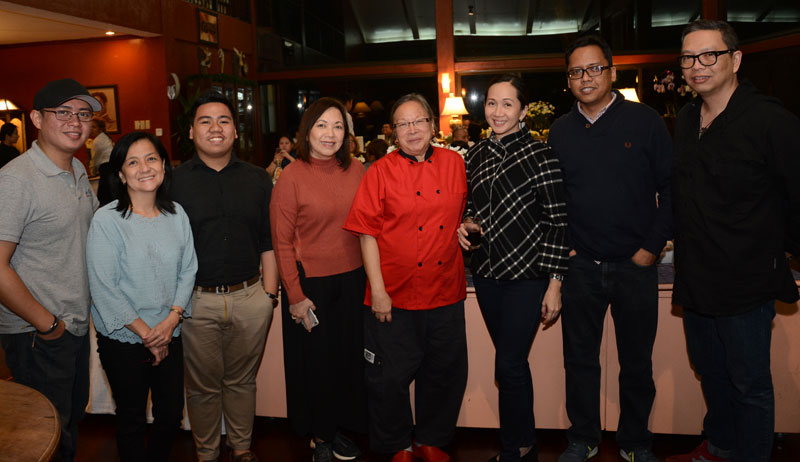 SMPFCC chef John Valley, Rowena Balanga, Gelo Riego, San Miguel Purefoods–Great Food Solutions vice president and general manager Helene Pontejos, SMPFCC culinary services manager Llena Arcenas-Tan, San Miguel Corporation media officer Jon Hernandez and TPLEX marketing and business development manager Tony Reyes with chef Vicky T. Clemente (center in red)
We visited the Museo Kordilyera at UP Baguio, the first ethnographic museum in Northern Philippines, where the "Feasts of Merit" exhibit is ongoing until February 2019. "The exhibit focuses on exploring the connection between wealth, status and feasting in the Cordillera," Chancellor Raymundo Rovillos explained. Other thematic exhibits are scheduled in the future. The promotion of tourism is enriched with the addition of an educational dimension and an appreciation of local culture such as this.
On Quezon Hill is a quaint art and crafts shop, BZA HomeArts Café. This used to be the vacation house of President Manual Quezon, says owner Donna Marie Navarrete, one of the largest suppliers of rhinestone art in the country. We had a pleasant time attempting some DIY rhinestone art, which is similar to cross-stitching but uses rhinestones instead of thread, while enjoying Vizco's strawberry shortcake and Magnolia ice cream.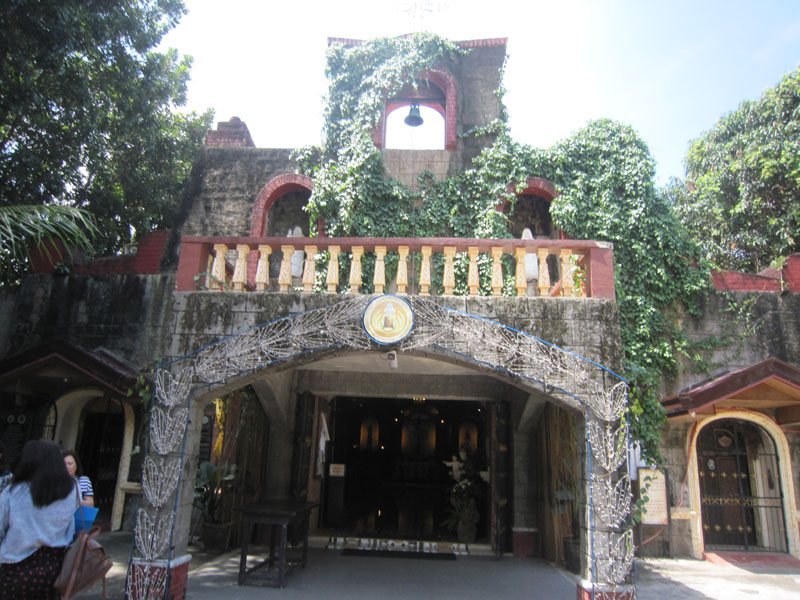 Sanctuary of the Holy Face in Nampicuan, Nueva Ecija
We stopped for lunch at Lemon and Olives, the first Greek restaurant in Baguio, where we had our fill of pita and souvlaki chicken made from Magnolia chicken breasts, spicy cheesy tirokauftero dip, and savory Greek spinach pie spanacopita.
Our last stop was at H.O.Y (House of Yogurt) Lover and Calajo restaurant along the Marcos Highway, the first and only home-blended yogurt bar in Baguio. We were served their homemade YOLO yogurt with fruits topping and coarsely crushed La Pacita graham crackers as well as doktube, an Ibaloi turon filled with ube and kamote.
There was just enough time left to do our last-minute pasalubong shopping right there at H.O.Y. where they also sell local products from the Cordillera Administrative Region, before the pleasant drive back down TPLEX, heading to Manila and home.