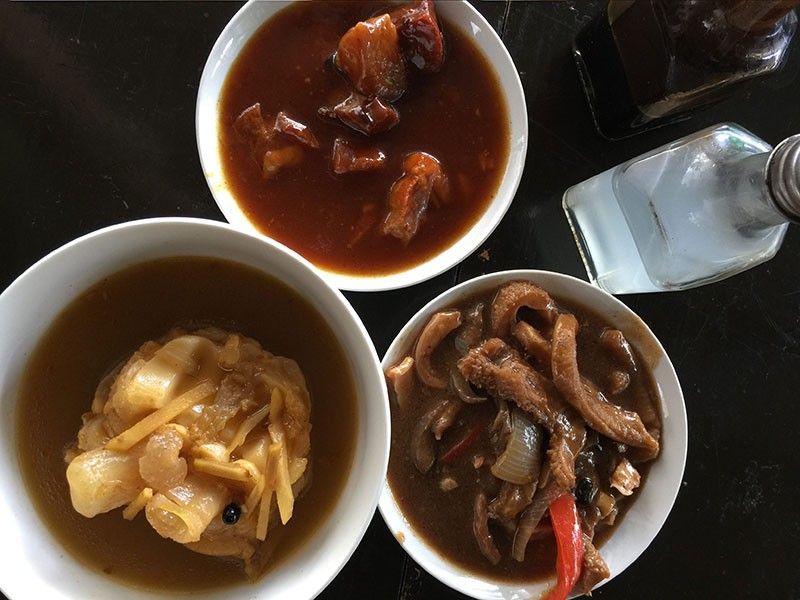 Socorro's serves great classic fiesta fare like paklay, balbacoa and humba.
One of my goals for 2018 was to travel to a place I had never been before, so I could not resist the opportunity to go to Bohol. It's one of those mystical places where everyone has a great time, so I wondered if you could have fun in Bohol even if you only had 24 hours. Spoiler alert: you can!
Get there and eat, while you're at it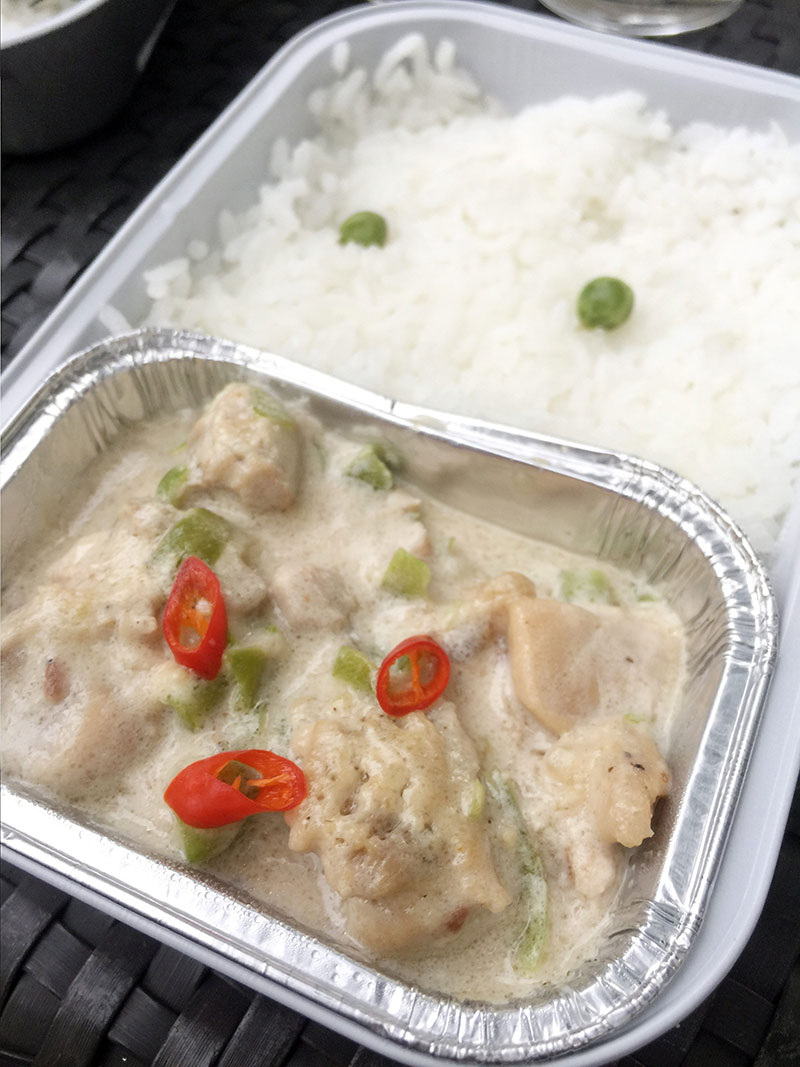 Bicol Express is one of the new menu items available on AirAsia flights.
Bohol is only an hour and 20 minutes from Manila via direct flight — definitely a quick flight. I took AirAsia, which I heard flies to Bohol three times a day, and while on the flight, got to taste some great food as well. The flight was smooth and the cabin crew was friendly, helpful and efficient. They've recently added new dishes (that you can order pre-flight or buy on the plane), and I got to try the Chicken Bicol Express. I must say, it's appropriately creamy and spicy. I'm glad to see it lives up to the name, as I've learned from Bicolanos that the proper Bicol Express should have a significant amount of chilies in it. If you're not into the spicy thing, they've also released a Chicken Kare Kare and a new recipe for their Tapsilog. In any case, it's nice to have something to eat on the way.
Stay and never want to leave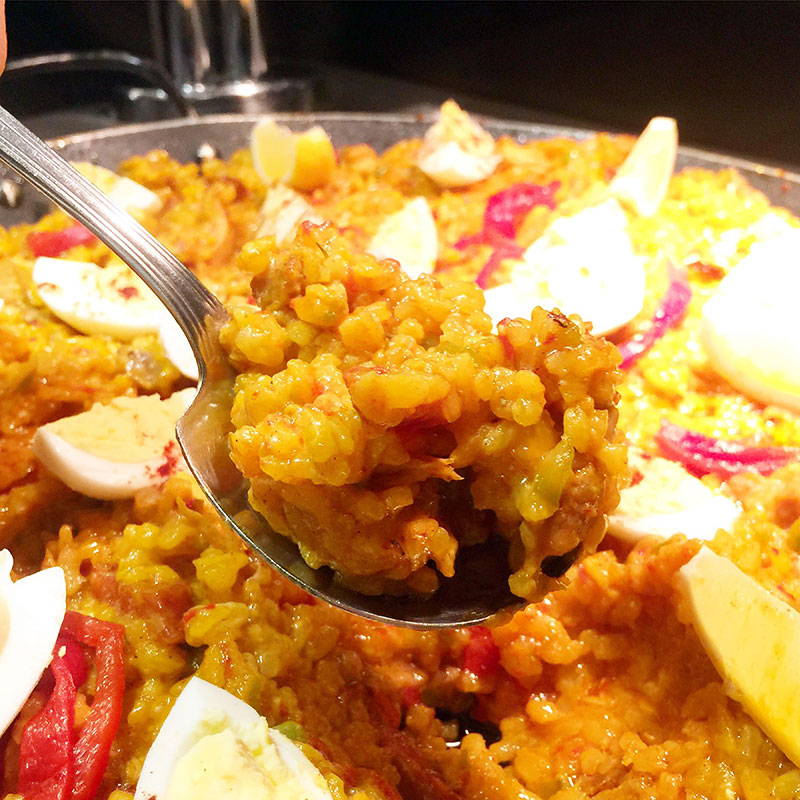 Spanish-Filipino classics like Paella Valenciana are well executed by Tomar At Amorita Resort.
Just 30 minutes away from Tagbilaran Airport is Amorita Resort on Panglao Island, where I stayed. Minutes in and I was already awed by the breathtaking views of Alona Beach. The resort is actually on a cliff, which gives you the perfect bird's-eye view of the beach, just a staircase away. I checked into my well-appointed room and scheduled a massage.
The Sea Tree Spa provides a bunch of different treatments, but I picked the dry massage that focuses on thumb pressure. Perfectly relaxed, I sauntered over to Tomar, the resort's restaurant and bar, for some Spanish fare. There's a ton to love there, from the pintxos to the gambas to the paellas. My personal favorite was the chopitos, or fried squid. I finished the meal off with some churros and a glass of sangria. Tomar reminds me of the old-school Spanish fare my brother and I enjoyed growing up. It wasn't anything I'd never seen before, but everything was competently executed and the flavors were on point; it's hard to say no to that.
I wanted to see Alona beach early in the morning and was rewarded for my heroic and herculean effort to get out of bed early. The beach and its powdery white sand are especially lovely in the morning. The sand is still cool to the touch and the beach is relatively empty. After a leisurely walk and some time to collect my thoughts, I headed back up to take a swim in the pool. It had been a while since I swam laps, but figured the exercise would do me good. I may or may not have had one too many churros the night before. Plus, it's much easier to convince myself to exercise when it involves a lovely view.
Taste and see the locale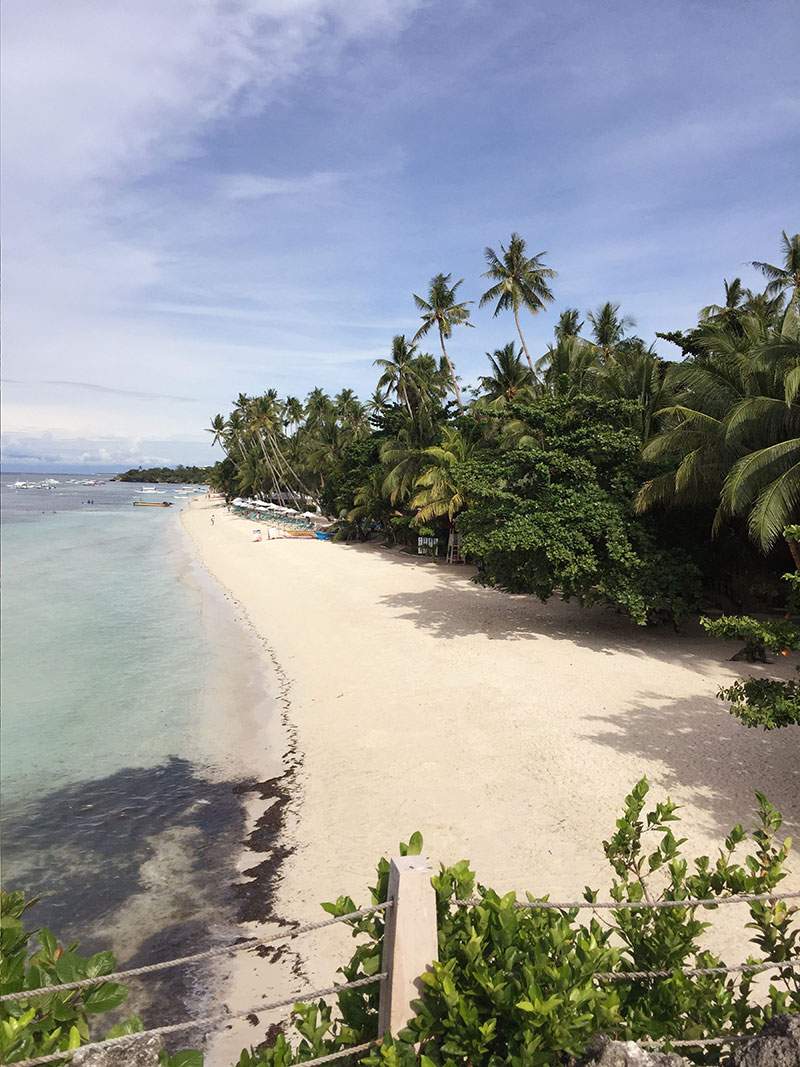 The view of Alona Beach from the Amorita Resort is stunning.
Since I had never been to Bohol before, I thought it best to get some help. Amorita provides different tour packages to give you the best experiences, but I'm not one for organized tours. Instead I hired a car and a driver (P2,600 for seven hours) and proceeded to create a trip for myself. I lucked into a great driver named Winston, with whom I discussed my plans. First stop was to see the Chocolate Hills. About an hour and half away from the resort, the hills are, of course, the must-see site of Bohol. I paid the P60 entrance fee, gritted my teeth and climbed the 224 steps to get to the observation deck. Reminder to self: you are horribly out of shape.
As I pretended not to be out of breath, I took in the view. The Chocolate Hills are magnificent. They were green at this point with the rainy season upon us and I heard they are browner during the summer months. It is extremely hot up there during noontime onwards, so I was glad I got there early. Pocket your camera and spend the first five to 10 minutes appreciating the view first. I'm not the best photographer by any means, so I observed the tourists and tour guides to ascertain the best places to capture photos and video. An American couple was kind enough to stop and take my picture with the hills in the background.
There are actually two places that provide safe haven for tarsiers and for tourists to see them, but the Tarsier Conservation Area is closer to Chocolate Hills and you'll find it on the way down from there. A P50 entrance fee allows you to see the tarsiers up close. Since they are small, guides are strategically stationed around the area so they can tell you where to look and take photos. I snapped a few pics and a few IG stories and then headed out. On the way to the city, you will pass through the manmade forest. Winston stopped by a rest area so we could take pictures. The best picture is when you stand in the middle of the road, but I suggest being quick and careful because the cars won't stop for you.
Before looking for lunch, we stopped by the Immaculate Concepcion Church to take a few pictures. The 400-year-old church is still a beauty and the newly repaired bell tower is a reminder of the horrible earthquake that hit Bohol in 2013. Winston is quietly proud of how the people of Bohol have bounced back.
Just a few minutes' drive from the church, we found a local turo-turo called Socorro's to have lunch. I insisted Winston join me for lunch, not just because he's an awesome guide, but also because I wanted an excuse to order more dishes. One guy ordering four dishes would seem… gluttonous. We ordered paklay, balbacoa (oxtail soup), humba and sisig. All the dishes were very tasty and my favorite would have to be the paklay. Imagine a beef kaldereta, but instead of boring beef meat, you put in livers and tripe. Absolutely delicious. The owner who personally delivered the tuna collars to the kitchen worried if "lutong bahay" (a home-cooked meal) was good enough for me and I explained that for chefs like me, that is all we really want! He explained that Socorro's specializes in these home-cooked dishes — dishes families would serve at a town fiesta.
Completely full and satisfied, we headed home and I made a mental note that, as much fun as 24 hours was in Bohol, I needed to come back. I'm willing to bet Bohol has more secrets to discover that will leave me as wide-eyed as a tarsier. Besides, I need some more of that bacon from the Amorita breakfast buffet.
* * *
Follow Sharwin's food adventures on Instagram @chefsharwin and for questions, reactions, recipe and column suggestions, you can contact him on www.sharwintee.com.